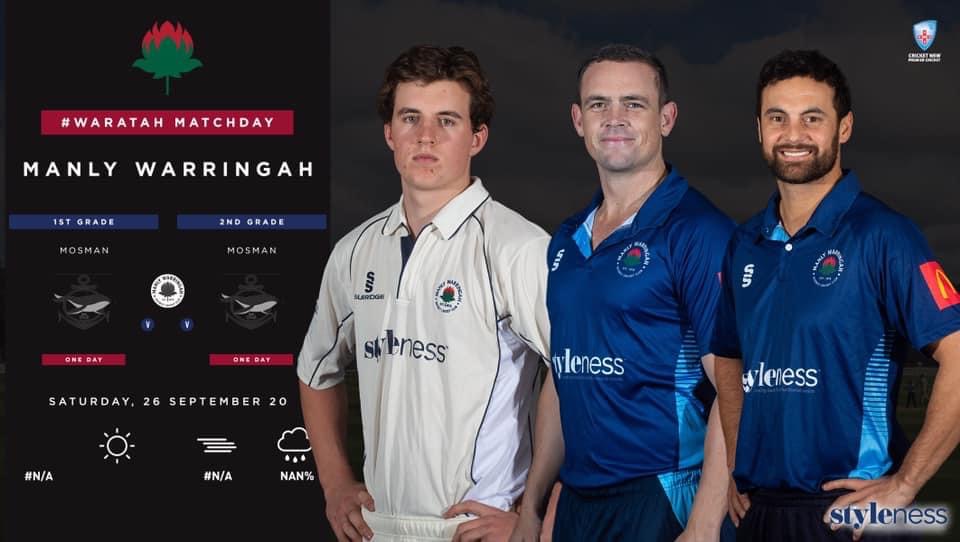 The Styleness Manly Warringah Waratahs have named teams for the Round 1 clash with Mosman as a very different 2020/21 season gets underway.
With grounds around Sydney still being taken up by Winter sports, only the Men's 1st Grade and 2nd Grade will be starting at the normal time of the season, meaning a very different beginning to the coming summer of cricket.
It's been a tricky pre-season and the team selections for Round 1 were no different with same late minute withdrawls from CNSW for Hadley and Edwards due to load issues.
But that has just given an opportunity to Andrew Jamieson and Andrew Hicks to make their long awaited debuts. Along with Ben Bryant making his club debut in 1st Grade, it will be a special day at Allan Border Oval.
2nd Grade have named a string side with Ahillen Beadle being named to make his return from off-season injury, while young fast bowler Josh Seward gets his chance after some impressive displays over the last few seasons.
Good luck to both teams. Go Manly.
Men's 1st Grade – 1 Day Match
Round 1 vs Mosman @ Allan Border Oval
9.30am start time
1. Jay Lenton (c)
2. Ben Bryant
3. Ollie Davies
4. Cameron Merchant
5. Joel Foster
6. Ryan Farrell
7. Steve O'Keefe
8. Elliot Herd
9. Jake Carden
10. Andrew Jamieson
11. Andrew Hicks
Men's 2nd Grade – 1 Day Match
Round 1 vs Mosman @ Manly Oval
9.30am start time
1. Matt Brewster +
2. Logan Weston
3. Ahillen Beadle
4. Joel Davies
5. Sam Gainsford (c)
6. Jacob O'Sullivan
7. Isaiah Vumbaca
8. Tom Kay
9. Neal Prowse
10. Josh Seward
11. Neal Prowse