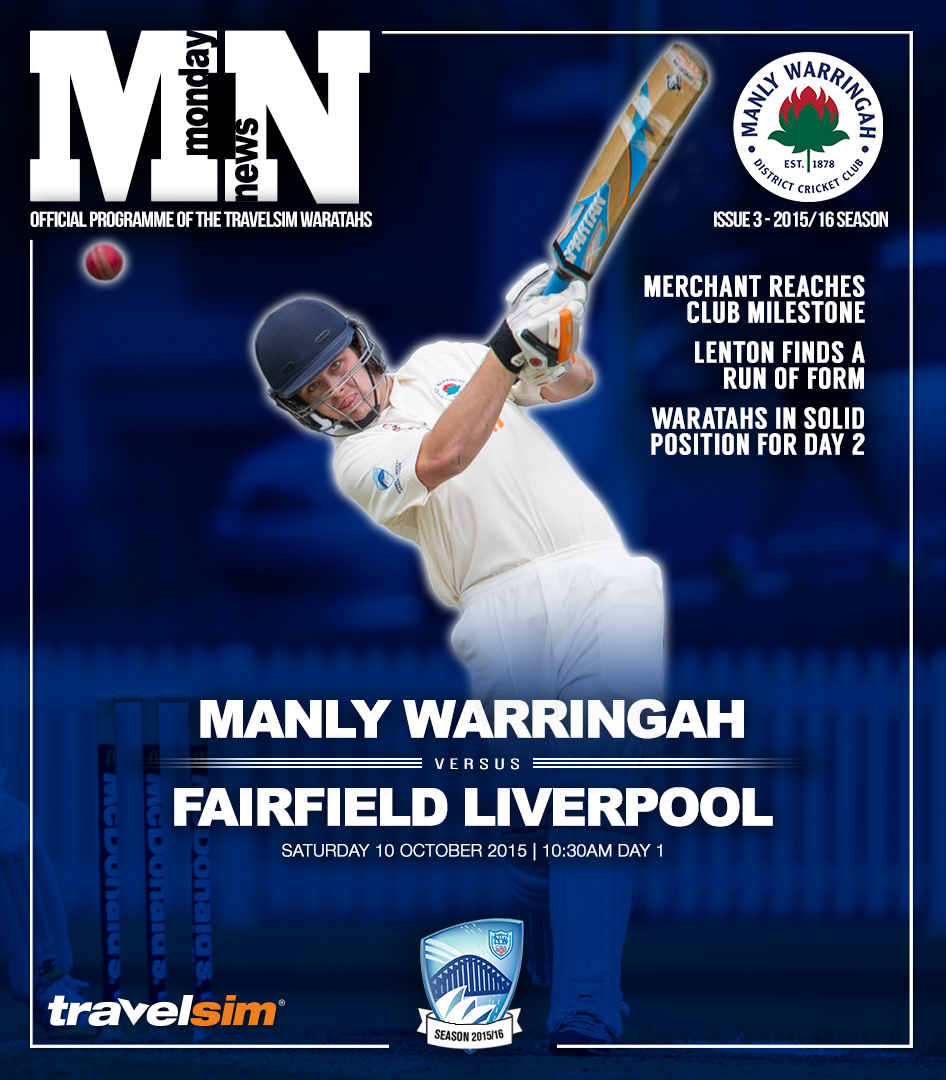 After a disappointing first 2 rounds of the season, The TravelSIM Manly Warringah Waratahs were on a mission to improve from the previous sub-par performances. That we did, an allround dominate display from the Tahs on Day 1 has seen 3rd grade wrap up first innings points, and all other grades in a solid position to bring home points.
1st grade posted a solid total of 7/285 with Jay Lenton leading the way again with the bat, posting a superb, unbeaten knock of 101.
2nd grade lost the toss on a pitch which looked to be a batting paradise. Despite conditions not favouring the home side, the boys toiled away and bowled Fairfield out for 233, with Matt Alexander and Joey Graham the pick of the bowlers.
3rd grade bounced back after what was named "the worst loss of my career" by Warren Evans, to have already wrapped up first innings points, in a Day 1 thumping. Highlights of the day were the old man himself, bagging 4 wickets, whilst young guns Jack Edwards (62) and Aiden Bariol (38) led the way with the bat.
4th Grade were led well by Max Burgess (5/50), who bagged the first 5 wicket haul for Tahs in the 2015/16 season. The boys restricted Fairfield to a below par 178, and are 0/16 in reply.
5th Grade continued their red hot form, rolling Fairfield for 114 with all the bowlers contributing. In reply the boys are 2/77 and in a great position to take first innings points.
Finally, the 1st Grade T20 side completed a great weekend for the Tahs, with convincing victories over Mosman and St George.
The Manly boys cheering on 1st Grade from the hill on Sunday
A brilliant day for our Blue Blood Members overlooking all the action
Superb crowds down at Manly oval on Sunday supporting the boys
Fantastic team song in the sheds after 2 great wins for the Waratahs
4 Pines Player of the Week – Jay Lenton


Returning to 2 day cricket can be a challenge for some batsmen. After playing limited overs cricket for the first 2 rounds, adjustments were needed to be made by all. The class of this 4pines player of the week, is undoubtful as he became the first player to score a ton in all three formats of the game, in one season, since the T20 competition was introduced to grade cricket, 6 years ago.

His unbeaten 101* from 172 balls on Saturday, led the Waratahs to a very respectful score of 285. Jay backed up his form on Saturday, in the first of the T20's on Sunday against the defending champions. He showed his versatility with the bat, by smoking an unbeaten 104* off 62 balls which included 6 fours and 7 sixes.

With performances such as these, State selections must only be around the corner for Jay.

For his two incredible knocks this weekend, Jay is this weeks 4 Pines Brewery player of the week. Well done.
1st Grade – Manly Warringah 7 for 285 (J. Lenton 101*, A. Crosthwaite 48, A. Baker 35, Merchant 34).
First grade had a solid day yesterday against Fairfield Liverpool. After winning the toss and batting, 60 odd was put on for the first wicket before both openers (Ritchie & Baker) perished just before lunch. AB was unluckily dismissed just after lunch and so Jay & Crossy set about the task of rebuilding the innings. They did this in fine fashion, putting on over a hundred before Crossy was dismissed for a patient 40 odd. Jay continued to chip away at the Fairfield attack and received great support from Cam Merchant who played an entertaining cameo of 30 odd. We ended the day at 7-285 with Jay unbeaten on 101 – a terrific innings full of patience and some great shot making. This was his second consecutive century and showed he has no doubt taken his game to to the next level and is an absolutely dominant player in the competition.
Hopefully we have put enough runs on the board for our bowlers to play with next week and we can get on the board in the 2-day competition.
Jack Ritchie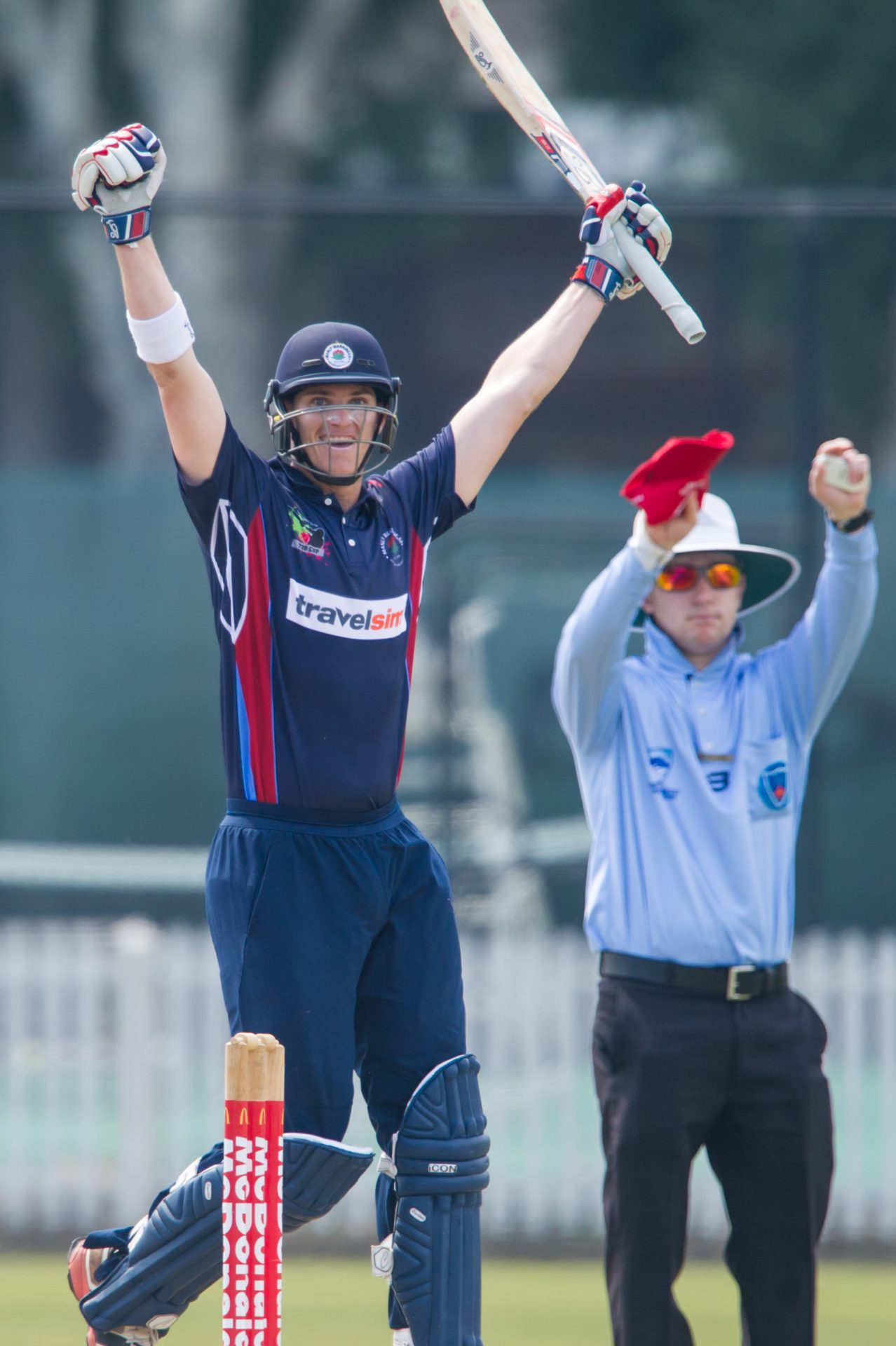 Jay Lenton was on fire on Saturday… and Sunday
Adam Crosthwaite belting runs in the 1st T20 on Sunday
Jay Lenton conquering St George at Manly Oval with his outstanding 104*
2nd Grade – Fairfield Liverpool 233 (B. Falconer 3/55, S. Gainsford 2/17 M. Alexander 2/34, J. Graham 2/69) Manly Warringah 0/11.
Losing the toss and being put into the field on a flat deck we knew it could be a long day and a consistent grind. Mattoes started off well trapping the opening batsman in front for 0, followed by the other opening batsman who mishit it to point straight to the safe hands of Gainsy. Falcs was a bit off his game early on and was not bowling as accurately as he did the week before. The number 3 was throwing his hands at the ball and playing his shots, hitting a considerable amount of boundaries but had no patience. 2nd grade debutant Joe Graham got his man when he tried to go over the top and skied it to mid-on.
Another partnership built until Luke Grant snicked off their number 4 batsman who looked out of sorts from the get go and found a lot of runs through edges. Joe had a great debut bowling 25 overs for 2-69. Gainsy came on for a spell to give the bowlers a rest and was able to snag 2 wickets in the process. The last 2 wickets took a while to get but we never went flat and maintained our energy throughout. With 9 overs left in the day Joe Graham stepped up to the plate to open with Ralphy instead of Gumms as he was feeling "lightheaded". They were able to survive the short spell and give the boys a better chance of winning next week.
I thought Sam Webber captained brilliantly in replacing Rowan, a few edges went through the gaps but that's cricket at times. We always felt like we were creating chances even on a flat deck. Also, quick mention to Joe Graham for stepping up to open the batting in a nasty situation, you would have been a waste batting at 10 anyway.
Cheers Ralphy
Luke Grant asking the question
The 2nd Grade cordon of Jarrod Rawlings, Javed Badyari and Luke Grant all going up
The much anticipated return of 2nd Grade manager Will Harding on Saturday
3rd Grade – Fairfield 79, 0/7 (W. Evans 4/34, J. Carden 3/5, J. Wigney 2/26), Manly Warringah 2/155 (J. Edwards 62, A. Bariol 38, J. Daly 36*).
Fairfield Oval was its usual heavy self – a well grassed outfield and even some on the pitch. They won the toss and batted and Wigney (2/32) and Carden (3/5) had them under pressure immediately with tight bowling. This paid off with a superb run out by Zac, hitting the bowler's stumps after swooping on it from cover point. Evans (4/34) then came on and had success via a snick to Jordan Daly. Jordan somehow held on to it. Next over Evans knocked back off stump to have them in all sorts. Jake finished off his spell with a well deserved caught behind after suffocating the batsmen during his 8 overs.Evans then trapped their skipper in front (ish) and soon after got the number 7 out snicking to Aiden. Evans should have stopped there with a tidy 4/8 but kept himself on and went for a few. Wigney came on and bowled one across the left hander for Aiden to take another one. 8 down at tea for 78 was a good start after last week's game. Jake then came on after tea and cleaned them up in the space of 3 balls to give us an 80 run target.

Our young openers, both 15, both back from the U/17 Aussie carnival showed us why they are held in such esteem with a faultless display against the new ball. Jack Edwards (62) got the early skip on Aiden (38) and they passed the total together. Aiden started to hit the ball more cleanly and was looking to move into top gear before cracking one to cover. These blokes ran well and found the gaps, showing much needed top of order energy after our early season failures. Jack played all the shots in his entertaining knock. He hits the ball powerfully and correctly and has a very positive aura at the crease. He looked like he could bat for days, only when the word went out that we were declaring in 4 overs did he play his first rash shot, top edging straight up against the spinner. A great partnership between these blokes and I reckon they'll have a lot of fun together racing to see who gets to 50 first over the next year or two.Sam Hole (3) under cut onto his stumps and James Crombie scored 7no. Jordan Daly (36no) hit the ball beautifully and scored his runs in very quick time. Great to have someone of Jordan's stature back at the club. All up 3/155 from 31 overs was a top response.

We gave ourselves 6 overs to get an early one but we couldn't quite do it. If we come along next week full of energy and enthusiasm I reckon we'll go close to getting a valuable 10 points.
WE
4th Grade – Fairfield 179 (M. Burgess 5/50, J. Wood 2/45) Manly Warringah 0/16.

Fourth grade rocked up to a top-soiled atmosphere park to find same flat pitch used last week. After Max lost the toss on a road we knew we were likely to be in for a long day in the field. Dan McKenna trapped one of the openers LBW early, before the number three and remaining opener went about grinding out maidens for the next 30 overs. With the cricket being quite dull, motivation in the field started to wane and we began to fall behind the over rate.Max brought Isaiah Vumbaca on to bowl leg spin, but unfortunately injured his back, forcing him to leave the field. Ben Kittletey swiftly answered the call to fill in as substitute fielder, foregoing a relaxing afternoon at Manly Wharf to help out the fourth grade boys. Thanks Benny!! The Tahs went into the tea break with Fairfield 2 wickets down and 4 overs behind the over rate.

Following tea, we continued to fall behind the required over rate, falling nine overs behind before prompting from the umpires forced us into action. Max Burgess begun to bowl one minute overs, with Jacob Graham almost matching him from the other end. This started to put the pressure on the batsmen and begun the fall of wickets with Max burgling 5 due to tight, stump to stump bowling. Apart from the number 8 who came out and smashed a 50 late in the day, wickets fell at regular intervals during the afternoon thanks to good bowling. The tahs bowled Fairfield out for 178, then Billy and Max saw out the remaining 5 overs of the day, leaving Manly 0-16 in a good position to chase down the runs next weekend.
Ryan Bishop-Perrett letting rip on Saturday
Joel Wood picking up a wicket in 4th Grade

Captain Max Burgess and Isaiah Vumbaca having a trundle at Grahams Reserve

5th Grade – Fairfield 114 (J. Anderson 2/11, A. Virdi 2/19, E. Hole 2/20), Manly Warringah 2/77 (E. Hole 32*, J. Pickering 31*)
We rocked up to Don Dawson Oval at Cabramatta to find a pitch that looked like a decent batting deck. Waddo lost the toss and we were asked to field. Alex Bain (1-10 off 10) and Abhijeet Virdi (2-19 off 12) opened the bowling, both creating pressure with the new ball. An LBW, catch at gully and a direct hit runout by Nick Osborne put us on top early. Will Akhurst (1-23 off 6) had the gloves off for the first time this season and came on 1st change and took his first grade wicket. Lachie Kerr (1-16 off 6), on debut, came on and continued to build pressure on the batsmen eventually making a break through also taking his first grade wicket. Ned Hole (2-20 off 6) came on and bowled well, consistently troubling the batsmen.
Nick Osborne (0-13 off 4) combined well with Ned to build the pressure and help gain the wickets we needed. Jonah Anderson (2-11 off 7) then came on and burgaled the last two wickets to have Fairfield all out for 114, a total we were comfortable to chase down after an excellent bowling performance.The chase started positively with Will and Jacob O'Sullivan opening up and looking solid from ball one. However after Jacob misjudged one on his stumps and Will missed one on his pads, we needed some batsmen to step up.
Jack Pickering and Ned Hole combined together for an unbroken partnership at stumps to leave us on 2/77, requiring only 38 runs for victory next weekend with both batsmen around 30 not out. A strong position heading into next weekend, with 5th grade looking to keep the undefeated start to the season going and make it 3 from 3.
Alex Bain