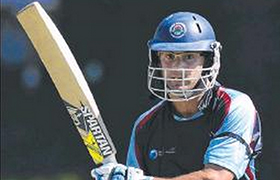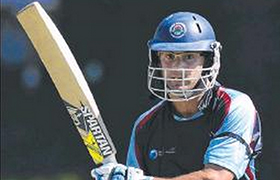 MANLY will look to overcome a poor start to their season today when they travel to Rosedale Oval in Sydney's west to do battle with Fairfield-Liverpool.

All-rounder Steve O'Keefe is unavailable due to NSW commitments but skipper Adam Crosthwaite has still managed to name a strong XI.

"I'm looking forward to some two-day cricket, hopefully we get to bat and do so for most of the day,'' he said.

"Apart from Jay Lenton's century last weekend our batters have not stood up collectively so far.

"Fairfield-Liverpool are always strong and there is a history between the clubs stretching back a long way."

The Waratahs will back up tomorrow when they play two T20 games at home from 10am. St George are first on the menu then fierce rivals Mosman at 2.30pm.

Emerging trio Sam Gainsford, Matt Alexander and Zac Trewartha have been named in an extended squad for both games.

HE SPENDS his working week dealing with kings of the cricketing world, but Cameron Merchant is one of the most grounded blokes you will ever meet.

"Nappa" has missed the opening two weekends of the grade season due to work commitments with Spartan Sports, which has Chris Gayle and Eion Morgan on its list of sponsored stars.

He makes a timely return for Manly today versus Fairfield Liverpool at Rosedale Oval and I can't emphasise enough just how important he is to our team.

Merchant scored 729 runs during our premiershipwinning campaign last summer and is just 25 runs away from reaching that magical 5000 run mark for the club.

Amazingly, he is one of those rare batsmen whose average is higher in first grade than it is in the lower grades.

But we don't just love him for what he does with that Spartan blade of his.

Nappa is the epitome of a team man.

He is a selfless type who puts the team ahead of any individual success or glory.

And he is a great bloke to boot.

Welcome back Nap. We've missed you.

BIG SUNDAY T20 BASH

BACON and egg rolls to start the day, a barbecue in the afternoon washed down with a couple of 4Pines beers and a couple of games of T20 cricket – does life get any better?

That's the card for our own Manly Big Bash at Manly Oval tomorrow.

We start the day against St George (10am) before making way for a Sydney Sixers clinic for the kids (1.15pm) followed by another T20 clash against Mosman in the afternoon (2.30pm). The food and beverages will run all day – as will some great cricket – so we hope to see you down there.


YOUNG STARS SHINE

TWO of our brightest young lower graders have excelled at the Australian under-17 carnival this week – despite both being eligible for the age group below.

Keeper-batsmen Aiden Bariol averaged just under 30 with the bat and took nine catches to go with his two stumpings in five matches.

And Jack Edwards, brother of first grader Mickey Edwards, averaged 35 and is as good a batsman to come through Manly in many a year.

The duo will be key figures in our Green Shield side and have big futures ahead of them.

I expect both to break into first grade XI calculations by the time they finish high school.
{loadposition cricket}