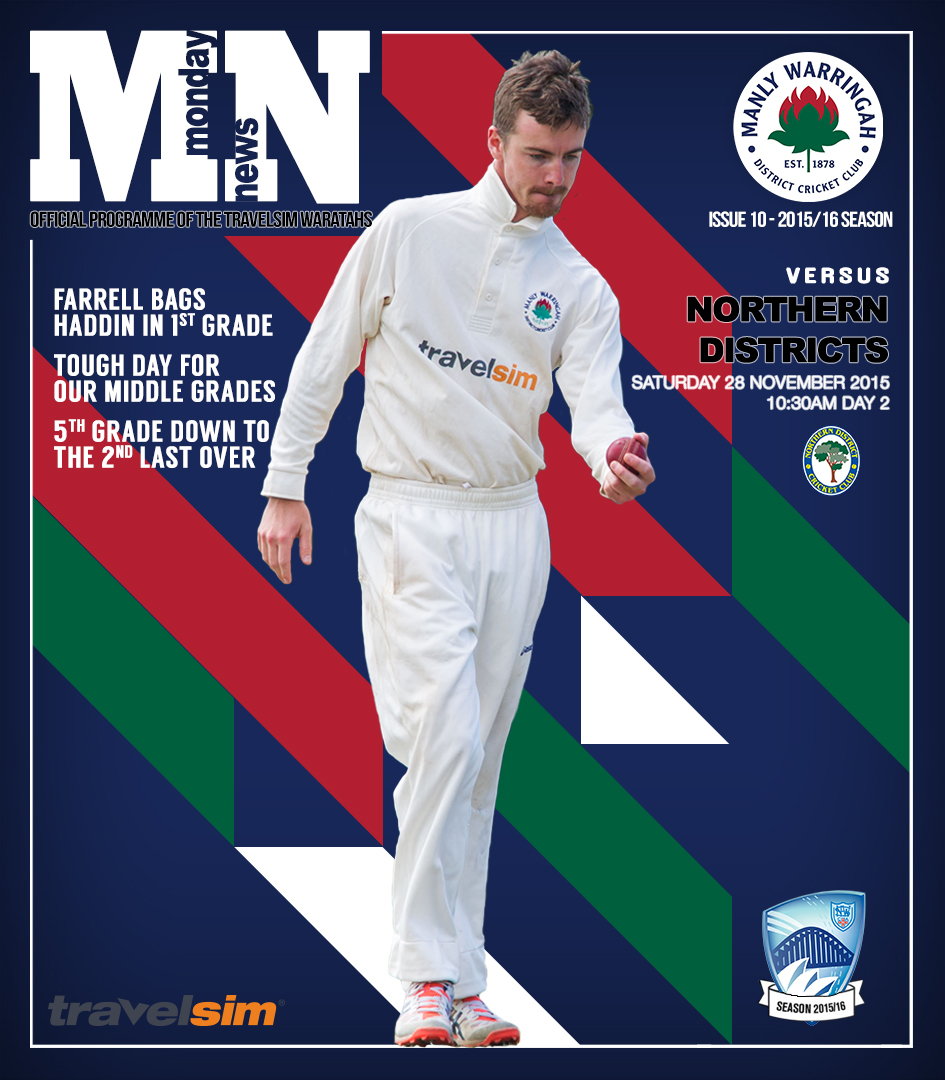 The Travelsim Waratahs began Day 2 vs ND's with all grades in winning positions. Unfortunately only our 1st and 5th grade sides capitalised on their Day 1 performances with two terrific wins.
1st grade had a great win over a strong Northern District's outfit. Crossy's men defended 371, with all bowlers contributing nicely. The 2nd Grade side tried everything, defending a par score of 293 on a batting friendly wicket, it was only the captain and keeper who didn't roll the arm over. Falconer, Kaye, Diserens and Carden all took a wicket each. Unfortunately the boys didn't capitalise on a few opportunities and were thoroughly outplayed, with ND's dominating Day 2 with a comfortable 6 wicket victory.
3's were rather unlucky, despite the scorecard looking otherwise. They were dealt with a shocking pitch, making life difficult for batting on Day 2 and were rolled for 54. Little resistance was shown by the Tah's in the first innings, with Jordan Daly's unbeaten 29* being the only highlight. They were however sent back in and managed to deny an outright result, finishing the day at 3/95.
4th grade had their first loss of the season out at Asquith Oval. After posting 233 in the first innings, the boys toiled hard all day and created enough opportunities to get over the line, however they did not capitalise and were beaten rather convincingly in the end.
Lastly the mighty 5th Grade had another convincing victory, with young quick Lachie Kerr leading the attack with a sensational display of bowling, picking up grade career best figures of 5/11 from his 13 overs.
All in all an okay weekend for the TravelSim Waratahs, who will be looking to improve heading into Round 7 vs UNSW. Currently sitting in 5th on the Club Championship ladder, the Tah's will be looking to climb the ladder next round.
Until next time, Go Manly!
4 Pines Player of the Week – Lachie Kerr


This week's 4pines Player of the week goes to Lachie Kerr, for his terrific spell in 5th Grade's dominant win over Northern Districts. After posting 217 last week, the Tah's needed a spell such as Lachie's to get the job done, and the young quick delivered. Bowling a sensational spell of control and discipline, Lachie finished the innings with an impressive 5/11 from his 13 overs (6 of which were maidens). This is Lachie's first ever Grade 5 wicket haul, and we are all sure it is only the first of many.

Well Done Lach!
1st Grade – Manly 7/371 (J. Crosthwaite 131, C. Merchant 88*, J. Munting 54) vs. Northern Districts 329 (J.Munting 3/48, R. Farrell 2/29, M. Visser 2/43, A. Beadle 2/61)
We started the day with a declaration and 370 on the board to defend.
The boys knew it was going to be a tough day on a good Manly wicket against a very strong Northern Districts batting line up.
The team talk put a strong emphasis on bowling maidens and building score board pressure and the chances will come. This is exactly how Visser, Munting, Nicko and Whitey started the day. The opening pair made it very hard to score and as a result we went bang, bang and had them 2/5. Munting got one between bat and pad then Jarrod Rawlings held on to a bullet at short point which was the catch of the day if not the season.
Northern District Kimberly and Harriot put on a partnership of 110 which definitely gave the boys a wakeup call and we knew we had a contest on our hands. The partnership was broken just before lunch with Kimberly chopping onto his stumps from an AB delivery. We went to lunch 3/115 knowing we had a game on our hands.
AB then struck again straight after lunch having Harriot (50) stumped by three meters from a slower, turning delivery giving AB 2fa for the day.
We then got to witness the class of former test cricketer Brad Haddin. He played his usual way and dispatched a lot of balls over Sydney road. Haddin raced to 49 from 42 balls and the playing group knew we needed something special to break the partnership that was threatening to ruin our Saturday. Adam made the bold move to throw the ball to young Farrell and he delivered with a spell well beyond his years. Haddin was always going to come hard and after sending one into the tennis courts Faz kept his cool and gave him nothing to hit for a number of overs. Hads wasn't going to let the young leg spinner tie him down, but it was our Farrell that came out on top getting the biggest scalp of his young career. Faz was absolutely brilliant with a game changing performance and finishing with 2/27 off 8.4 overs.
On the back of Farrell's big wicket we managed to open up an end and Jimmy Munting took the opportunity getting 2 wickets in 3 balls targeting the stumps of the lower order batters. Munting finished the day with 3/48 off 13 and bowled tight for us all day. Matt White bowled hard and fast all day and was rewarded a late wicket which was very well deserved as he was at his intimidating best.
At 9/272 the game looked to be done and dusted and nobody thought 370 was in danger until Ford decided to chance his arm and dealing mainly in 4s and 6s ND's were getting closer and closer to our score.
Again the ball was thrown to our young leggie to get us a break through, and again he delivered the goods. With the score 329, Ford on 63 and only 40 odd runs to defend Faz drew an edge to Jack Ritchie at first slip to finish the day with a win. 6 Points.
Well done boys. Go Manly
James Crosthwaite aka Better Crossy
2nd Grade – Manly 293 (J. Rawlings 71, T. Kaye 57, A. Baker 55) vs. Northern Districts 4/294
We turned up to Mark Taylor Oval knowing we were going to have to bowl well as we were defending 293, which was a good score and we were happy with it. After a good warm up, we were all feeling excited to get out there and give it a red hot go.
Nathan Buck and Ben Falconer opened up the attack and bowled well at the start with Falconer getting an early LBW putting the score at 1-9. A really good and positive start for the manly boys which is what we needed.
We quickly died off with our intensity and our chat in the field as the batsmen put on a partnership for the second wicket. They showed good intent with their batting and were always positive which took us by surprise and we weren't able to compete with them throughout the day. We showed signs of what we had the potential to do in patches throughout the day but overall pretty flat. Bowlers bowled well with Ben Falconer, Jake Carden, Luke Diserens and Tom Kaye all getting a wicket each which was good for them all.
They pasted the score 4 for 295 off 73.3 overs. We were very disappointed with how we performed and we all had a good chat after the game to share where we thought was our downfall so hopefully we can learn from the mistakes and take all the positives out of the game into next game.
Thanks to Will Harding (2nd Grade Manager), Gordan Currie (2nd Grade Scorer) for the work you did over the two days.
Go Manly!
Gainsy
3rd Grade – Manly 54 (J. Daly 29*) & 3/95 (B. Darcy 30, J. Daly 25*) vs. Northern Districts 6/231 (D. McKenna 4/47, J. Edwards 2/32)
The unveiling of the covers took everybody by surprise. Soaked hessian and a soft pitch all over. When did it rain so heavily for this to happen in Balgowlah? Manly boys like to do it tough obviously, why would you have a home ground advantage when you can do this instead?
NDs in their shock batted on and batted quite well considering the pitch to lose 4/6. One particular ball from McKenna exploded from a good length and took an inch cubed of pitch with it. Good signs, especially as the ball was only 82 overs old. A new ball would be a cinch.
Chasing 237 was going to be tough. Very tough. Basically impossible actually. The outfield played 20 metres longer than anything before seen at LMG. Everybody came and went in quick succession to be rolled for 54. Jordan Daly batted very well to finish 29no. Phil Melville put his accurate seam up 110km/h on the spot and walked away with 8/18.
The 1st session yielding 60 runs for the loss of a mere 14 wickets. Home ground belter.
Sent back in we faired a bit better as the heat went out of the pitch and their attack and we resembled a decent team to get to 3/95 before we finished up a bit early. Daly again the pick along with Gummer and Darcy also looking better.
A mauling but with some room for excuses, however our techniques were tested and in the majority of cases failed. But it's hard to practice on decks with this much life in them as you usually skip it and do fielding practice instead. Don't give up 3rds, our luck will change as long as we stay prepared.
WE
4th Grade – Manly 233 (T. Poole 68, A. Virdi 49) vs. Northern Districts 4/240 (W. Outred 2/75)
Unfortunately for the fourth grade boys it wasn't our day. With 2 wickets still in hand, we batted on to get a few extra runs and post a total 240-250 which we all felt was a good score to defend. RBP and Jacob got us off to a good start, with quick singles and few nice shots down the ground, we fell short of our mark and we're all out for 233.
It didn't start well for our bowlers as a few dropped catches went down and the opening Batsman getting the better of the conditions and capitalising on our missed opportunities. We struggled to get back into contest. We showed glimpses of getting back into the game, with some good short spells by RBP, Jacob and Joel, restricting the flow of runs, but just couldn't get the wickets we were after. NDs passed our total 4 wickets down. Despite the results, the manly boys still enjoyed the day and now turn out attention to next week where we hope to get a big win against UNSW.
Toby Poole
5th Grade – Manly 219 (I. Vumbaca 86*, O. Davies 28) vs. Northern Districts 117 (L. Kerr 5/11)
Defending 219, we needed to bowl well to secure the points. The wicket had a little bit to offer for the bowlers early, and the two opening bowlers Alex Bain and Lachie Kerr bowled excellent areas. Lachie took the first five wickets of the innings, returning 5-11 from 13 overs. All of his 5 wickets were quality, using seam and swing to great effect. His spell was a great example of keeping things simple, in bowler friendly conditions, and he got rewarded in spades.
After the excellent start by the Manly boys, the wicket really flattened out, and NDCC put on a partnership of 51 for the 6th wicket, taking the score to 5/68. We knew we had to bowl well for the rest of the innings to get the job done.
Manly toiled away, and eventually both established batsman were dismissed in consecutive overs, courtesy of Isiah Vumbucca and Jonah Anderson. Ned Hole took a great catch and was excellent in the field all day as well as bowling a lively spell.
NDCC were now in survival mode, attempting to bat out the day for a draw. It was a great lesson for the boys, and all of the bowlers put in huge efforts to take a wicket. Alex Bain, Jonah Anderson and Lachie all returned to the attack for second spells, which were of high quality. Jonah returned the remarkable figures of 16 overs, 14 maidens, 1-2.
Things were getting a little tense at the end of the day, as the final wicket for NDCC batted for an hour. With ten minutes to go, Tom Sheedy took the final wicket for a much deserved win for 5th grade.
There is a great feeling and enthusiasm in this side at the moment, and no doubt that assisted in sticking to the task throughout the day. Well done boys.
Tom Sheedy