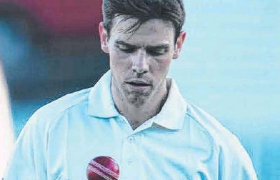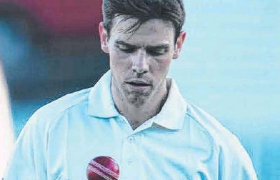 ALL the major accolades quite rightly went the way of James Crosthwaite after his debut century against Northern District last Saturday, while Cameron Merchant also batted beautifully for his undefeated 88.
But look further down the order and you will see a vital contribution from emerging all-rounder James Munting.
"Emerging" is not a word usually associated with a player who has already played first class cricket, but I believe "Munter" is truly still developing into a genuine all-rounder.
His bowling has always been of a high standard but it's his batting at number eight which has really caught the eye.
His 54 against NDs was all quality.
He played straight and hit the ball hard.
It was his innings — as much as anyone — that lifted the run rate when it was needed.
It's also easy to forget Munter played a crucial role in a matchwinning partnership with Jack Ritchie in last year's final, hitting the winning runs to break our title drought.
Today he will be a key man with the ball.
JUNIOR SUCCESSES
OUR DCA junior representative teams are a great source of pride and have again underlined the talent we have coming through by reaching the quarter-finals in five of the six age groups.
That's a club record — we have never before reached five quarter-finals.
A lot of the credit should go to former first grader Ross Trewartha, who is our junior rep chairman.
But Roscoe will be quick to tell you he is supported by a terrific and hardworking committee and an eager band of coaches, managers, parents and players.
"It's been a brilliant season so far and a real vindication of the processes and methods that we have put in place," Trewartha said.
"Our coaches are all on the same page and know what they are doing, and the off-field support that all the boys get from their parents and helpers is amazing. To get results like this is very satisfying." Tomorrow's games are: Under-12s v ACT (away) Under-13 v Central Coast (away)
Under-14s v South Eastern (Terrey Hills Oval)
Under-15s v Newcastle (Frank Gray Oval)
Under-16s v St George (Mike Pawley Oval).
MO FUNDRAISER
MANLY Oval is the venue for a special T20 match tomorrow.
A Manly XI will play a Warringah Shires XI in a Movember fundraiser.
Former Waratahs skipper Tim Cruickshank can't grow a mo to save his life but will do his bit with the bat, turning out for the Shires team.
Plays starts at 2pm.
{loadposition cricket}