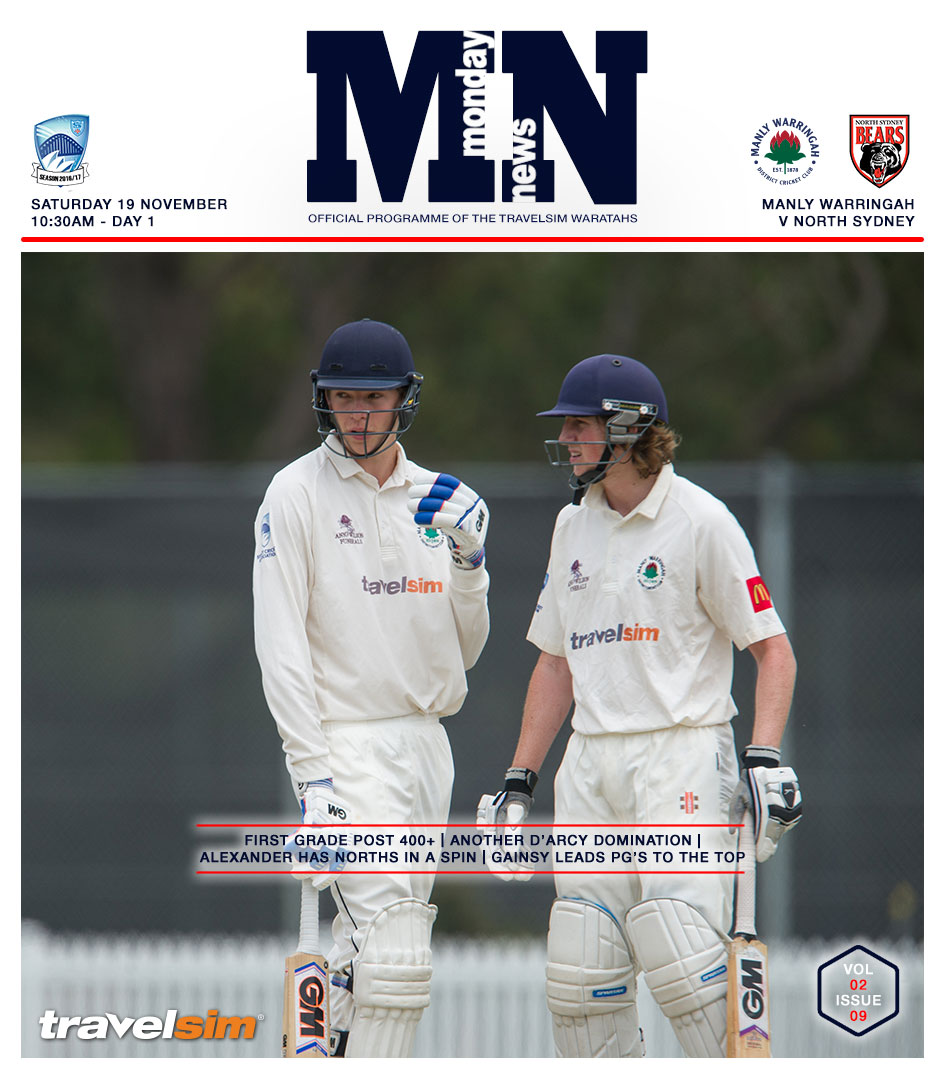 The Travelsim Waratahs are off to a terrific start in the Round 6 fixture vs. North Sydney. First Grade continued their incredible run with the bat, with James Crosthwaite leading the way with a magnificent 195. JC unfortunately fell just short of what would have been his first double hundred for the Waratahs. He was well supported by Rawlings (81), Adam Crosthwaite (41), Jay Lenton (61*) and Ahillen Beadle (44). Second Grade star and club captain, Billy Darcy led the way with the willow on Saturday, posting yet another ton for the Manly boys. This is Billy's 4th ton in the past two seasons, and his second in as many digs. Contributions from Gainsford, Edwards and Bariol saw Cubby's men post a modest total of 264. Third Grade toiled all day on the highway at Bon Andrews Oval. Sam Alexander enjoyed his long awaited return to the main grade and took his first 5 wicket haul for the season. Norths were bundled out for 271 and we are 0/10 in response. Fourth Grade also had a solid day at the office posting a total of 236 with Adam Gummer chipping in with a classy 80. He was well supported by Max Burgess (41) and Zachy Trewartha (26). Fifth Grade bounced back in spectacular fashion after last week's tough loss against Sutherland. Opening batsmen Will Outred (35) and Matt Brewster (113) set the tone early and continued to punish North Sydney as the day progressed. Dom Wheeler (59*) and Toby Poole (44) continued the momentum and the boys ended up posting a whopping 2/274 in just under 70 overs. Norths are 0/38 overnight.
Finally, our Poidevan Gray side remained undefeated after a nail-biting victory over Sydney. Jack Edwards was the star of the day taking 5/27 off 9 overs and posting a classy 65. He was well supported with the bat by skipper Sam Gainsford (56*). Special mention to Sammy who battled with an elbow injury for the majority of his innings and ensured the boys got over the line in the second last over.
All in all a solid weekend for the Manly boys and with another strong week we will hopefully be walking out of this round with full points. We have made a great surge in the Club Championship race recently, as we currently sit in 5th place, 84 points behind the leaders Gordon. A perfect round will see us very close to 1st Position.
Go Manly!
4 Pines Player/s of the Week – James Crosthwaite/Matt Brewster
This week was another week filled with incredible performances right throughout the grades. This player of the week award is getting harder and harder to decide each week as the club are playing some incredible cricket at the moment. This week's 4 Pines Brewery Player/s of the Week are James Crosthwaite and Matt Brewster.
James continued his form with the bat after posting 95 against Sutherland last round. The better Crossy went on and made a mammoth 195 off only 226 deliveries. Hopefully this will be the first of many tons for Jimmy this season.
Matt Brewster hit his first Ton for Manly in 5th Grade's game down at Tunks Park. Matty opened up and set the tone for the Manly boys. In only his 4th match, to already have a ton under his belt is a fantastic achievement and we are all sure it is the first of many for Matty.
Well Done Boys!


Notable performers: Billy Darcy (113), Sam Alexander (5/67) and Jack Edwards (65, 5/29) were also unlucky not to be players of the week after their fantastic performances over the weekend.
"Jake Carden preparing with the bat as 2's warm up"
"Tom Kaye focusing on the job at hand out in the middle"

"Billy D'Arcy looking to consolidate a partnership with Tom Kaye"
"Jack Edwards looking to get amongst the runs against the Bears"
3rd Grade – Manly 0/10 vs North Sydney 274 (S. Alexander 5/67, R. Bishop-Perrett 2/69)
Bon Andrews had a cover of grass but was hard as a rock. Played true the whole day and to chase 271 will be interesting. We were not at our best, especially early on, struggling for control against the top order left handers. RBP (2/69 from 17) was again unlucky with a dropped catch in the cordon first over. Needless to say he went on to score 52. Wilson (0/25 from 11) bowled tidily but the openers seemed unfazed, with us leaking too many hip balls and leg side singles. Evans (1/27 from 6) got the breakthrough with an edge to Daly. 1/38. Ned (2/37 from 11) then got another edge to Daly to make it 2/60. A couple of good catches. 2/3 ain't bad I suppose.
Evans was dispatched to the boundary repeatedly in his last 2 overs and Norths were humming. Sam Alexander (5/67 from 24) bowled with control, flight, beguilement from ball 1. He soon clean bowled their #4 to make it 3/98 and a similar result followed soon after making it 4/106. Good pressure bowling was met with equally good, even tempered batting that dug the Bears out of a hole. We had a few half chances throughout, none taken. Finally their #6 swept at Sam but was caught in front to make it 5/179. Ned then had the #7 well caught by RBP at short cover. 6/193.
Another good partnership followed though and the Bears were threatening 300+ but luckily for us, and needlessly for them, the #8, looking comfortable, took a mad swipe at RBP to be clean bowled. In the same over RBP trapped the other run scorer in front to make it 8/248.
A great running backwards catch by RBP made it 254 and arguably that's where it should have ended but the umpire thought otherwise and the tail hit well for a further 17 runs giving us an awkward chase. We are 0/10 in reply from the two we had to get through.
It will take some time at the crease for a couple of blokes next week for us to chase this down. Will be interesting with both teams no doubt fancying their chances.
Warren Evans
4th Grade – Manly 236 (A. Gummer 80, M. Burgess 41, Z. Trewartha 26) vs North Sydney

Turning up to Mike Pawley Oval on a tacky wicket with a bit of moisture left in it we lost the toss and the boys were sent in by North Sydney. With a strong batting line-up however and coming into the game off the back of a big win last round against Sutherland we were confident of putting in a strong performance with the bat and setting a big total. Openers Cohen and Gummer started off well and moved the total to 44 before Cohen fell to a sharp caught and bowled. Boyer then joined Gummer at the crease but unfortunately fell to a piece of clever bowling, being bowled. Willy Akhurst then came to the crease off the back of a fine half century last round but fell cheaply pushing one to the catcher in close. This then brought Zachy Trewartha to the middle as he showed his intentions early with some power hitting and counter attacking but was undone for well-made 22. Maxxy then joined Gumms and the pair set about consolidating the total whilst showing the rest of the team how to go about their business showing plenty of resolve. The two were patient and showed excellent application to move the team to 177 swinging momentum back in our favour throughout their partnership. Maxxy was dismissed for a solid captain's knock of 41 and Gumms soon followed as he was dismissed for a superb 80 being the mainstay of our innings. Izzy fell soon after for 4 and unfortunately the tail couldn't contribute as much as we would have wanted. Apart from some big hitting from Mckenna and grafting at the end from Graham we were all out for 236. A strong bowling and fielding effort next week will be required but overall a good day with the bat for the Tahs.
Nic Cohen
Click on the images below for a larger view
"Adam Gummer and Nick Cohen putting on the runs in 4's"
"Adam Gummer looking to crunch one through point"
"Nick Cohen working one off his pads"
5th Grade – Manly 2/274 (M. Brewster 113, D. Wheeler 59*, T. Poole 44, W. Outred 35) vs North Sydney 0/38

Fifth grade rocked up to a greenish yet rock hard Tunks park wicket on Saturday and decided it was a good toss to lose. With a bit of cloud about and some wind coming off the water, we were sent in to bat after Waddo lost yet another toss (21st loss on the trot?). After Wilbur forgot the team kit we got through a good warm-up and looked set for a good day.
Brewster and Will opened up and started superbly. In no time we had flown to 0-100 with Brewster notching up his fifty. Soon after Wilbur fell for a well composed 34, arguably facing the better bowling and being dismissed by a young kid with a questionable bowling action. Dom then joined Brewster at the crease and the two put on more runs in quick fashion. Brewster brought up his ton in interesting fashion, inside edging the spinner past the keeper's gloves and narrowly avoiding both a stumping and caught behind. Despite the boys' initial thoughts that it may have been byes the runs were awarded and he brought up an excellent and well deserved 100. He was dismissed for 113 shortly after and Dom and Toby continued the onslaught after being given a license, ending up on 59* and 40* respectively.
We declared with 10 overs left in the day to try and snag an early one or two before tea. Unfortunately there were a lot of plays and misses and a dropped catch in the slips. North Sydney reached 0/37 at stumps with plenty to play for next week.
Glyn Archer
Poidevin Gray – Manly 7/180 (J. Edwards 65, S. Gainsford 56*) def Sydney 178 (J. Edwards 5/29, J. Wigney 3/41)
The PG's boys arrived at Drummoyne oval looking to continue their winning streak. Skipper Gainsford lost the toss, a good one to lose, and Sydney chose to bat. Josh Wigney struck in the 3rd over with a great catch by Falconer at fine leg. Sydney's second wicket started to build a partnership, until inform Graham got the number 3 caught at short cover. Wickets continued to fall after Graham's wicket. Edwards taking his maiden 5 fa seemed to get the crucial wicket when a partnership looked like building. Josh Wigney also picking up a sneaky 3 fa and helping keep the Sydney boys to a gettable 178.
Jack Edwards 5-27 off 9 overs, Josh Wigney 3-41 off 8
Wolter and Bariol continued their aggressive manner at the beginning of the Manly innings. Wolter put one back over the spinners head but not long after, found himself trapped in front of the stumps for 8 and was given out LBW. Edwards continued with the positive intent by hitting a couple of 6's early on in his innings. Bariol departed a while later for 14 and was also given out LBW trying to sweep one. Edwards and Gainsford set up the Manly innings putting on 53 for the third wicket. Edwards brought up his half century off close to a run a ball. He was bowled a little while later for 65. Davies, Crombie and Trewartha were out quite quick, giving Sydney a slight glimpse of hope. This was taken away when Carden helped Gainsford pile on the runs and bring up his second half century for the comp. Carden was out caught just before the runs were scored. Gainsford finished on a solid 56 not out and helped the Manly boys pick up 4 from 4 and lead the comp.
Highlights of the day were Edwards 5-27 off 9 and 65, Wigney 3-41 off 8 and Gainsford 56*
Oliver Davies