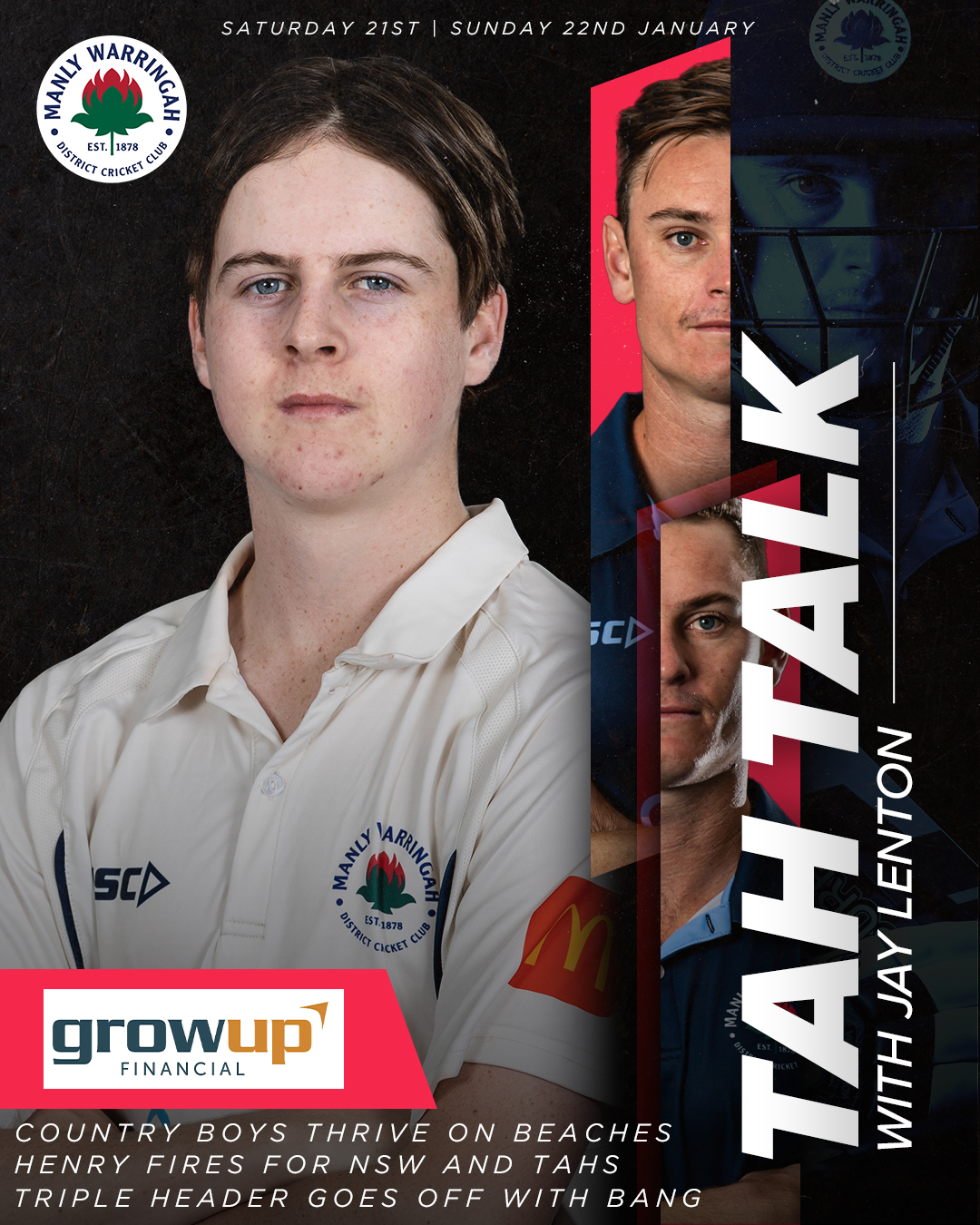 COUNTRY BOYS THRIVE ON BEACHES
We are very passionate about out local juniors here at the Waratahs, with our pathway being such a big part of what we do.
But we would like to think our club is for all, and welcome good people to our club with open arms.
George Cumming and Lachlan Coyte are 2 of those people. Hailing from Orange, both have come to Manly looking to enhance their cricket and have fitted in really well.
George took his first 5 wicket haul for the Waratahs in 4th Grade last weekend with his left arm orthodox. He is hard working, diligent and a popular member of the club.
Lachlan is the same. He has been in the runs all season as he shows how good he is with the bat.
'Çoytey' has scored over 400 runs in all grades and plays with the laconic style we know and love about the country.
Country NSW has attracted some great people to our club over many years. From Gainsford to Clemow to Heath…. even my Central Coast heritage classes me as a country boy.
Each year in Green Shield we include 2 to 3 Country players, with Harry Kershler and Tom Cover joining us this season.
Of course we are over the moon with 2 of last years Green Shield country players making the NSW Country U/17 side in Brodie McDowell and Nathan Pryke.
May our relationship with the Bush continue well into the future.
HENRY FIRES FOR NSW AND TAHS
They say that playing sport at a higher level is infectious. That certainly seemed to be the case for Eliza Henry on Sunday.
She shone brightly for the victorious NSW Metro side at the Australian U16 carnival the previous week, being named as the teams most valuable player and coming second in the stats based "Player of the Championship" across the entire tournament.
She hit 99 runs in her 3 innings, only being dismissed once, and took 7 wickets at a miserly average of 11.43.
You could see it in her play when she came back to the Tahs last weekend. Scores of 64* and 41 on Sunday showed she has what it takes to get to the next level.
Eliza has already made her first Grade debut for the Waratahs, but I get the feeling that's not the last time we will see her there.
TRIPLE HEADER GOES OFF WITH A BANG
Sundays at Manly Oval are always a treat, but last Sunday was even better.
Our Women's T20 Triple Header across Brewers, W2s and W1s, which we were doubly as a fundraiser for the National Breast Cancer Foundation.
It turned out to be a perfect day. Plenty of things to do and eat, activities to help raise money, as well as some quality Women's Cricket on display.
Throw in the dulcet tones of Anthony Caruso on the microphone and it was hard not be impressed.
A big congratulations needs to go to the girls on a great afternoon. They didn't disappoint on the field either with a clean sweep.
Our Community Manager Phill Edwards also needs a shout out. He works tirelessly in the background to make sure that we as a club do what we can to help those less fortunate than ourselves.
Well done all on a great day.