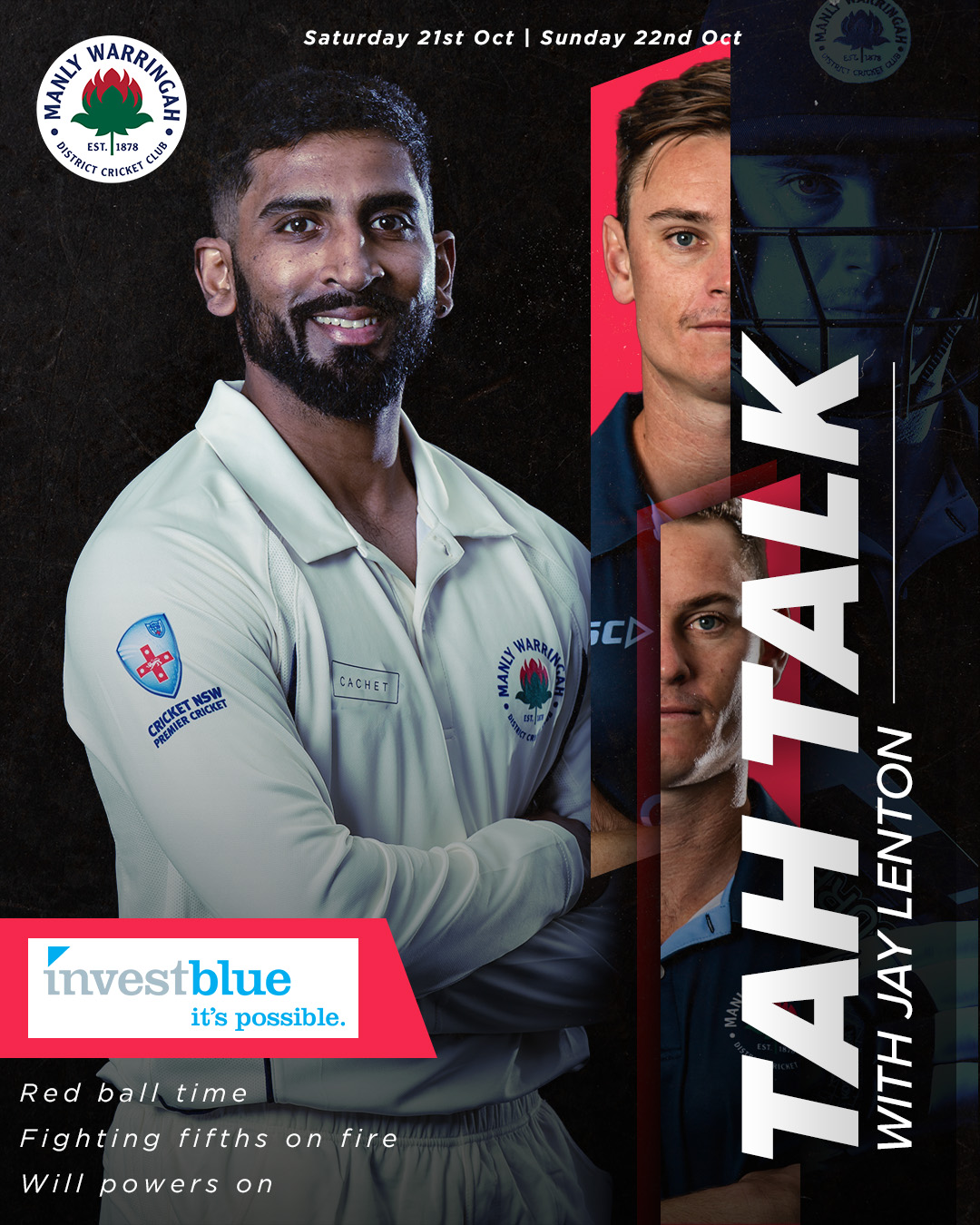 Welcome to another week of Tah Talk with Jay Lenton, proudly brought to you by our good friends at Invest Blue!
RED BALL TIME
If there's a silver lining to our early exit from the T20 competition, it's the fact we can now concentrate on our climb up the premiership ladder.
Don't get me wrong – I am gutted we didn't perform to expectations in the shortest form of the game and it's something we need to get right because our performances in that area haven't been great for a while.
But we have our eyes firmly on the big prize – the Belvidere Cup – and we're off to a reasonable start.
A limited overs loss to North Sydney was followed by a strong bonus point win over UNSW in another one-dayer last Saturday.
We sit fifth on the table after two rounds and want to build on that.
We now switch focus to the red ball and a two-day game against Gordon, starting Saturday at Chatswood Oval.
We played some really strong cricket last season to reach the semi-finals and I can feel us starting to click into gear after a bit of a shaky start to the campaign.
We will again be missing three of our best – NSW reps Jackson Bird, Ollie Davies and Jack Edwards – for at least day one, but the players we have coming in are quality and will do a job for us. It's time to press the go button.
FIGHTING FIFTHS ON FIRE
Centuries are usually a rare beast in fifth grade.
Not so this year for the Manly team led by the wily veteran Simon Waddington.
Three batsmen have reached three figures – Kai Croft, Brodie McDowell and Jack Melchiore.
They were all superb knocks and all while chasing reasonable to decent totals.
Not surprisingly, Waddo's men sit second on the table as they look to go one better than last season when they were beaten grand finalists.
And, just as importantly, runs (and wickets) puts pressure on the teams above to maintain high standards.
We are sixth in seconds, 16th in thirds and third in fourths.
Manly sit 12th on the club championship and need to improve on that if we're to chase down our goal of becoming only the second club to win that prestigious title two years in a row.
The talent is there to do it.
WILL POWERS ON
All our wonderful volunteers are a valuable asset to the club and one of the best celebrated a birthday this week.
The great Will Gustafson turned 20 but didn't let birthday celebrations stop him carrying out myriad duties.
Name a job and there's a good chance Will has filled it during his many years of volunteering.
Tuesdays, Thursdays and Saturdays are filled up helping the men's teams prepare and play.
On Wednesdays and Fridays, he switches focus to helping the women's teams ready themselves for the weekend.
He's also a great help to Joel Mason's media team, writing the Weekend Wrap column and Captains' Call posts each week.
When he's not doing that, he's uploading photos to our social channels.
Will's a volunteer we simply could not do without.
Happy birthday, mate, and thanks for everything you do for the mighty Tahs.