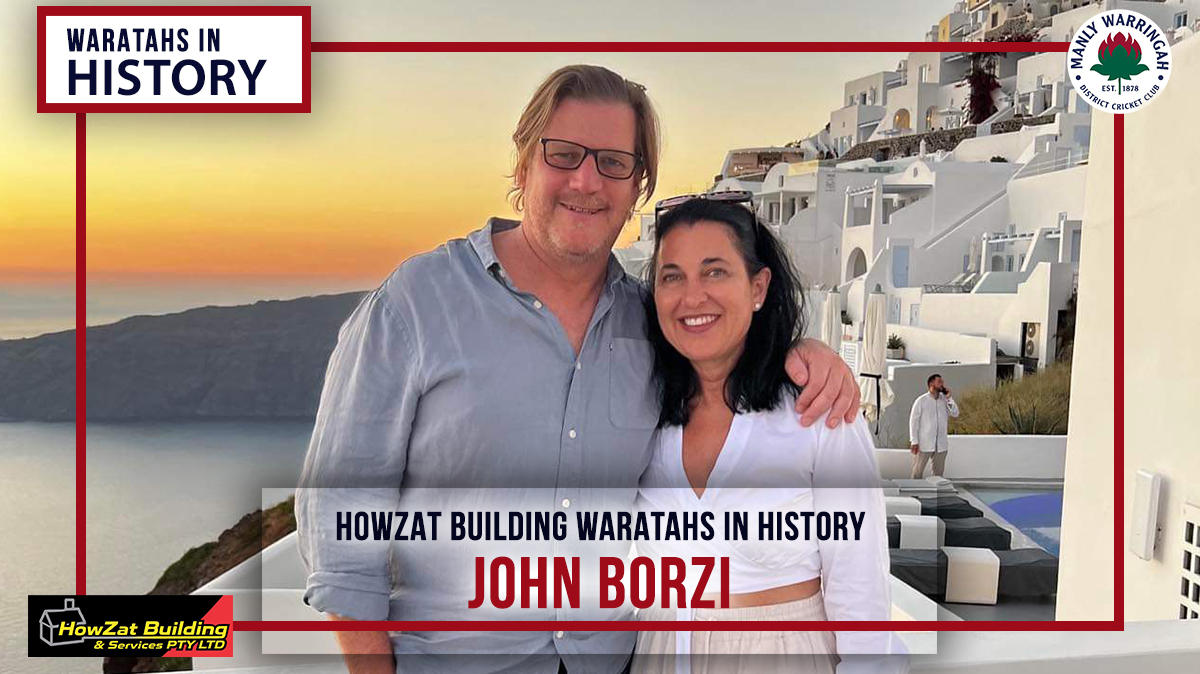 This fortnight Howzat Building Waratahs in History Q&A saw us speak with John Borzi, a club member and player for 8 years. John played for the club from 1985/86 to 1996/97.
"Borzi" was a captain extraordinaire with his best personal season being 1993/94. His bowling figures of 8-60 at a season average of 12.20, also his top score of 76 at the crease came in the same season.
Borzi is still seen around the grounds on occasions also attending ex-player events when he can make it.
We sat down with the "Borzi" for a chat through his time at Manly.
Tell us a bit about your junior journey on your way to playing at Manly?
I was a rugby league and union player, and maybe played a season of cricket in the under 10's. I only fell in love with cricket when I tried out for Manly senior grade when I was 18. Got a start in 5ths, which I thought was great. As a lower grade captain for many years, I considered it a great honour to ensure the young players passing through, understood what playing for Manly was all about.
You debuted for the Waratahs in the early 80's at the tender age of 18. What do you remember about your grade debut?
In try-outs, I remember bowling in the nets to a former Australian wicket keeper/batsmen, who spent his senior playing days with Manly. I copped a gob-full from him, after I bowled a bouncer. Must have sailed passed his eyes at around 80 – 85km. I took another pie from the oven and misdirected a second bouncer. This one really upset him. I made a mental note: "never to be a complete cock to a junior player, should I ever become a senior player – especially in the unlikely event I should play for Australia and face the pace attack of the West Indians". He taught me a great lesson that day.
Who were your cricket heroes growing up?
DK Lillie, Jeff Thompson, Doug Walters, Ian Chappell – later Steve Waugh and Gilchrist
What are your memories of the club in the early and mid-(decade)s as you were coming through the grades? Both on and off the field?
I never really went 'through the grades' as such – unless you count 5ths, to 4ths, and back to 5ths again. The club, the players and the supporters (both of them) were central to my weekdays, my weekends and my social life. As Tony Scanlon once said, you're a long time retired, and so I played with Manly till I was 30 and continued playing in Singapore until I was 37. My days at Manly are a very large part of who I am today.
Who drove the standards at the club during your playing time?
Manly has always had a strong culture, led by the senior players and administration. To a man, everyone took the game seriously, but rarely themselves. Some exceptions to the latter, of course. Culture takes years to foster and everyone to contribute. As players, Andrew Fraser and David Gainsford represented the Manly spirit more than most, but as administrators, they have enhanced the culture and ensured that it will live on through the next generation.
Your best figures for the club were 8 wickets for 60. What do you recall about that game?
I was unusually hard to play that day. Gentle outswinger, bit of movement back in, striking blond hair. For most of my career (if that's what you call it) I was a pretty good bowler to good pretty good batsman. Once the batsmen were any better than pretty good, like, you know, good, I'd be over the fence. Not this day brother. I was as surprised as anyone.
Your top score was 76, what do you remember about that innings?
I think I was bowling at the time and that's how many runs I went for. Certainly doesn't sound like my bating total. I did fancy myself as a bat, but after 10 seasons, I concluded that I wasn't one – some years after others concluded the same thing.
Who was the funniest player you played with at Manly and why? Do you have any clean stories you could share with us?
The rarest of all breeds was Alex 'the supercat' Haigh. Left arm unplayable quick (his words). Truly odd sense of humour, best example was when he made it his business to ensure that a team photo, requested by an international player, could never be shown to his parents.
Geoff Tucker, David Gainsford, Scanners and countless others of that era, made the hours on and off the field the funniest I've lived through.
Who was the best player at Manly that you played with?
Well, as a fourth and fifth grade captain, I saw some of the greats come through the lower grades. I never gave any of them a bowl of course. The best single days performance I've ever seen belongs to Darren Bradstreet. Shawn's brother, who was asked to come in to fourth grade, when we were short. Bowled unchanged for 30 odd overs (7-fa) and hit 97 runs to win us the game. Never saw him play again. Freakish family that.
Best Nick Name?
Not for here
Who was someone that you loved to captain, that you loved seeing succeed?
I enjoyed the cricketing crop of Forester, Parko, Warny, Cranney, Lamb, Mason, Youelly, Rochford and the odd Glassock. Great young kids, who grew into great Manly players who understood the culture of the club. We continue to produce great cricketers but better blokes. That should be the order of things.
What do you think your strength was as a cricketer?
I was/am competitive, valued hard work and was always positive.
What does your life involve now, and do you keep abreast of how the Waratahs are faring?
I have four daughters, a wife and live 15 minutes walk to the ground. If I had four boys, I'd be much more well-known to most of the readers here. Jordan Daly is my Nephew, David Gainsford was a groomsmen, I'm a Blueblood member and so I'm connected to the club in ways that I can't escape. I live and work on the Northern Beaches.
What are some of your predictions for Manly in 2023 /2024?
Laughter, success, disappointment, milestones and stories.
John Borzi Stats
| | seasons | Matches | Inns | Runs | NOs | BatAvg | 100's | 50,s | H.S | Ct | St | O. | M. | Runs | Wkts | BwAvg | 5fa's | BBR |
| --- | --- | --- | --- | --- | --- | --- | --- | --- | --- | --- | --- | --- | --- | --- | --- | --- | --- | --- |
| | 199697 | 10 | 10 | 100 | 1 | 11.11 | 0 | 0 | 42 | 7 | 0 | 149 | 29 | 384 | 20 | 19.20 | 0 | 3/22 |
| | 19951996 | 11 | 11 | 145 | 0 | 13.18 | 0 | 0 | 31 | 12 | 0 | 220 | 75 | 589 | 30 | 19.63 | 2 | 6/81 |
| | 19941995 | 13 | 13 | 144 | 2 | 13.09 | 0 | 0 | 44 | 2 | 0 | 149 | 29 | 453 | 30 | 15.10 | 2 | 5/56 |
| | 19931994 | 11 | 11 | 119 | 0 | 10.82 | 0 | 1 | 76 | 8 | 0 | 205 | 47 | 488 | 40 | 12.20 | 3 | 8/60 |
| | 19921993 | 7 | 7 | 100 | 1 | 16.67 | 0 | 0 | 41 | 1 | 0 | 135 | 23 | 384 | 15 | 25.60 | 0 | 3/43 |
| | 19871988 | 10 | 10 | 55 | 2 | 6.88 | 0 | 0 | 22 | 4 | 0 | 161 | 29 | 508 | 19 | 26.74 | 0 | 4/64 |
| | 19861987 | 11 | 11 | 144 | 2 | 16.00 | 0 | 0 | 34* | 6 | 0 | 232 | 46 | 712 | 33 | 21.58 | 0 | 4/28 |
| | 1985986 | 9 | 9 | 51 | 2 | 7.29 | 0 | 0 | 24 | 3 | 0 | 168 | 28 | 531 | 26 | 20.42 | 0 | 3/22 |
| Totals | 8 | 82 | 82 | 881 | 10 | 11.92 | 0 | 1 | 76 | 43 | 0 | 1,419 | 306 | 4,094 | 213 | 19.01 | 7 | 8/60 |