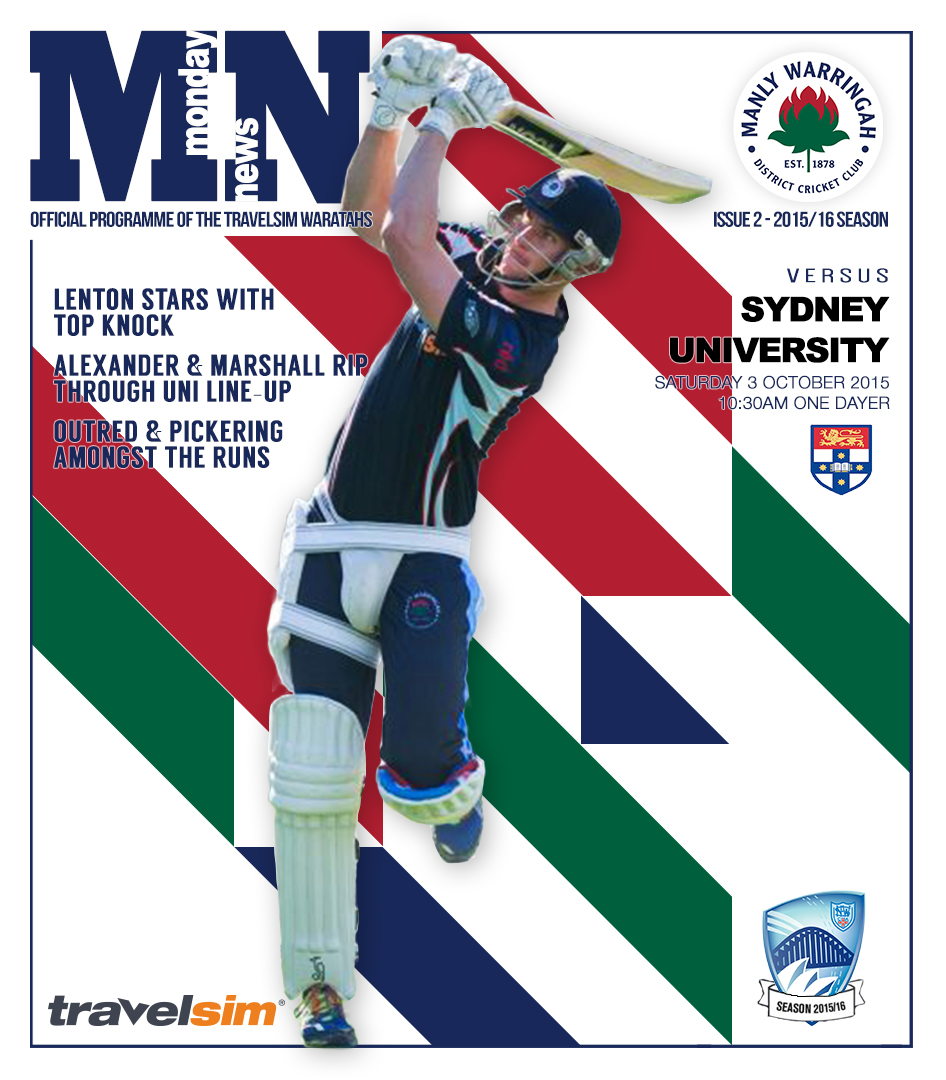 The TravelSIM Manly Warringah Waratahs were dealt a harsh reality of where we are currently at with a thumping at the hands of Sydney University on the weekend.
It was the first hot day of the season (we didn't have to wait too long) and despite some fantastic games in the top 2 grades and a fighting win by our young 5th grade side, we were ultimately taught a one-day lesson by the students.
1st grade again disappointed with the bat, chasing exactly the same amount of runs as the week before against the Hawks but again coming up short. The beginning of our innings followed the same script as round 1 until Jay Lenton (112*) and James Munting (47) stepped up to almost get the team home, losing by 7 runs.
In a replay of last year's 2nd grade Grand Final, it was another cracking match with Tahs bowling attack limiting the Students to 156 before the experience of the University side shone through with the Tahs falling 5 runs short, Sam Gainsford the star with the bat with a well-made 47.
Great games but if we are honest, ones that we should have won, and did so last year. Not alot of difference between the 2 sides in either game but we just need to find that extra step to get over the line.
Our premiership winning 3rd grade side copped a hiding from a very strong Sydney University side, losing by exactly 180 runs, with no one standing up to be counted. 4th grade were in the game at various stages but losing wickets back-to-back to often as well as wayward bowling and slopping catching meant a 4 wicket loss.
The bright spark was our 5th grade side. Outside of Waddington and Jacob Graham it was basically our Green Shield side, and a magnificent 55 from Jack Pickering and 4 poles to Jacob Graham meant the team had an 8 run victory.
So a round of missed opportunity. We are hopeful of a few returning players next week in Merchant, Daly, Badyari and co, but plenty of work needs to be done at training to get the club back in the winner's circle. Still plenty of victories to be had this season.
4 Pines Player of the Week – Jay Lenton
What can you say about Jay's innings on Saturday. It was full of class, maturity, patience and power. He looks like he has really taken his game to another level this year. Coming in at 4 for 48 and being at the crease when we slumped to 6 for 84, no one gave the Tahs even a chance with the exception of Jay and number 8 James Munting. Taking on the senior role, Jay started out slowly before putting the pedal to the metal late in the innings, finishing with 113* off 97 balls faced.
Hi last 50 came off around 20 balls.
Jay is a real chance of playing first class cricket this season and with innings like that, in front of state selectors no less, it's easy to see why he is in the reckoning. His keeping is top notch, and hopefully he can get a few games under his belt.
For his fantastic innings, Jay is this weeks 4 Pines Brewery player of the week.

1st Grade – Manly 9 for 235 (J. Lenton 113*, J. Munting 48, A. Crosthwaite 28) def. by Sydney University 241 (N. McLachlan 2/62, S. O'Keefe 2/31)
Manly turned up for their first home game of the season looking to bounce back from a disappointing first up defeat out at Bensons.
The near full-strength students, elected to bat first on a pretty flat Manly wicket & after losing an early pole, set about setting a decent platform. After racing off to a pretty quick start, Visser (1/25 off 10) & O'Keefe (2/31 off 10) applied the brakes & were the pick of the Manly bowlers for the day. Manly toiled hard & the Uni boys ended up 8/241 with McLachlan (2), Munting (1) & Beadle (1) the other wicket takers.
Special shout out to the Flat (Baker) who wound back the clock & ran round in the field like a 20 year old despite the heat.
The chase started in the worst possible fashion, with Crosthwaite Jr out in the first over. Ritchie & Crosthwaite Sr set about rebuilding, but when the Tahs lost Ritchie & then Beadle in the space of 3 balls, the side was in a hole.
A few more wickets & some tight bowling left the Tahs at 6/84 off around 25 overs with the game seemingly out of reach. No-one mentioned this to Jay Lenton & the returning Jimmy Munting who took the chase deep with some excellent stroke making & mature batting.
The chase still looked improbable with 60ish needed off 5, but Lenton was on fire, bringing up his 100 from around 90 balls in what was one of the best hundreds seen at Manly Oval in recent memory. With two overs to go, the Tahs still needed 26 & when Munting was bowled for an excellent 48 the game took another turn. Lenton took 16 off the last over but it wasn't enough, with the Tahs ending 5 short.
So the Tahs go 0/2 to start the year & will look to bounce into the 2 day format with a couple of wins to kick-start the season.
Nick McLachlan
Jay Lenton was on fire on Saturday


Michael Visser and Stephen O'Keefe in action on Saturday. They were the pick of the bowlers.
2nd Grade – Manly 151 (S. Gainsford 47) def. by Sydney University 156 (M. Alexander 4/26, D. Marshall 4/25)
The 2s turned up to St Pauls on a perfect spring day for cricket, looking to rectify the result of last year's grand final.
Rowan loss the toss on an absolute road and we were sent into bowl. Matt Alexander and Ben Falconer started us off with a wicket each in their first few overs. Luke Grant came on and took a wicket straight away, leaving Sydney uni reeling at 3 for not many.
Tight, stump to stump bowling and fantastic fielding slowed the run rate to a halt. Tom Kaye came and went, so Rowan decided it was time for spin and threw on Dylan and Ryan.
Dylan had the ball on a string and took wickets on a regular, not allowing any partnerships form. Alexander then came back on at the end and cleaned up the tail by taking 3 quick wickets. Bowling the premiers out for 156, the boys were confident we could chase this total down.
Things did not start too well with Jarrod and Tom getting out with consecutive balls, leaving us with 2 for 4. Ryan Farrell and Adam Gummer came on and consolidated beautifully, playing shots all around the ground. With the score at 2 for 44 we lost Gums and Faz from two half trackers bringing two new batsmen to the crease.
Rowan came and went, leaving the two Sams (Gainsford and Webber) trying to rebuild our run chase again. Gains was looking in good touch but schwebber could not find a gap and ended up smacking one to short cover. Alexander joined Gains (47) to form probably the hardest hitting partnership in the club and the two were looking good together, ticking the scoreboard over and hitting the odd boundary.
The two were cruising, but we were running out of overs and in a similar pattern, we lost two quick wickets again. The equation went from around 2 an over and jumped up to almost 5 an over which the tail could deliver and folded in the last over to be all out for 151, 6 runs short.
A disappointing result for the boys, considering being in front for the majority of the day.
Go Manly
Ben Falconer
3rd Grade – Manly 117 (M. Cole 35) def. by Sydney University 297 (J. Carden 2/50)
Graham's was a road. Winning the toss was going to be an advantage, possibly not worth 180 runs though. Syd Uni won it and more than just won the game, they taught us a thorough lesson in all aspects of the game.
I have certainly never lost a one dayer by 180 runs before and I doubt I've been hammered like that in a 2 dayer either.
We strayed from our basic plans…our fielding lacked intensity, plenty of easy runs picked off by the Uni batsmen, who enjoyed a couple of dropped catches. We were heavy footed in the field and our bowling was two lengths and on a belter against good bats then there is only one result when that happens – a flogging!
Sam Alexander (1/46) and Jake Carden (2/50) were the pick of the bowlers and Josh Wigney also bowled a couple of useful overs but all up, some serious thought and practice is required. Two day cricket doesn't require a big departure from one day tactics – pitch it up at off stump. So we need to practice that.
We needed to get a flyer. Jo Graham threatened with two nice boundaries before snicking off. Matt Cole needed to stay in for 50 overs, belting the last 30 overs if we were going to win. Unfortunately Matt got out in the 24th over for 35.
We lacked intensity and energy with the bat and the middle order all got out to poor choices of shots. They bowled well but not to the tune of rolling us for 117 on a perfect pitch. We failed to put pressure on their fieldsmen and we let the bowlers dictate terms.
Nothing better than seeing the run rate start at 6 and quickly go to 8 as a bowler and nothing worse as an incoming batsmen, needed to flay away immediately for such a long period.
How we respond is important for the season's outcome. It starts in the nets this week and after such a mauling we need to get back to basics which means plenty of time in the nets and plenty of fielding. It's only early in the season so we are still fresh and hopefully ready to go against Fairfield.
Warren Evans
4th Grade – Manly 9/232 (W. Outred 54, T. Sheedy 33, R Bishop-Perrett 32, M. Burgess 29, J. Mason 25) def. by Sydney University 6/236 (B. Kittlety 3/61)
Round 2 of the competition saw Manly 4th grade heading to Camperdown to play Sydney University with debutants Tom Sheedy, Toby Poole and Isaiah Vumbaca. The match was always going to be tough with Sydney Uni posting 323 last week. We batted first.
Maso had returned from his one match retirement. He picked up where he left off at the end of last season scoring an elegant 25 runs. Max Burgess opened with him and consolidated well for the Manly boys. Tom Sheedy chipped in with a solid 33 and RBP finished off the innings with mature batting scoring 32no.
But the standout batsmen for the day was Will Outred. He knocked the ball to all sectors of the ground showing his class with the bat. Will ended up with 54. The pitch was keeping low which troubled the other Manly boys. Manly ended up with 232 which was a defendable score if the bowling went to plan.
Ben Kittlety and RBP started off strongly for the Manly boys but the Sydney Uni run rate was on par for the total. Sydney Uni's batsmen showed a lot of class taking to the Manly bowling attack.
Manly kept fighting all the way and some late wickets by Kittlety, RBP and McKenna brought us back into the game. In the end our total of 232 was about 30 runs too short. Full credit to the 4th grade team for never giving up and fighting until the very end.
Isaiah Vumbaca
5th Grade – Manly 8/190 (J. Pickering 55, E. Hole 31) def. Sydney University 182 (Jacob Graham 4/38, J. Anderson 2/28)
Skipper Waddington, to the surprise of the team, won the toss and we chose to bat on a typical Mike Pawley deck. We welcomed this week two debutants in Abhijeet Virdi and Nick Osborne to our team. Waddo giving himself a promotion opened with Jacob Graham to a tall bowling attack from Sydney Uni.
Unfortunately we lost both Watto and Jacob early, Bringing Ned Hole and Jack Pickering to the crease to steady the ship. A nice partnership of 70 before losing Ned for a well compiled 31 before an interesting dismissal. Debutant Nick joined the crease showing his skills with the bat hitting a solid 22. We then lost Jack Pickering for 55 which brought both Will and Jonah to the crease, who with help from Abhijeet Virdi pushed our way to a total of 8 for 190.
Our bowling performance was solid with wickets from Jacob Graham (4/ 38), Jonah Anderson (2/ 25), Alex Bain, Will Denny and Abhijeet with singles. We eventually held on to win by 8 runs.
Good to see great performances from the younger blokes but still lots of room for improvement. Looking forward to our first away game next week.
Jack Pickering