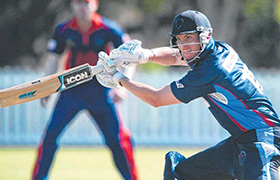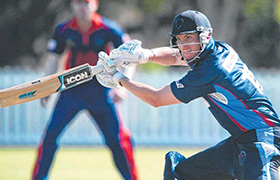 MANLY skipper Adam Crosthwaite conceded his team's batting was not up to scratch in Saturday's oneday loss to long term rivals Sydney University.
After winning the toss at Manly Oval, the visitors fumbled their way to 241 from 50 overs.
The Waratahs started their run chase poorly, with James Crosthwaite and Ahillen Beadle out for ducks.
When allrounder Steve O'Keefe was dismissed for six, Manly were in tatters at 5/59.
Enter Jay Lenton. The wicketkeeper-batsman finished unbeaten on 113, with 12 fours and two sixes.
He was well supported by paceman Jimmy Munting, who plundered 48 before he was bowled by Uni opener Tim Ley with the game in the balance.
"We almost stole the result in the end but, to honest, we didn't deserve to win,'' Crosthwaite said.
"Jay (Lenton) was brilliant – he showed his class. We just needed another guy from the top order to hang around with him.
"While we are not happy to lose two one-day games on the bounce (after Hawkesbury also had their measure), it certainly isn't panic stations.
"I firmly believe we have the playing roster to turn things around."
This weekend Manly travel to Rosedale Oval to play Fairfield-Liverpool on Saturday before a T20 double header on home soil on Sunday against St George (10am) and neighbours Mosman (2.30pm).
It promises to be a heated atmosphere for returning quick Nic Bills, who linked up with the Whales in the off-season after accepting a big money deal on the other side of The Spit Bridge.
"Billsy was an important player for us last season but he made the decision to move on,'' Crosthwaite said. "Good luck to him. "It adds some colour to what promises to be a cracking day of cricket."
{loadposition cricket}