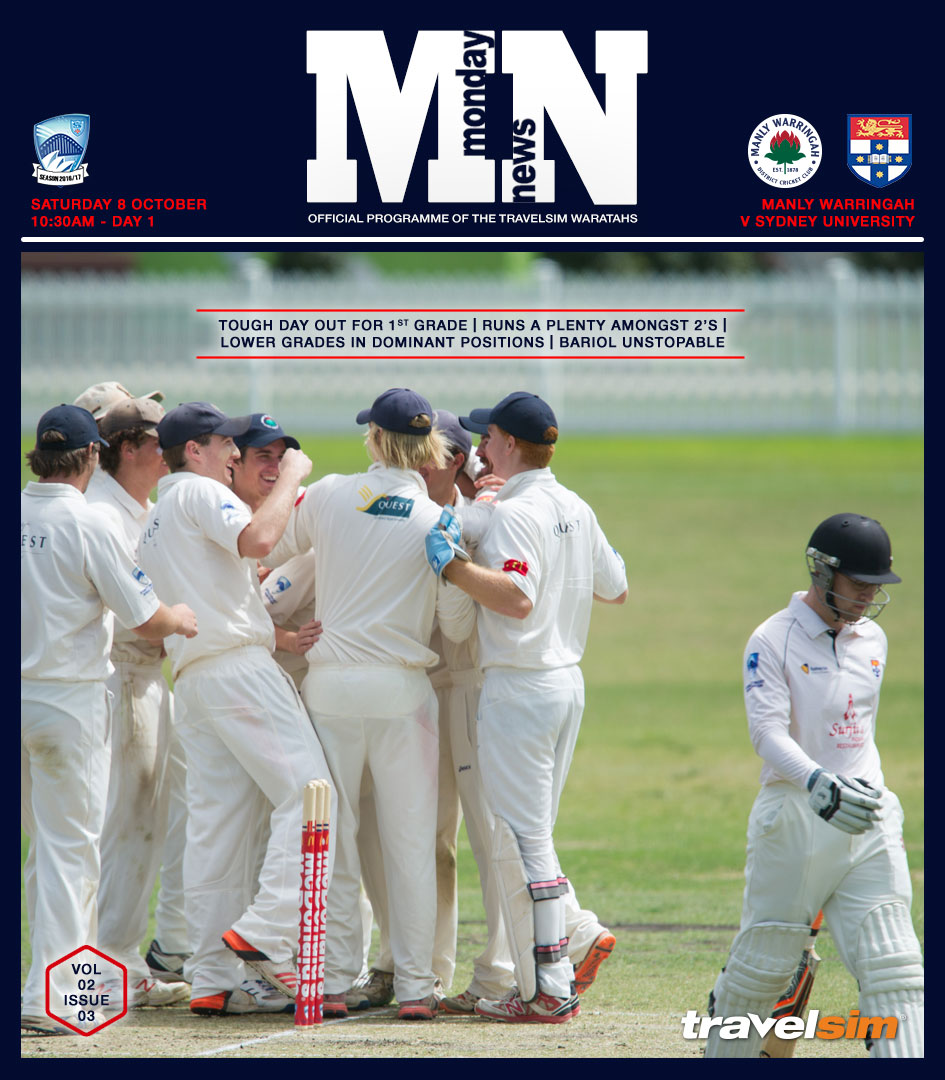 Round 3 saw the Tahs up against Sydney University in the first two-dayer of the season, as well as the opening round of PG's against Gordon. After the first weekend, it sees most of the games in the balance, with a huge weekend ahead to determine how successful our round will ultimately be. First grade had a tough day in the field with no stand out highlights, while second grade had a clinical day with the bat making 5/324 with all batsmen in the runs, including 50s from Kaye, Ritchie, Webber & Gainsford.
Third grade had a very solid day, rolling the Students for 166 on a belter with Wigney, Bishop-Perrett & Marshall all picking up 3 scalps. With the bat we are looking solid at 2/106 with Bariol (46*) and Davies (18*) at the crease. Fourth & Fifth grade both spent some time in the field and eventually bowled out Sydney Uni for 284 & 213 with wickets fairly shared. PG's got off to a great start picking up a bonus point victory after putting on a clinic to get to 7/306 on the back of a terrific 109 from Bariol from their allotted overs and eventually bowling Gordon out for 181.
Go Manly!
4 Pines Player of the Week – Aiden Bariol
Not many people get to experience a weekend of cricket like Aiden has this past weekend, and is an obvious winner of the 4 Pines Player of the Week. Baz started off his weekend with 5 crisp dismissals behind the stumps on Saturday and followed it up with an ever crisper 47* with the blade in 3rd grade as they look to chase down the Students total of 166.

However, he wasn't done… On Sunday in his first game of PG's he came out and hit a majestic 109 from 111 balls including two glorious bombs to help steer the Tahs to a bonus point victory. An inning's that no one that witnessed it will forget anytime soon.

Awesome stuff Baz, keep up the great work!

1st Grade – Sydney Uni 1/424, Manly 1/4
Turning up at Sydney Uni knowing it hadn't been affected by rugby this year we knew it would be a good wicket and a fast outfield which is exactly what we got. We started the day down a few troops as well, whitey and AB were in all sorts, both sick and did well to even turn up let alone play. Skip lost his 3rd toss in a row and we were in for a long toil in the field, we just didn't know it was going to be a 1-424 toil.
We started really well, bowled without any luck and fielded the house down. It just wasn't to be. Mickey started bowling real fast and started to look like he was nearly at his best again. Mattoes bowled real consistently all day for us and deserved to create a few more chances. Viss steamed in for us all day in a massive 29 over effort. He really put in and should have been rewarded with a lot more, creating some of the only chances we had all day. Whitey was awesome considering how sick he was and finally got the breakthrough for us through a short ball nicked to jay. We could have really done with AB, the other spinners struggled to get anything going with Adam even bowling 2 overs of full bungers to try and create a wicket.
Credit to Sydney uni, they hardly gave us a chance all day and showed everyone how to score big hundreds. Larkin finished not out 200 and Mail finished with 179. It was a tough day for us but we believe we have a big chance to chase down the runs if the pitch is anything like it was for them. They definitely did us a favour in declaring, as we thought we were in for chasing 500 plus for sure. I think if a couple people really put there hand up and go big we have a good chance of getting them. We will start 1-4 after seeing off 9 overs with Farrell and Adam crossy at the crease.
Faz

2nd Grade – Manly 5/324 (T. Kaye 76, J. Ritchie 63, S. Webber 62*, S. Gainsford 54)
2's turned up to Mick Pawley Oval on Saturday & skipper Ritchie won the toss & batted first on what looked a good deck. Openers Kaye (76) & D'Arcy (39) made a great start. They left well & D'Arcy dispatched anything on his pads, getting through the first hour unbeaten. After D'Arcy was unfortunately given LBW, Ritchie (63) & Kaye got through to lunch.
The two batted on in the second session, both passing 50 & keeping Uni frustrated, before Kaye holed out to long off, unfortunately 24 short of what would've been a deserved hundred. We went into tea at 2/170 in a good position, but needing to up the tempo to give Uni a tough chase next week. After Ritchie & Daly went early after tea, Gainsford (54 off 47) & Webber (62*) combined in a mature partnership at around 5 an over which took the last session away from the students.
Gainsford went close to stumps & Beattie (4*) chipped in with 30-odd (if you listen to him) & the boys finished on an excellent 5/324. Batters job done, now for the bowlers to bring it home next week against a quality line-up. Big shout out to Jamo (DNB), who played golf on Friday at Bayview with Jay & won on the last hole. It has no relevance to the game, but he talked about it non-stop all day so I thought I'd mention it.
Nickos
Click on the images below for a larger view
"Tom Kaye getting his eye in before striking a quality 76"
"Taylor Beatty getting in the zone as 2's prepared for a bat"

| | |
| --- | --- |
| | |
| "2's skipper Jack Ritchie finding his form with the bat" | "Billy D'Arcy crunching one on his way to 39 in his 2's debut" |
3rd Grade – Sydney Uni 166 (J. Wigney 3/37, R. Bishop-Perrett 3/37, D. Marshall 3/69), Manly 2/106 (A. Bariol 47*, R. Trewartha 23)
St Paul's was a belter and SU won the toss and batted. Wigney (3/37 from 14) and Bishop Perrot (3/37 from 12) had bowled well in the one dayers without reward so we were hoping the 2 day format may suit. Both SU openers hit some nice boundaries in the opening overs before Wiggers dug one in that hit glove and Bariol took a good catch going forward. He took 5 catches for the game. Next ball the beauty of making a new player play resulted in an inside edge onto the stumps to make it 2/20. RBP had to contend with the strong southerly and he too bowled well but not rewarded. Evans (1/8 from 5) toiled into it and picked up a snick. Possibly unlucky not to have 2 in 2 with a very close LBW given not out. SU started to rebuild and at 3/70 were looking OK before Marshall (3/69 from 17), getting them to turn and bounce, got an inside edge to Ollie Davis who took a sharp catch at short leg.
Zac bowled a good tight spell (0/8 from 5) and Wiggers was brought back on before tea and got the edge against the opener who was playing well but a bit too cautiously. SU's capt came out and threatened to take the game away with some strong hitting down breeze but a little break in play as we looked for a ball brought him undone when Marshall clean bowled him next ball. At tea they were 6/122.
A mix of good shots and very good bowling from RBP and Marshall saw Uni hit a further 40 odd runs before being dismissed. I particularly liked the tactics of Tim Cruikshank, helping out for the game, who upon seeing the #11 plant his foot and look comfortable to RBP, immediately asked to set a field for bouncers. Without a Heath, Cameron, Edwards, White charging in I wondered if it was going to work but RBP got the ball going though nicely, even grilling him. A windy whoosh outside off was the result of these excellent tactics and we made sure there were no last wicket heroics. 167 to win. Needing to survive 25 overs Ross (23) and Aiden (47no) batted beautifully. Ross's cut shots were hit very hard and Bariol's shots all over the ground were also up a notch from last time I saw him. Bariol's driving down the ground was immaculate. The timing looked Ok from the shot played but then you saw how hard the ball was going into the boundary and you knew he was middling them well.
Ross looked like tearing them apart before a short one stayed down a bit and cleaned him up. Tim (14) looked comfortable and started to get into it with a beautiful pull shot amongst others but, not happy with his footwork, tried to get them moving via a little walk down the pitch but the bowler responded with possibly a slightly quicker delivery that got through his defence. Enter another wonder-kid, 16 yo Ollie Davis (18no). Ollie and Aiden had about 12 overs to see out and they batted without giving a chance. We finished at 2/106. Ollie's foot work to the leggie was impressive, he got to the pitch very quickly and looked in good form. He'll probably think he missed a few by smashing them straight at cover but when the sun is out and there are 80 overs to bat somehow I think he'll start finding the gaps next time. I hope these two see off the first 10 overs and settle in for a nice long dig next week.
Wazza
4th Grade – Sydney Uni 284
Saturday morning found Manly's 4th grade back home at atmosphere park for the first time in the 2016 season.
After a short and sharp touch footy game we were up and about; and that flowed through the stretch into the fielding warm up. When we lost the toss and were asked to bowl first we were the only team ready to go.
Falcs and Dmac took the new ball and it was Falcs with a gale behind him who had the batsman in all sorts making the first two breakthroughs, one of them an amazing snare by Ned Hole at second slip. Dan was unlucky in his first spell to not take a wicket despite beating the bat at will.
Brad Wilson followed Falcs up at the top end whilst Jacob replaced Dan. Brad took no time at all to get settled in and he brought his top form of late to the crease having the batsman beaten for pace and took two fantastic wickets. Jacob took a wicket late in his spell to send the students to 5-80.
Unfortunately for the bowlers to follow the pitch was flattening out with minimal turn and movement and the batsmen took full toll. Sammos and Isaiah toiled hard, bowling good areas to no avail as the batsmen found gaps and the fence and built a solid partnership. Both batsman passed 50 and it wasn't until late in Isaiah's 17 over spell that finally we made a breakthrough, the number 6 misting a pull shot and finding the man at backward square. Reward for effort followed with a second wicket soon after, with Gummer getting a good stumping. Sammos wasn't as lucky with a number of half chances not quite finding a hand.
After Izzy finished his spell max chopped and changed the bowlers around and it worked a treat, Dan toppling their skipper a few short of a ton and the other 3 wickets falling soon after with a couple of overs at the rest of the day.
Gums and Nick Cohen saw out the last three overs and left us 0-9 at the close of play.
A good lesson for the boys in perseverance on Saturday in the field and no doubt we are strongly placed to give this total a good shake next Saturday.
Jacob Graham
Click on the images below for a larger view
"Ben Falconer hitting the crease hard for 4th Grade"
"Brad Wilson picking up a wicket against the students"
"Sam Alexander putting the revs on the ball down at Grahams"
"Fourth grade go wild as Jacob Graham finds the breakthrough"
5th Grade – Sydney Uni 213 (A. Bain 4/15, H. Brown 3/15)
A couple of late changes on Saturday the morning meant we were scrambling for players, but we managed to get a full 11 against Uni at Camperdown Oval on Saturday. Unluckily we lost the toss on an absolute belter, and we were consequently asked to have a bowl.
After a slow start from our opening bowlers, we managed to build enough pressure to force a run out for the first wicket. and from there they went to water collapsing to 7-111 at tea. Hayden Brown the pick of the bowlers with 3 wickets.
The afternoon session started a bit slow with us letting off the pressure and saw them build a partnership. But the boys stuck at it and got the 3 wickets in quick succession dismissing Uni for 213. We had a tricky 5 overs to bat at the end and finished the day 0-26 setting up a good day's cricket next Saturday.
Outred
PG's – Round 1 vs Gordon
A new year of PG's saw club favourite Sam Gainsford take the reigns of skipper from Farrell'. Due to the state of Manly Oval, the game was moved to mighty Mike Pawley Oval where Gainsford went on to win the toss and we were more than happy to have a bat on an absolute belter of a deck. We couldn't have asked for a better start from openers Bariol (109) and Wolter (39) who combined for an opening partnership of 107.
Captain Gainsford then joined Bariol at the crease and kept the momentum going in a powerful display of batting that unfortunately came to an end as he was caught for a well compiled 49. Crombie (16), Davies (12), Trewartha (16) & Carden (9) all made brief starts as they looked to keep the scoreboard ticking over but the star of the day was Bariol who batted like an absolute champion with maturity beyond his years to score a magnificent 109 to really set up our total of 7/306. Boyer (19*) and Graham (11*) closed out the innings with some powerful hitting and some handy running between the wickets.
The job was only half done as we knew we were going to be up against it as it was a great pitch, fast outfield with short boundaries. However, we responded terrifically with wickets at regular intervals to ensure no partnerships were formed and at one point had them staring down the barrel at 6/74 thanks to all our bowlers bowling with great lines and discipline. They got away a bit at the end but we managed to pick up a well-deserved bonus point as we bowled them out for 181.
Wickets were shared pretty evenly with most bowlers picking up one, Graham finished with the best figures of 3/39. A great win first up from the boys who also had 4 debutants in the starting XI. We look to tackle Campbelltown-Camden out at Raby for our next fixture on November 6.
Crombie
Hardboard Diggers Team of the Round
Tbc.