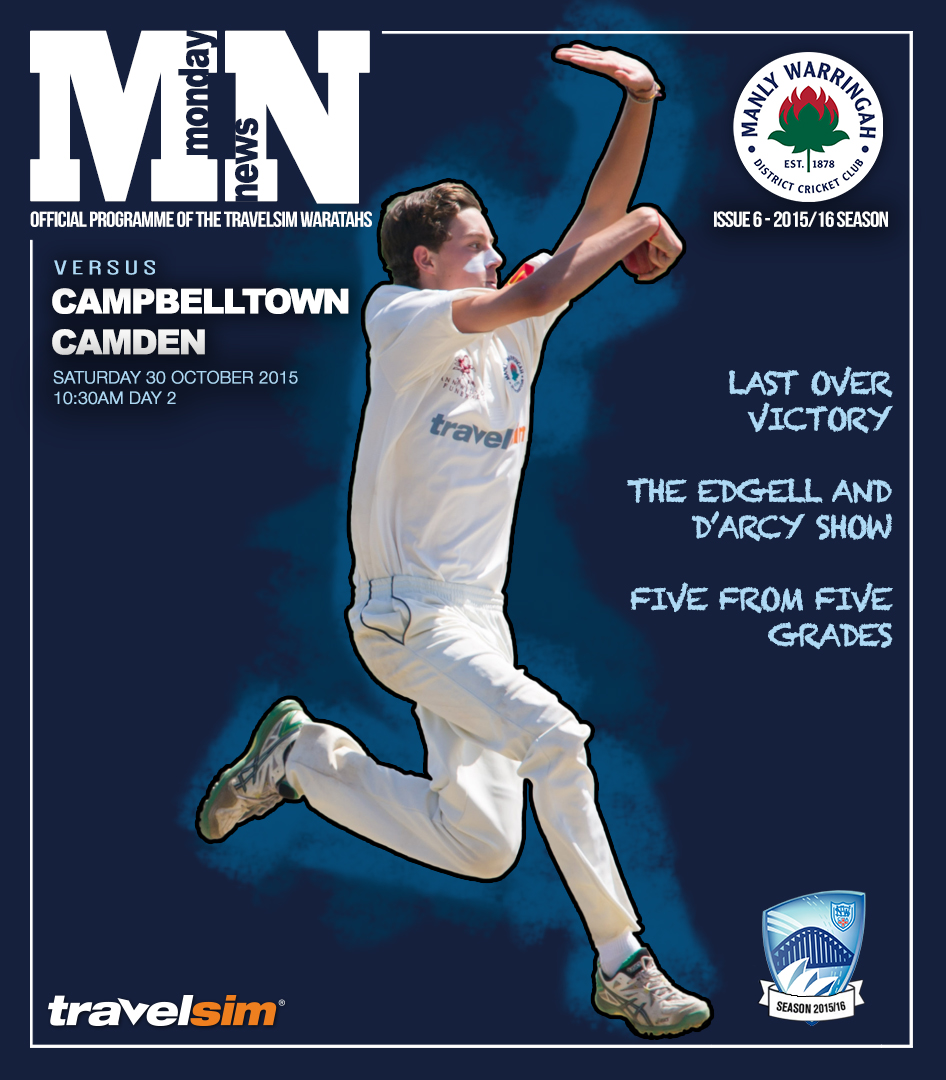 The Travelsim Waratahs capped off a fantastic round against Campbelltown-Camden to take maximum points across the five grades. Having endured an indifferent start to the season, it was cricitcal the Tahs finished the job against the Ghosts who are notoriously tough, particularly out at Raby.
1st grade won a nail-bitter on Raby 1, with Ahillen Beadle taking a wicket off the second last ball to secure Adam Crosthwaite's first win of the season in pursuit of the Belvidere Cup. The Ghosts were never really in the chase, however some determined late batting and late rain nearly prevented the Tahs from taking the vital 6 points. 2's also won a tight contest at Manly Oval, sneaking home 9 down. Contributions throughout including Kaye (54) and Graham (43) kept the Tahs in the game, however a final-wicket partnership of 15 between Ben Falconer and Dylan Marshall got the boys home.
3rd grade chased 215 thanks to half centuries from the in-form Jack Edwards (58) and Jimmy Crombie (57*). Presuming at 2/51, Warren Evan's side overcame some interesting umpiring decisions along with some discipline Campbelltown bowling to take the win. 4th grade witnessed one of the greatest partnerships in our clubs history, with Luke Edgell (152) and Billy D'Arcy (114*) dominating the Ghosts in a comprehensive victory. Finally 5's took first innings points to continue there undefeated start to the season. Debutant William Wolter finished with 51 to complete the victory.
So our first clean sweep of the season and a massive shot-in-the-arm for the club heading into November. Another big round against Western Suburbs next weekend, along with the commencement of the Poidevin-Gray Shield which sees our U21's take on Bankstown at Manly Oval on Sunday. Until next week, Go Manly!
4 Pines Player(s) of the Week – Luke Edgell and Billy D'Arcy
In what could be a first in the history of this segment, we thought it was only fair that the two heroes of 4th grades monster chase, Luke Edgell and Billy D'Arcy, shared this weeks 4 Pines Brewery Player of the Week. Arriving at Grahams Reserve in pursuit of 274, Luke and Billy compiled the HIGHEST OPENING PARTNERSHIP IN THE CLUBS HISTORY ACROSS ANY GRADE to guide stand-in-captain James Boyer's men to a comprehensive victory over the Ghosts.

The pair complimented each other extraordinarily well, with Luke being the main aggressor in making 152, while Billy accumulated nicely at the other end to finish unbeaten on 114*. 'Bomber' lived up to his name, passing his century before tea and continuing to dismantle the young Campbelltown attack after the interval, while Billy bought his maiden century up for the Tahs late in the day with the target within reach.

We are proud-as-punch of these two, and hope to see a few more big scores from the pair throughout the rest of the season! Congratulations Luke and Billy!
1st Grade – Manly 6/325dec. (J. Ritchie 98, A. Beadle 75, J. Lenton 45, R. Farrell 36, A. Crosthwaite 33) def. Campbelltown 221 (N. McLachlan 4/57, A. Beadle 3/50, M. Visser 2/34)
The day started with an early wicket to Nickos who got his man driving at a ball that was probably too short to drive and was caught by the trusty hands of AB in the gully. After some patient batting by the ghosts, their skipper was run out at the bowler's end where Matt White lobbed it to Faz who was there to dislodge the bails. Shortly after we had them 3-75 after AB got an easy caught and bowled chance.
After the lunch break the Manly boys went bang bang with AB getting an LBW and Nickos getting the batsman to play a loose shot where Visser took a sharp catch. The ghosts from here were never a chance of winning and started to play accordingly. After a brief partnership Nickos had got another breakthrough, caught at mid-wicket by Whitey with an 8-1 field and a wall of fielders in the covers. This was followed quickly after by an LBW to Viss.
It was a long time until we took our next wicket but what a great catch by Sam Webber at deep backward square leg off a Nickos bouncer. The Ghost's number 9 kept blocking away for a lengthy amount of time and eventually was snicked off by Visser for 26 off 123 balls. The rain hit hard and after a 20 minute rain delay we were back on to take the final wicket. It took longer than expected but with the second last ball of the day the number 10 was caught behind by the bowling of AB for a 51 ball duck. A great team win when things didn't go our way at times. 6 points.
Ralph
2nd Grade – Manly 9/232 (T. Kaye 54, J. Graham 43, J. Carden 28, S. Gainsford 26) def. Campbelltown 231 (T. Beatty 3/45, J. Carden 2/22, J. Graham 2/40)
Rocking up to a good batting wicket after a solid bowling effort last week, including a sneaky catch at bat pad for Dylan Marshall, the Manly boys were confident of chasing the total of 232 being 1/30 overnight. After a sloppy warm-up Joey Graham (43) and Tom Kaye (54) both got us off to a great start digging in through the first hour where Campbelltown were bowling well. Runs started flowing to then lose Joe. Taylor (24) came in ticking the score over and hitting the loose ball. 2/160 at lunch, TK got out going for the big one as the chance of rain came into play. Sammy G came in hitting a quick 26. Tay fell stumped shortly after TK bringing Bariol to the crease who couldn't add to our total.
Gainsy fell shortly after miss hitting one he felt was in his slot bringing Javed in who looked good to be bowled by a good rock. Jakey Carden came in and played an excellent innings of 28 along with Matty Alexander (28) who also played superbly, both putting on a great partnership of about 30 to get us within 12. Out came Ben Falconer (Punter) and Dylan Marshall when our 8th and 9th wickets fell. These two were solid as ever playing off their pads well picking up valuable singles and 2's to pass Campbelltown's total.
Overall a fantastic win for the boys with it coming right down to the end. A great character building win with plenty to learn from. Especially not to be affected by the possibility of rain with many wickets falling from batsmen trying to force the pace of the game. A great team to play with and Will Harding was a joy to be around.
Baz
3rd Grade – Manly 5/218 (J. Edwards 58, J. Crombie 57*, J. Daly 31) def. Campbelltown 215 (L. Diserens 4/74, J. Edwards 2/5, S. Alexander 2/37)
Always good to get out of Raby with 6 points. The wicket was the same as last week, possibly a bit drier and it resembled a jig saw puzzle of inch square pieces but it stayed together, albeit heavily favouring spin bowling for the day.
The day started well with Jack Edwards (58) and Jordan Daly (33) settling in well and getting on top via good running, strong off side driving and flicks to the leg especially from Edwards. Jordan then fell to the offie, adjudged LBW even though his lunge forward was massive. 3/110. Soon after the offie got one to shoot through which trapped Jack in front (jury out on this one as well) trying to whip what seemed like an innocuous short ball away. 4/117 – 3 LBWS and a run out so far. Zac (24) then started the rebuild process with James Crombie (57no). Starting slowly Zac started middling them nicely before he overbalanced to the leggie and was stumped to make it 5/150, still needing 66 to win. The Ghosts had some life in them now and bowled and fielded with energy. Evans (21no) and Crombie dug in till tea and kept the ball on the ground, picking off a few singles that was on offer, few bad balls being bowled.
Needing 44 to win at tea these two looked comfortable and whittled away. James clearing mid wicket for a nice 6 got us feeling more comfortable. The bowlers were tiring and the runs came quite easily at the end with James looking very strong on both sides of the wicket. Evans chimed in with a steady 21 and was finding the gaps with more ease at the end. A good reminder on the old cliché…."it gets easier the longer you are in". James' innings was a great sign of great maturity and he took it on to be there when the winning runs were scored.
All up a very good win…the bowlers stuck at it well last week, well supported by the fielders and the 5 down win was possibly a bit flattering to CC as there were some questionable calls, but CC could argue the same in their dig.
WE
4th Grade – Manly 1/277 (L. Edgell 152, B. D'Arcy 114*) def. Campbelltown 9/274dec. (J. Graham 6/56, D. McKenna 2/57)
4th grade turned up to Grahams knowing that they had a tough task ahead of them with Campbelltown declaring overnight at 9/274. Billy D'Arcy and Luke Edgell opened the batting and from ball one the pair didn't look getting out. The boys worked hard to see off the new ball before Bomber began to increase the run rate smashing boundaries all over Grahams. Bomber managed to bring up his 100 just before tea leaving 4th grade in great position at 0-157 at the break.
Both Billy D and Bomber knew that the job was only half done and continued to work hard after tea by playing out the good ball and punishing the bad ones. The score continued to tick over and before we knew it Billy D had brought up a well deserved maiden ton. The same over also saw Luke Edgell bring up his 150. From there on the pair made it look easy. Unfortunately, Bomber was caught behind for an incredible 152 just 2 runs short of the target. The partnership of 273 means that the pair enter the record books for highest 1st wicket partnership in the clubs history.
Billy D'ary finish the game in style hitting a boundary and finishing unbeaten on 114. The win for 4th grade leaves the boys well placed in 2nd spot.
Dmac
5th Grade – Manly 126 (W. Wolter 51, I. Vumbaca 26) and 7/66 (A. Bain 31) def. Campbelltown 102 (B. Kittlety 5/30, J. Anderson 3/15) and 7/179dec. (I. Vumbaca 3/15, B. Kittlety 2/38)
Isaiah V and will W set out to continue the great work they did on the first day. Unfortunately Isaiah fell in the 3rd to a good ball LBW. Nick O and will finished off the job of chasing the total set for us. In doing so will brought up his maiden 50 for the club on debut. Nick ended up getting 23. The tail could not wag as we were all out for 126 leading buy 20 runs
After a steady start from the Campbelltown Alex B removed the first opener. Ben kitley bowled a firey spell to the other opener with multiple chances being created but only got his first wicket in his 8th over. Ben ended up with 2-38 of his 13 and Alex had 1-22 off his 6. Jacob O bowled well on his first spell back from injury troubling the batsmen but was unfortunate to get a wicket. Jacob 0/24 of 5. The spinners being Isaiah and Jonah also restricted them to a 160 lead with Jonah getting knocked around abit with 1-50 off his 7 but Isaiah at the other end picked up 3-15 off 5 which was a great effort as he was also coming back from injury. Campbelltown ended up with 7/179 before declaring at drinks
We were sent in to bat for the last hour of play needing 160 of 19 overs. We set off with s positive mindset with Alex B and Will W opening up. Will got out on the first ball of the innings which had us a little nervy. Will A fell quickly after for 9. Lachie K and Alex worked well before rain hit and the covers were forced on delaying us for 20 minutes. The overs were reduced to 11.Credit to Alex Bain with 31 in the second innings. There was a slight middle order collapse loosing 5-20 but the boys hung on the a second innings draw giving us 6 points for the match. A great 2 days of cricket for the 5th grade boys making that 4 from 4.
#bleedblue
Lachie Kerr