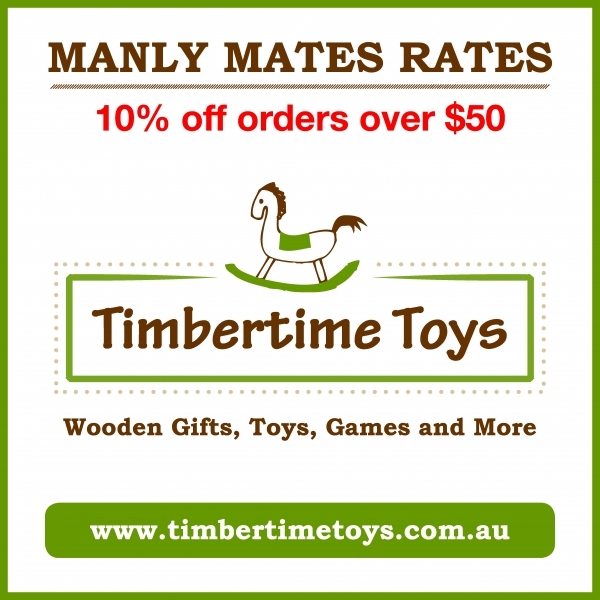 As previously announced, the Manly Warringah Waratahs have secured the support of start-up business Timbertime Toys for the 2015/16 season, and we are lucky to have them also sponsoring the great Ahillen Beadle this year.
The brainchild of former 1st grade umpire Nick Wennerbom, Timbertime Toys has been the result of months of research into the range, availability and affordability of toddler toys. With frustration starting to settle in, Timbertime Toys was born.
Timbertime Toys believe that, by their very nature, toys made from wood help promote growth and fine motor skills, very similar to Beadle over the last few seasons at the Tahs.
Whether it's the shape, the colour, the texture or the smell, there is a unique attraction about simple toys that has an everlasting appeal. Timbertime Toys wants to make these toys available and enjoyable again for all kids through their childhood years.
The website has just been launched a few months ago, so please take a visit at
www.timbertimetoys.com.au
– You can also visit their facebook page at
https://www.facebook.com/timbertimetoys?pnref=story
Nick has an extremely long connection with cricket from his umpiring days, and after a few catch-ups, Nick was only too happy to get involved with the club. He is also very happy about the association with Big Bash League player Beadle.
"Obviously Manly has been a successful club for a long time, especially last year, and with the business being based in Forestville it makes sense to join up with Manly.
"I know alot of the people at the club and have umpired Ahillen a number of times over the years. Not only is he a great player he is also a great bloke and so I am very pleased to be sponsoring him."
"The festive season is a great time to buy something a little unique in this day and age as well, and I am pretty confident that our toys will be a hit with the toddlers over Christmas."
Timbertime Toys are also donating 5% of all sales through our website to HeartKids NSW, who do a fantastic job in raising funds and awareness for children and their families suffering from heart conditions.
Timbertime Toys are also offering a Manly Mates Rates offer of 10% discount of all orders over $50. So get in quick for Christmas and mention that the Waratahs sent you.