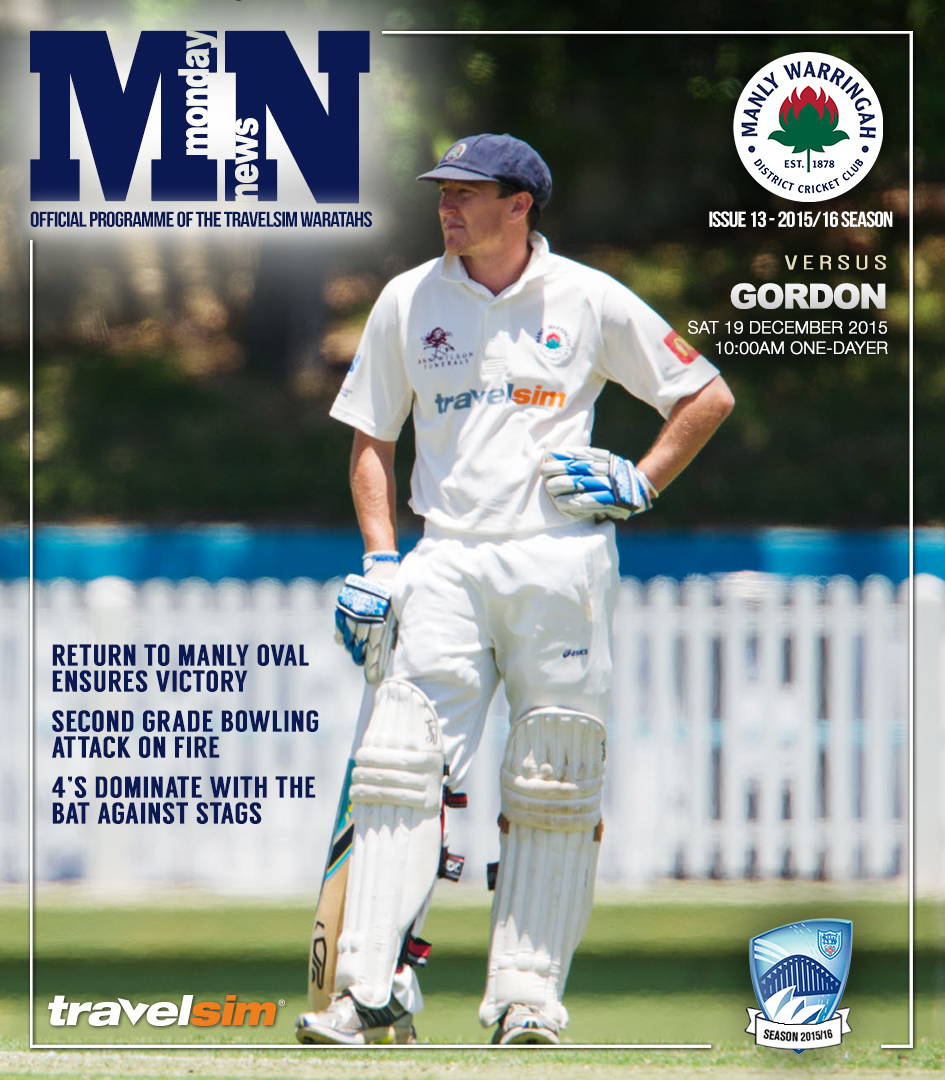 The TravelSim Wartahs had a mixed weekend of results against Gordon in some low-scoring matches with Manly claiming victory in 1s, 2s and 4s, while 3s, 5s and PGs struggled with the bat in their chases to fall disappointingly short.
1st Grade had a convincing win, bowling the visitors out for 141 thanks to 4 wickets to Ahillen Beadle, while Cameron Merchant and Jay Lenton starred in the run chase to wrap things up before 4pm.
2nd Grade also had a low scoring affair posting 189 thanks to 51 from young superstar Jack Edwards, while Matt Alexander took 4, spearheading the attack to roll Gordon for 139.
3rd Grade had a disappointing day with the bat, failing to chase Gordon's 195 with resistance only shown by Aidan Bariol in his 78-run innings.
4th Grade set an imposing 293 thanks to a 191-run stand between centurion Sam Hole (117) and Will Wolter (68). ATo their credit, Gordon worked hard but ultimately fell short 25 short thanks to an all-round team effort with Dan Mckenna and Jacob Graham 2 wickets apiece)
5th Grade also struggled with the bat, rolled for 124 chasing 234 with only skipper Waddington (35) and Jack Pickering (36) offering any resistance late in the day.
PG's unfortunately went down against UNSW at Village Green despite rolling them for only 141. Sam Gainsford was the star taking 5/24 off his 10.
4 Pines Player of the Week – Sam Hole


This week's 4 Pines Player of the Week Award sees another classy off-field performer finally reap the success he deserves out in the middle. Club favourite Sam Hole hit a skillful and composed 117 to help set the platform for 4th Grade's imposing total of 293 at Killara Oval on Saturday. Despite an incredibly enviable conversion rate off the pitch, Sam would be the first to admit that until this week it had been a somewhat frustrating season with the bat. However in a real testament to his character Sam has continued to be one of the hardest trainers at the club and it's fantastic to see the hard work paying off for him. With one of the soundest techniques to be seen at Manly it was only a matter of time before his natural ability would shine through as it did on Saturday, and it just goes to show that with continued work and a great attitude eventually things will turn around. Whatever it is you did this week Sammy, bottle it and bring it again even better after Christmas!

Well done mate, so stoked for you!



1st Grade: Manly 3/144 (C. Merchant 57*, J. Lenton 48) def Gordon 142 (A. Beadle 4/26, M. Visser 2/40)
Manly rolled up to a home game on a beautiful Saturday morning in paradise & were greeted by something they hadn't seen all season. A strange green coat over the wicket had the bowlers excited & Skipper Crosthwaite duly won the toss & bowled.

Comedy duo Visser & Munting opened the bowling & it was Viss who got the early breakthrough as the Gordon opener somehow managed to pick out one of only a measly two catching covers (pick up your game Crosthwaite) to give us the early break. Viss bowled his 10 straight for 2/40, which was a lot better than his figures suggested & was the pick of the seamers.

Manly were on top, but looking at chasing 200 or so before the introduction of Ahillen Beadle (4/25) & some horrendous running brought the Gordon innings to a close after 35 overs for just 143.

With Manly looking at a bonus point, Lenton & Better Crosthwaite opened up. No fireworks from either Crosthwaite occurred but Lenton (48 off 48) still looked in good nick, getting Manly off to a flyer. With Lenton's departure, it was left to Beadle (17*) & Merchant (57* off 48) to guide the boys home on a challenging deck in the 28th over 3 down. Finally a dominant performance from the boys which they've been threatening all season on a deck which provided a good contest between bat & ball for change which was enjoyed by all! Most enjoyed however was the 3PM finish which allowed the skipper to remind us all he used to play First Class Cricket & for Juice to provide an unreal few hours of power at 4 Pines while still getting tucked away in bed by 8PM.

Nick McLachlan
2nd Grade: Gordon 139 (M. Alexander 4/26, A. Baker 2/15, T. Beatty 0/2) def by Manly 185 (J. Edwards 51, J. Rawlings 27)
The Lads turned up to a Steamy Chatswood oval in a relaxed fashion, thanks to the local Tai Chi going on near our change rooms. With all that going on the boys knew that this was a must win match to turn our season around!
Rowan lost the toss and we were sent into bat, that decision was looking shaky as Ralphy and Young superstar Jack Edwards got us off to a great start. Jarrod was dismissed for 27 with score and 60 and was followed back soon after from Tommy Kaye when his run of 50's sadly came to an end. Flat (17) and Jack (51) worked hard and put on about 40 before Jack was stumped down the leg side. The rest of the order made starts Shwebbs (13) Ro (13) Taylor (18) and Matty A (10) But we seemed to loose a wicket when we looked like rebuilding, we were all out in the 49th over for 185 with Jakey left on 9 Not Out.
Gordon made a solid start reaching 35 before the Genius bowling change from Rowan to bring on the one and only Flat turned the game on its head, Flat at one point had figures of 2/0. Jake then picked up the third wicket and Gordon were 3/73. With the score at 104 for 3 and Gordon travelling along nicely, the feeling on field was fantastic! The team was working as a unit and the bowlers were bowling to our plans! And that ended up in showing, with the second spells from Matty White, Matt Alexander and Dizzy! The boys fired up and ripped straight through the Gordon middle and lower order to bowl them out for 139, Mattos finishing with 4fa!
A much needed win for the Boys heading into the Christmas Break!
Hope Everyone has Merry Christmas and a Happy New Year! GO MANLY!
Jake Carden
3rd Grade: Manly 169 (A. Bariol 78, A. Virdi 25) def by Gordon 195 (B. Falconer 3/23, S. Gainsford 1/22)
Mike Pawley Oval looked full of runs and Gordon decided to bat. Our bowling was acceptable – Falconer (3/23) getting a couple of early ones care of a swinger down leg for Bariol to take a good catch and then another regulation snick to Bariol to make it 2/20. All the bowlers did their jobs throughout the innings however our catching let us down. A couple of costly drops, especially towards the end of their innings when they were 7/140, allowed them to get to 195.
Sam Gainsford applied good pressure and was very economical with 1/22 from 20. Dylan Marshall also bowled tidily but tired a bit at the end to finish with 1/36 from 9. Wiggers bowled Ok as well to finish with 1/40. Evans got a couple of LBWS in the middle to finish with 2/39. Joe Graham was chomping at the bit to have a trundle and he bowled well but a few slogs in his last over spoilt his figures a bit.
All up 196 was a gettable target but it could have been 40 or 50 less. Unsure how many catches are being taken at training, whatever the amount is we need to triple it.
Joe(0) chopped on early. Bariol (78) and Darcy (19) looked to settle things but Bill scooped a half volley to cover for a gentle dismissal. Jordan struggled a bit and was eventually bowled by an accurate off spinner. Sam was stumped and suddenly we were in strife at 4/60. Not that you could tell by the giggling going on. I had to double check my daughter and her friends hadn't come down to watch. There's nothing like the sounds of mirth coming from a batting team who is struggling to inspire the fielding team and to get them thinking…"this mob doesn't want to win, or at least they couldn't care less if they lose". As an incoming batsmen Ash and Evans could barely have a conversation about our approach due to the noise around us. Skid was sitting there in disbelief and finally blew up. This had a calming effect of about 10 mins until Skid went around the corner. It's not in my make up to tell grown ups how to behave, it's just annoying to see a team of seemingly dedicated cricketers turn it up on match day.
Anyway, Zac (21) and Bariol went about their work well. The bowling was good – accurate on a slightly slow pitch and well set fields. The runs came not that easily but well enough that at 4/120 with 20 overs to go we were placed. A poor choice of run saw Zac run out. Ash (22) and Bariol fought hard but the run rate continued to rise. Aidan holed out in the deep for a very well made 78. He was about the only bloke to middle a ball the whole innings and he concentrated well. Hopefully this will be the first of many big runs for Aiden at grade level. He was a cut above on the day.
Evans immediately snicked off, Falcs was run out for a golden, Marshall was bowled for a golden and suddenly we had 40 to win, 9 down and 4 overs to go. Wiggers and Ash tried hard but we fell 30 runs short. Finally a bit of quiet.
3rds are being inconsistent so far this year – yet to win a home game but still hanging in on the fringes of the 6. We will not get anywhere near the finals if we have the same approach and attitude as we watch our blokes bat. The energy in the field was OK except for the occasional lapse but off the field it was not grade stuff. It's what teams do when they are out of the running and they want to be seen to be still enjoying it.
I hope we can turn up next year and truly want to change this aspect. If so, the season is still for the taking, if not, I predict 12th.
Have a good break and see you in the New Year.
WE
4th Grade: Gordon 268 (D. McKenna 2/37, J. Graham 2/40) def by Manly 293 (S. Hole 117, W. Wolter 68)
4th Grade arrived at Killara Oval to a very hot day and a fantastic batting deck. Surprisingly, the Gordon captain won the toss and elected to bowl. Unsurprisingly, Max lost another toss. After losing Max early with the score on 11, Will Wolter and Sam Hole went about putting on a batting masterclass. They smashed the bowlers all over the park and it wasn't till Will Wolter lost his wicket in the 39th over that their 191 run stand was broken. This surpassed the previous highest 2nd wicket partnership for Manly in 4th grade of 155 which stood since 1977-78. Soon after Will fell for 68, Sam also fell for 117, completing a brilliant innings and a well deserved change in form. With so many wickets in hand, the middle and lower order had a license to swing. Handy contributions from Isaiah Vumbaca, Jacob Graham and Dan Mckenna brought the total to 293 after 50 overs.
Gordon started well in the run chase, always keeping themselves in the hunt. We dismissed their big hitting opener for 57 after some intimidating bowling from Jacob Graham which allowed skipper Max Burgess to clean him up. Their number 4 then batted very well to score 67 and keep them in the game till the final 4 overs getting assistance from their middle order. However, the pressure of requiring 10 runs per over for the final 14 overs proved too much for the Gordon lads, being bowled out with 2 overs remaining for a well fought 268. Wickets were shared around for the Manly boys with Dan McKenna and Jacob Graham taking 2 each. A quality 6 points for Manly heading into Christmas sees 4th grade sitting in 3rd position on the table. Merry Christmas and Go Manly!
5th Grade: Manly 124 def by UNSW 234 (A. Bain 3/58, W. Akhurst 4/47) def. Manly 124 (S. Waddington 35, J. Pickering 36)
5th grade turned up to Beauchamp Park looking to take home all the points in the last round before the Christmas break. The pitch looked to have a little bit of grass on it and after winning the toss captain Simon Waddington decided to send Gordon into bat.
Unfortunately it turned out to be a tough day in the field for the tahs. With almost 30 wides and plenty of missed chances Gordon ended up posting a good total of 8/234 off their 50 overs. The pick of the bowlers was young Will Akhurst, he bowled with good pace and generated good zip off the wicket to finish up with figures of 4/47 off 9 overs. Alex Bain also bowled well and took 3/58 off his 10 overs.
Despite the large score the boys were confident that with a few big partnerships that we would be able to chase down the total that Gordon had set. Jack Pickering and Tom Sheedy opened the batting and were looking good early before Sheedy was out bowled for a low score. From there on we lost consistent wickets and ended up being bowled out for 124. It was a disappointing performance with the bat apart from a fighting partnership between captain Simon Waddington who belted a quick fire 35 and Jack Pickering who hit 36.
Overall it was a disappointing day for 5th grade and we will be looking to bounce back first round after the Christmas break.
Joel Wood