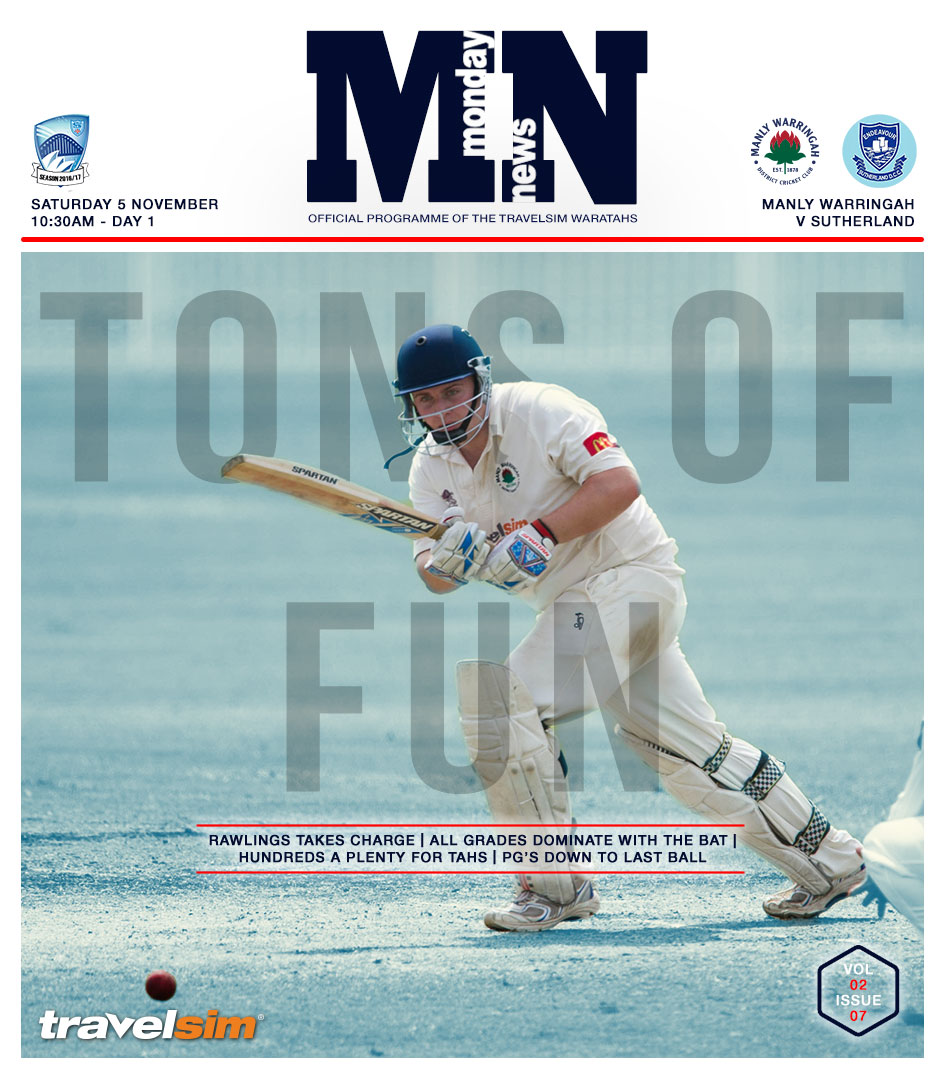 The TravelSim Waratah's kicked off their Round 5 clash against Sutherland in emphatic style. Our 1st grade side were led well by the top order, finishing the day at 5-398. Jarrod Rawlings continued his run of form with a phenomenal 154 and was well supported by the Crosthwaite brothers as they posted quality half centuries. 2nd Grade bounced back from a very disappointing batting performance against Penrith, posting a mammoth total of 6-389 at atmosphere park. Billy Darcy and Logan Weston batted beautifully as they both notched up their first Second Grade hundreds. These two boys were well supported by half centuries to Jack Ritchie and Sam Gainsford. 3rd Grade had a wonderful day out, with Aiden Bariol (144) and Will Wolter (95) leading the boys to an impressive total of 7-319. 4th Grade struggled early with Maxy's men losing their first 5 wickets for only 56 runs. Will Akhurst and Jacob Graham both led the revival, posting two crucial half centuries to lead the boys to a solid total of 295 at stumps. 4th Grade all-rounder Daniel McKenna (Normally known for his perfect lid and luscious locks) showcased his batting ability, scoring a quick-fire 99*. From all reports this innings was as clean a hitting display as any. Well Done D-Mac. 5th Grade were also dominant with the bat, notching up a clinical 4-255 off their 80 overs. Will Outred, Matt Brewster and Jacob O'Sullivan all posted half centuries.
Our Poidevan Gray Shield side continued their winning form with a last ball win over Campbelltown. The Tah's were set 207 to win, and despite looking comfortable for the majority of the run chase, a late order collapse saw the match come down to the last over. With 2 runs to win off the final ball, Ben Falconer, dispatched a shorter delivery through the point region for the match winning runs. An incredible finish to a very tight game. PG's campaign continues next Sunday as they take on Hawkesbury at Grahams Reserve.
A great start to this round, however we will have our work cut out for us in all grades next week as Sutherland will come at us strong. Hopefully we will be reporting to you with a perfect round next weekend.
Go Manly!
4 Pines Player of the Week – Jacob Graham
This week's 4 Pines Brewery Player of the Week was very hard to decide. We have chosen 4th Grade all-rounder Jacob Graham. Although Jacob didnt post a score the size of some of the other boys performances this week, the importance of his innings was simply unrivaled.

After helping 4th Grade chase down 280 odd a few weeks back, Jacob showed again that no task is too much for him to handle. He summed up the situation perfectly and compiled a very well deserved 78. It is an absolute luxury to have someone of his quality batting in the later order of that 4th Grade side.

Well Done Jacob!

1st Grade – Manly 5/398 (J. Rawlings 154, J. Crosthwaite 95, A. Crosthwaite 87, A. Beadle 36*)

Toss won by Manly (elected to bat)
Sunny 23 degrees
Pitch Conditions – Hard and Flat

We turned up to Glen McGrath Oval on a beautiful day and lucky enough our Skipper Adam Crosthwaite won the toss and elected to bat.

On a pitch without plenty to offer for Sutherland's bowling unit our opening batting pair of Jarrod Rawlings and James Crosthwaite capitalized on the new ball and built a solid foundation to lunch at 0/118.

With a typical innings of flair by James and Jarrod playing the anchor role, their opening partnership ended on 136 with James departing for 95 from 112 balls.

Skipper Adam Crosthwaite continued the momentum as majority of the 2nd session was bowled with spin. Both batsmen rotated the strike really well and never got bogged down as they both were not out at tea break with the score at 1/253.

Into the final session and we started of aggressively, piling on to 314 runs before Adam hit the cricket devils number dismissed LBW for 87 runs off 100 balls. Jarrod then brought up his 2nd 1st grade century playing a vital role for a grand stand finish. But unfortunately, Jay Lenton was dismissed early and as 2 wickets fell quickly the runs started to dry up. To their credit they bowled well in this period and restricted Manly to 5/398 at the end of days play as we were targeting 430. We'll take 398 any day though.

Jarrod Rawlings ended up with an unforgettable 154 runs off 291 balls.

Ahillen Beadle

GO MANLY!!
2nd Grade – Manly 6/389 (B. Darcy 120, L. Weston 102*, J. Ritchie 51, S. Gainsford 50*, J. Daly 26, T. Kaye 25)
2s rocked up to a beautiful looking Graham's reserve and won the toss on a good day for batting. Manly started well with the bat with Tommy Kaye off to a blistering start. He nicked off for 25 which brought skipper Jack Ritchie to the crease. Billy D'Arcy and Jack batted through to lunch in a great, stabilising partnership. After lunch the runs continued to flow with both batsmen bringing up their fifties. Jack fell soon after his fifty and then Jack Edwards went first ball. Logan came to the crease and him and Billy again stabilised. Just before tea Billy brought up his ton. After tea the boys continued to accumulate. Billy was caught on the boundary and then Webber fell soon after. Jordan Daly batted well but got out trying to keep the runs going. Gainsford came to the crease and him and Logan saw out the day. The pair scored quickly and ran Sutherland ragged. Logan brought up a glorious hundred in the last over of the day as Sammy Gainsford picked up fifty at the other end. The lads finished on 389 and Sutherland are dreaming if they think they're leaving next week with anything but disappointment.
Billy D'Arcy
3rd Grade – Manly 7/319 (A Bariol 144, W. Wolter 95)
Blowing a gale off the water, a dry pitch, a day for batting and after winning the toss we did just that. Bariol (144) and Wolter (95) opened up and from the first ball, a nice juicy full toss, Aidan looked in complete control to finally break through for his first grade century. It's been threatening and he has gone up a level or two from last year, his power was evident via his timing, not going hard at it and the placement of the ball was impeccable. Shots all over the ground but was particularly strong through the cover to backward point arc. I think it was chanceless, maybe one random stroke where he hacked into the outfield was close to being caught in the swirling conditions but other than that there was not literally an appeal. He had his ton by tea and looked to push to a really big one before a full toss brought him undone. Probably 20 overs left – could have been huge. Congratulation mate, great knock!
Up the other end Will also got off to a great start racing to 17 before he got a little bogged down. Suddenly his timing departed but the pleasing thing was he didn't throw it away and he got through it and, whilst not as smooth as Aidan's dig, Will did what an opener is meant to do. At tea he was in the 40s with the instruction to give it a nudge after tea. If Will found the gaps he would have had a massive score but he just wasn't in the greatest form. Not a bad thing, scoring 95 from 72 overs and not in great form. It was a chanceless innings with I think one half shout for an LBW. He showed his capabilities with some beautiful, hard straight drives. His innings actually reminded me of an innings Aidan played last year v Gordon when he scored 70. He batted well but found the fielder more often than not. No doubt this centre wicket hit out will have him blooming in a game or two. Bad luck on missing out on a deserving, hard fought ton.
The opening stand of 214 was not quite a record breaker but it ensured a good score for us. The rest of the team found it difficult to get going in the short amount of time. Ollie (7) also hit a full toss, low & hard to mid off, Zac (4) had a swipe, Jimmy (13) found square leg, Izzy (19) batted well, Ned (8) hit two fours before going for another one and Evans & Verdi both finished 7no to get us to a competitive 319.
The pitch was low and slow so a patient day in the field will be required to nab 10 wickets.
Warren Evans
4th Grade – Manly 7/295 (D. McKenna 99*, J. Graham 76, W. Akhurst 54)
Fourth grade rocked up to a flat Mike Pawley wicket eager to bounce back from last rounds drawn game and set ourselves up for day 2 against a strong Sutherland side. Max one his first toss of the season and we elected to bat, looking for the top order to set the standard and set us up for the day ahead.
However it wasn't the start we were looking for as openers Max (8) and Nick (13) fell early. Jimmy Boyer (3) and Toby (0) fell soon after to leave us reeling at 4/34, a position we did not want to be in. Jack Pickering and Will Akhurst (on his 4th grade debut) came together to form a much needed partnership that started to swing the momentum towards us with smart batting and strong running between the wickets. As Jack fell for a well made 22, the score was 5/56 and we were in desperate need of a big partnership. Jacob Graham joined Will at the crease and the two went about resurrecting our innings with patient batting. The two put on a 103 run partnership which turned the game around and put us in a position that we could launch from. Will fell for 54, an innings that changed the momentum of the game and his partnership with Jacob deserves much of the credit. Dan McKenna joined Jacob at the crease and the two began to up the tempo with strong hitting, constantly hitting boundaries to carry our score over 200, creating a 117 run partnership. Jacob was run out on 76 in an attempt to get Dan back on strike however credit must go to Jacob for coming in at 5/56 and digging in and then punishing the bad balls which set up out innings and allowed us to launch at the end of the day. Dan McKenna continued hitting balls all around the field, clearing the fence with ease. With one over to go in the day Dan was on 86 and proceeded to hit 2,6,2,2, and a single off the last. ball to finish the day on 99 not out, one run off a century that he deserved after his strong hitting.
We finished the day on 7/295, a commanding position after being 5/56 earlier in the day. Credit must go to Will, Jacob and Dan for getting the team out of a hole and setting up the team for next week where our bowlers must do our jobs. Overall a good day for the Manly boys in which we will be looking for 6 points next week.
Alex Bain
5th Grade – Manly 4/255 (Will Outred 67, M. Brewster 57, J. O' Sullivan 50*, H. Brown 34*, D. Wheeler 32)
The fifth grade boys set off to bounce back from our disappoitning loss last week against Penrith. Right from the warmup the boys were switched on and ready for a big day of cricket and after winning the toss Will Outred chose to bat. Things were looking good as Matt Brewster and Will started off things perfectly with 100 run stand and Matt notching up a 50. Matt unfortunately got out for 57 whilst Will remained solid at the other end . Dom and Will batted beautifully and set up the rest of the innings with Will bringing up his 50 and then Dom a healthy 32 before losing his wicket just after tea. Jacob O'Sullivan then came in and batted superbly as Sutherland started to find there line and length. Will then got out for a well made 67. Things were going along nicely for the Manly boys and at the end of the day finished up at 4/255 with Jacob on 50* and Hayden Brown supporting him at the other end superbly with 34*.
Lachie Kerr

Poidevan Gray – Manly 9/210 (S. Gainsford 54, J. Edwards 41, J. Crombie 34) def. Campbelltown 8/207 (J. Wigney 4/36, J. Carden 2/33)
The boys were up nice and early taking the St Aug's bus down to Raby 3 in Campbeltown. Meeting a fast dry outfield with a 40m boundary on one side and 100m on the other we weren't disappointed to be sent in on a deck that offered a little bit early.
Josh Wigney took the first pill and didn't disappoint trapping the opener LBW first ball. Some poor intent from the batsmen had them travelling just over 2 an over for the first half of the innings with the pressure leading to Jake Carden taking the wicket of the other opener with a smart off-cutter. Wickets started to fall around the 35 over mark as they looked to go bigger with Wiggers finishing on 4-36 off 10 and Jake finishing 2-33 off 8. Jack Edwards also snuck in with a wicket. Unfortunately they got away from us at the end reaching 207, 30 more then what they should have ended up with.
The boys were confident of knocking of the probably below par total. Bariol (8) went early snicking a short and wide one bringing Jack Edwards (41) in who had great intent from the first ball to combine for a good partnership with Will Wolter (20). After the loss of Wolter, Edwards and Davies (18), Sam Gainsford (54) and Jimmy Crombie (34) batted superbly taking us within 30 of the total with a run a ball required from the last 10 overs. Unfortunately the temptation was too much. Rather than picking off the singles we found ourselves needing 4 off the last over with no more wickets in the shed. Joey G (10 off 10) played smart cricket to get us there. Falcs (Punter) left it to the last ball with the field up to smoke one through point to hit 4, only needing 2 to win.
As the wise man once said,
"Roses are red, violets are blue,
Falcs smoked 4 through point last ball,
13 points from Two"~Jake Carden
Aiden Bariol