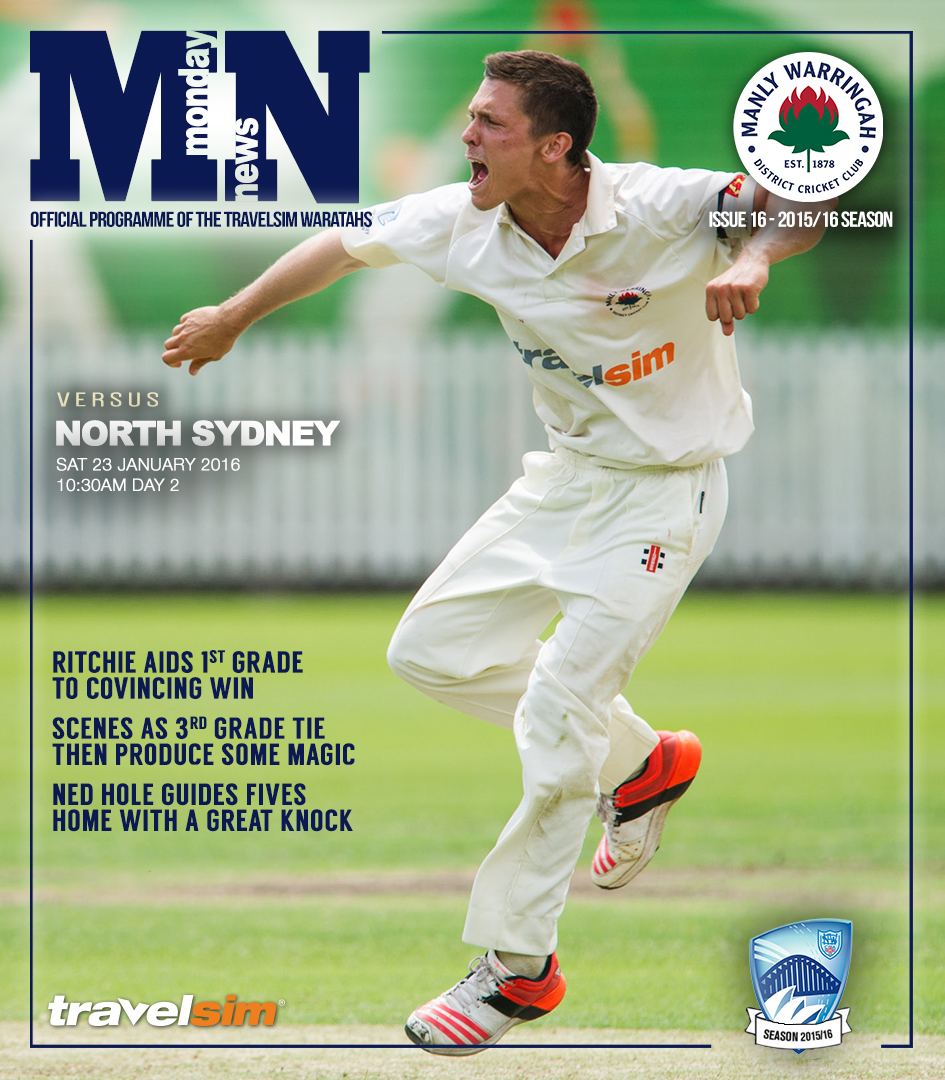 The TravelSim Waratahs had a great weekend against local rivals North Sydney, with all grades but 2's, entering or maintaining spots in the top 6.
1st grade had their first outright win of the season, by defeating the Bears comfortably in the later hours of the second day's play. Stand out performances from Nick Mclachlan and Jack Ritchie ensured 10 points for Crossy's men as they enter the top 6 for the first time this season.
2nd Grade had a disappointing day after not getting any points out of the last placed, winless North Sydney outfit. After setting the Bears 200 to win off the best part of 50 overs, the boys unfortunately were the only one's playing cricket with North Sydney not showing any intention of trying to get their first win of the season.
3rd grade had probably one of the most bizarre games of cricket of all time. After being rolled for 99, the boys tied on first innings with the last North Sydney wicket falling to a catch in the deep. From there the boys declared 7/117 and rolled North Sydney 10 runs short of the total. This was a crucial victory for Warren's men as they find themselves back in the top 6.

4th Grade had a tough day. Set 165 for victory, a poor batting performance saw the Tah's fall 60 runs short.
5th grade had a great victory with young Ned Hole leading the way with a brilliant 65*.
Overall a great weekend for the greatest club of all, but we will be tested again this weekend against a strong Randwick Petersham outfit.
Go Manly!
4 Pines Player of the Week – Nick Mclachlan

With so many match winning performances over the weekend, it has been extremely difficult to choose one individual performance of the week. First Grade quick Nick Mclachlan is this week's 4 Pines player of the week. Before this round, 1st Grade sat in the middle of the table and against a weaker North Sydney side, they were hoping for maximum points. Due to the importance of an outright victory for Crossy's men, Nick's 5/38 from 15.3 overs, is deservedly named this week's 4 Pines player of the week. This is also Nick's First 5 wicket hall of the 2015/16 season.

Well Done Nicko




1st Grade: Manly 2/128 (J. Crosthwaite 57, J. Ritchie 49*) & 2/209 (J. Ritchie 109*, A. Beadle 49*, A. Crosthwaite 28) def North Sydney 123 (N. Buck 6/43, N. McLachlan 2/13, A. Beadle 2/17) & 213 (N. Mclachlan 5/38, J. Munting 2/30)
Manly Oval was looking its usual fantastic self on Saturday as the Tahs entered day 2 against the Bears having already won on 1st innings and looking to bowl the opposition out again and try to force an outright result.
The eventful weather of the last few days didn't look like it had affected the ground as we started on time. Unfortunately we were already a man down with James Crosthwaite suffering a severe back injury, meaning any run chase would be done without one of our openers.
All our bowlers stuck to the task well with North Sydney not showing too much intent on pushing the score along. It took us a while to get our first wicket via a McLachlan / Lenton combo. Nick then took another 2 wickets in 2 balls in his next over. From this point on wickets fell pretty regularly, Munting taking 2 wickets in an over and Bucky and Beadle both snaring one. Only their number 9 with 53 off 38 balls, as well as their English pro Mickleburgh showed any fight, but we bowled them out for 213, leaving us with 207 to get off 45 overs for an outright victory. Nick McLachlan the star with the ball, taking another 5 wicket haul.
We all thought the chase was going to bit tricky, but no one told that to Jack Ritchie. Taking full advantage of his new found power (and new bat), he showed how to pace an innings with a superb 109* off 129 balls to lead the Tahs to victory. Jack has now moved into 8th position in the 1st grade run tally for the season.
Jack was well supported by skipper Adam Crosthwaite with 28 of 43, and Ahillen Beadle with 49* off 66. We chased down the target with 5 full overs to spare.
So 10 points for the good guys as we move into the top 6 for the first time this season. Set's us up for an exciting last 5 rounds.
2nd Grade: Manly 5/203 (S. Gainsford 78*, J. Rawlings 46, R. Hamman 31*) vs North Sydney 5/129 (M. Alexander 2/21, L. Diserens 2/30)
Second Grade arrived to a soaked Tunks Park, for a 120 over game after the first week was washed out. Play started late again and the game was reduced to a 96 over game.
We won the toss and batted, whilst rain threatened. Jack Edwards after his week of training at the centre of excellence rather than playing high pressure semi final cricket, lost his wicket second ball for a duck. Jarrod Rawlings made a well composed 46 and Sam Webber 24 also got a start but couldn't go on. Manly really didn't get any momentum until the Skipper, Rowan Hamman 31 not out and Sam Gainsford 78 not out, took the game away from North Sydney, on what was a very slow out field. They put on 108 for the 6th wicket and it was great to see both boys get a few runs and release the shackles. Manly finished 5/201 after 48 overs and declarfed.
North Sydney were set 202 from 48 overs, but they lost 2 early wickets to Matt Alexander and shut up shop from there, ending up with 5 for 129 from their alloted overs. Luke Dizzerens bowled brilliantly as did all of the bowlers. A disappointing days cricket where neither side recieved any points, but the weather was always against us after the first week washout.
Aiden Baker
3rd Grade: Manly 99 (A. Virdi 28) & 7/117 dec. () vs. North Sydney 99 (W. Evans 3/13, J. Wigney 3/17, B.Falconer 2/15, D.Marshall 2/19) & 107 (J. Graham 4/22, J. Wigney 3/30, B. Falconer 2/15)
Where do I start? Grahames presented quite nicely, a bit of softness but this was nullified by the 28 over ball. Resuming at 3/45 chasing 100 to win Norths lost an early one care of a Falcs (2/15) LBW. Soon after he clipped off stump to make the Bears 5/58. Norths then settled and, hitherto, built the biggest partnership of the game to take the score to 83 before Evans (3/13) got a vital edge to Daly at 2nd slip. Verdi then snares a good one (he takes 6 catches for the game at 1st slip) from Wigney (3/17) to make it 7/90. Wiggers then traps a bloke in front to make it 8/95. Evans then gets a tickle to make it 9/96. Number 11 sneaks a single behind square and then the #8 straight drives one past Evans' boot and under a diving mid off to scamper 2 to make it even. Wiggers bowls a maiden to the #11. Instead of bowling himself to see the inevitable squirt for a quick single Evans tosses the ball to Marshall with a deep mid wicket and mid on. Dylan bowls, the batsmen, as hoped, swipes, the volume of his grunt of despair may have been grounds for obstructing the field if Zac dropped it at deep mid wicket but he held it and we have 3 points each with 50 overs left in the day.
Wanting to bat for 23 overs and have 27 at them we needed a good base to launch from. This did not happen and we were struggling at 3 for 4. Daly (32 off 36) and Trewartha (24 from 28) settle things with good intent and put on 55 to take us to 4/59. Contributions from Crombie (13), Virdi (15) Evans (14*) and Marshall (11*) allow us to declare at 7/117 from 25 leaving them 118 in 25.
Norths get off to a flyer to be 0/27 off 4 before Wiggers (3/30) gets the makeshift opener caught in the covers. Evans (1/21) then gets a hard drive well caught by Graham at mid off to make it 2/29. Wickets tumble at regular intervals but runs are flowing regularly as well. Run rate does not become an issue with quick runs put on. Norths get themselves into an enviable position at 4/75 before Virdi scoops up a low one from Jo Graham. Jo (4/22) has them in all sorts with a great spell of off spin and he cleaned them up nicely. Dylan too was bowling well but a change to bring on Falcs (2/15) paid quick dividends with a good catch at mid off and a great snare by Virdi in the slips. To complete the win Virdi again takes a great catch from Joe who was turning the ball sharply into the batsmen. He stepped away looking to work it into the offside but the turn and bounce and Ash's awareness at 1st slip meant 8 points to us to boost us back into the 6.
Now for some consistency fellas. If we can string a few together we will entrench ourselves in the top 4 but if we stay flaky we will be hanging around the fringes all year.
Warren Evans
4th Grade: North Sydney 165 (R. Bishop-Perrett 3/24, J. Graham 3/24, S. Hole 2/26) vs. Manly 116
The 4th grade boys rocked up on the first day to a hot but windy North Sydney 2 which looked green but hard as well. We lost the toss and were sent in to bowl.
The opening bowlers did well to start and had the ball swinging. We managed to get an early wicket but from then on the batsman decided to defend without offering many shots for the rest of the day going at a very slow 2 an over. Eventually we got them all out near end of day leaving the manly boys to battle out 3 overs at end of day which we managed.
Day 2 started shaky for manly as we lost Pickering early on in the day and from then on Manly consistently lost wickets without doing much damage on the scoreboard. Will wolter was probably the pick of the batsman scoring 20. The tail put up a slight fight but in the end we were all out for 116 and a disappointing end to a game that we really should have won comfortably.
Bem Kittley
5th Grade: North Sydney 9/215 dec. (S. Waddington 2/11, H. Brown 2/21, G. Harris 2/27) Manly 6/217 (E. Hole 65*, M. Cole 49, O. Davies 30)
We returned to Mick Pawley Oval with North Sydney 7 for 188 for the remaining day's play.
Significant overnight rainfall delayed our game by 20 minutes. Simon Waddington decide to take the new ball in a hope we would get some early wickets.
An injury for Hayden Brown meant that Nick Osborne and Alex Bain were to take the new ball, three wickets were required to bowl North Sydney out. They managed to mount on thirty extra runs in five overs. Due to wet patches on the pitch, the batsmen weren't completely set. Alex took advantage of this, bowling a great line to take two early wickets.
After North Sydney's Captain was satisfied with the score, he decided to declare leaving us to chase down 215 of 70 over to win.
With so many players out of the side we changed the our batting order, opening with Matt Cole and Jonah Anderson. They both got us off to a strong start putting on a 30 run partnership off 15 overs. Jonah was unlucky to lose his wicket, getting a thick outside edge to the hands of gully.
This brought Ned Hole to the crease. He had great intent from ball one, playing a solid cover drive to get off the mark. Ned and Matt then set about piling on the runs. Matt was the next to go, slicing a cut shot straight to point of the right handed off spinner, which popped off a length. He was unfortunate to fall just before his half century on 46.
Next in was Oliver Davies, coming off some great form in Green Shield. He also showed great signs from the start of his innings smashing 3 well controlled sixes. Ned and Ollie built a solid 50 run partnership before Ollie was given out LBW.
As wickets started to fall, Ned kept his cool and backed himself to be there till the end. Nick Osbourne, Will Akhurst and Simon Waddington all fell cheaply creating a hole in our innings. We just needed someone to create a partnership with Ned to give ourselves a chance of winning this game.
Among the fall of these wickets Ned brought up his fifty and went on to score 65 not out. Alex Bain came in at number 8 to chase down the final runs in a successful partnership with Ned. Both Ned and Alex brought home the victory with 8 overs remaining.
We enjoyed the game and were lucky enough to see it through to the end as the rain held off.
Thank you to the parents and players who brought a great food for the afternoon tea and set it out for all of us. A special thanks to Dollars for scoring the game for us.
Will Akhurst
Hardboard Diggers Team of the Round

The Harbord Diggers Club Team of the Round has been named. Ritchie and Rawlings form the opening partnership after their stellar performances, with Matt Coles 49 getting him into the #3 position. Ned Hole and Sam Gainsford make up the middle order after unbeaten innings, while Arshdeep Virdi's important double in a low scoring match (+ 6 catches at 1st slip) see's him at #6. Jay Lenton's stellar season continues at #7, while the bowlers pick themselves with spinner Joe Graham and pacemen Wigney, Buck and McLachlan all in the wickets.