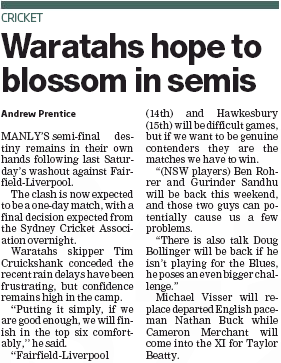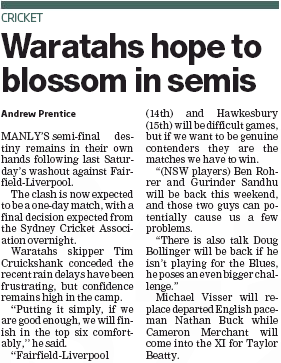 MANLY'S semi-final destiny remains in their own hands following last Saturday's washout against Fairfield-Liverpool.
The clash is now expected to be a one-day match, with a final decision expected from the Sydney Cricket Association overnight.
Waratahs skipper Tim Cruickshank conceded the recent rain delays have been frustrating, but confidence remains high in the camp.
"Putting it simply, if we are good enough, we will finish in the top six comfortably,'' he said.
"Fairfield-Liverpool (14th) and Hawkesbury (15th) will be difficult games, but if we want to be genuine contenders they are the matches we have to win.
"(NSW players) Ben Rohrer and Gurinder Sandhu will be back this weekend, and those two guys can potentially cause us a few problems.
"There is also talk Doug Bollinger will be back if he isn't playing for the Blues, he poses an even bigger challenge."
Michael Visser will replace departed English paceman Nathan Buck while Cameron Merchant will come into the XI for Taylor Beatty.
{loadposition cricket}