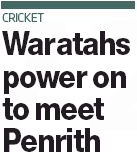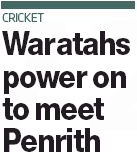 Sydney Grade Cricket Manly 2-257 Hawkesbury 254
MANLY will take on Penrith in a qualifying final this weekend at Howell Oval after thrashing Hawkesbury by eight wickets at Manly Oval.
Needing to win to secure a place in the top six, the Waratahs romped home in the two-day clash thanks to a classy unbeaten century from Adam Crosthwaite (pictured).
The former Victorian wicketkeeper-batsman plundered 119, and was well supported by Luke Edgell (64) and Ahillen Beadle (58 not out).
Skipper Tim Cruickshank paid tribute to the man they call "Crossy".
"We needed someone to step up, and he certainly did so,'' he said."He has been colossal for us all season. He has hit four centuries, and when he gets starts he tends to go on with the job.
"Our bowling was a different story. I wasn't happy with it — we need to improve with the ball against Penrith or we will be out in week one of the semis."
In a show of the club's depth, Manly's third XI, fourth grade and fifths also qualified for the business end of the season after consistent campaigns.
{loadposition cricket}