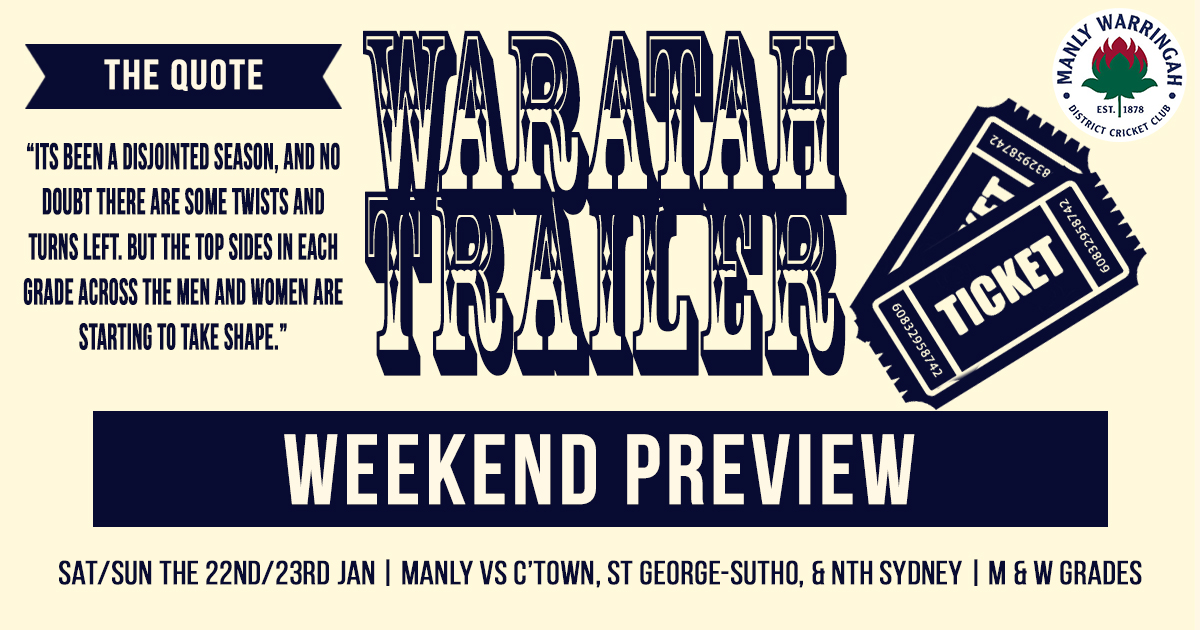 The Manly club have hit the ground running to begin the new year with impressive performances over St. George and Fairfield-Liverpool. The club has been hit hard by the latest covid outbreak in Sydney with a number of players missing the resumption of the premier cricket season.
As we look ahead to round ten there was a few performances last round against the Lions that we should mention. Andrew Rochford bowled 4th grade to a comprehensive victory at Rosedale Oval taking 6/28 off his 10 overs. Ahillen Beadle returned to new year with an old-fashioned AB ton which included a innings saving 4th wicket partnership with Joel Davies who ended up with a brilliant 91 himself.
The Tahs will take on Campbelltown-Camden this weekend in the Men's and Women's 3rd Grade whilst the top two Women's grades will be taking on St. George-Sutherland. Manly will host Campbelltown at Manly Oval on Saturday in Men's 1st grade, the Tahs have jumped up into 4th position after claiming a bonus point in their round 9 fixture. Their opponents the Ghosts have had a challenging season and currently sit in 19th but will no doubt be tough to beat. The Manly bowling unit have found their groove coming back from the Christmas break bowling St. George out for 100 and then Fairfield out for just 86 in back-to-back weeks. Ryan Hadley has once again been leading the attack with 9 wickets at an average of 27, new recruit Greg West in terrific fashion taking 3 wickets in both matches since the break.
2nd grade will be on the road and travelling out to Raby Oval to face the last placed Ghosts and will be looking to jump into the top 3 on the ladder. Jacob O'Sullivan scored a match winning 70 not out last round and has been a rock at number three for the entire season so far with 225 runs at an average of 32. Skipper Andrew Jamieson has been outstanding with the ball after making his return from injury but last week proved how dangerous he can be with the bat with an exceptional 60 of just 53 deliveries. With a log jam of teams between 4th and 13th on the second-grade ladder it will be an important match for Jamo's lads.
3rd grade will host their 15th placed opponents at Graham's Reserve and will be looking for a much needed 6 points to return into the competitions finals positions. Sam Hole led from the front last weekend with a classy and sometimes creative half century. Ellis Raymond will be one to watch this round with his exciting batting being a shining light this season for the Waratahs. Joining us from his beloved Long Reef Cricket Club, the Collaroy Plateau junior has been outstanding in his first season of grade cricket with 243 runs at an average of 40.
4th Grade will join 2nd grade out at Raby Oval as they look to extend their lead at the top of the fourth-grade ladder. There's been a lot of player movement across the lower grade which makes the sides effort of being at the top rather impressive.
Reiley Dunlop's 5th grade side will be looking to get back into the winner's circle after a tough start to the new year. Campbelltown-Camden sit 18th and a win for the Tahs could see them jump to as high as 2nd.
Women's first grade will travel away to face the top of the table St. Goerge-Sutherland and once again all eyes will be on Saskia Horley who is the current leading run scorer in the NSW Women's Premier cricket 1st grade competition.