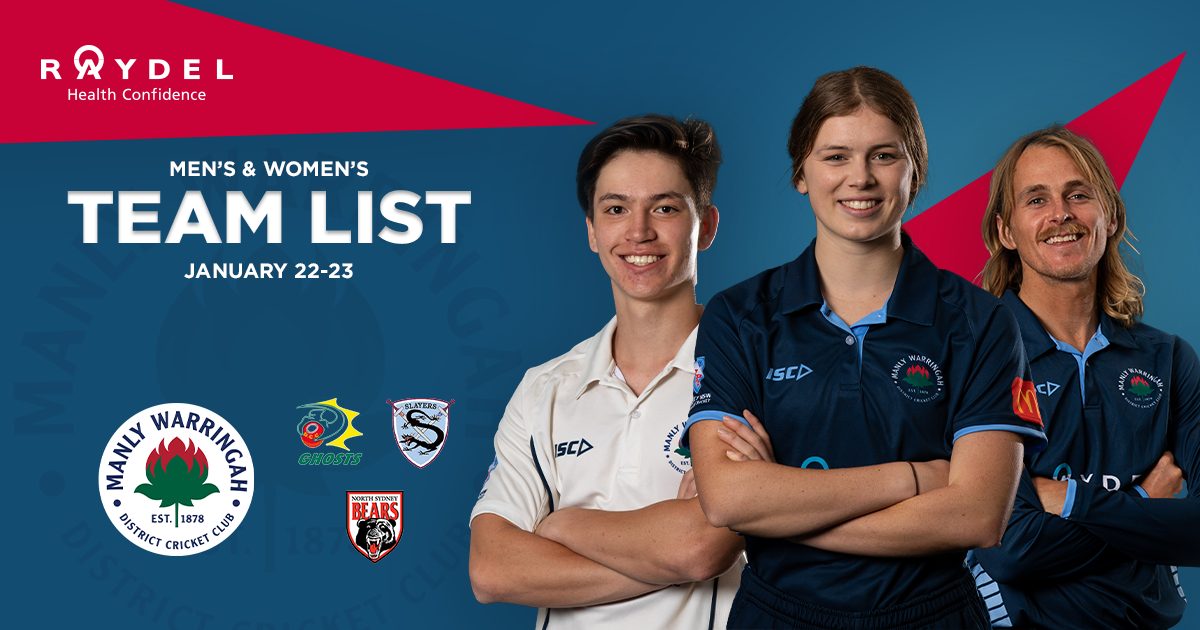 The Raydel Manly Warringah Waratahs have named sides for this weekend's round 8 and 10 women's and men's matches. Men's 1st-5th grade face Campbelltown-Camden Ghosts, with 2's and 4's making the long trip down to Raby. Women's 1st and 2nd grade have a T20 double header away against St George-Sutherland, while Brewers face UTS North Sydney, and 3rd grade play the Ghosts.
Last week saw 4 out of 5 Men's grades take home wins, with 3 grades even bagging bonus points. Credit due to Ahillen Beadle who tonned up in 1st Grade, and veteran 4th grade skip Andrew Rochford who completely skittled Fairfield-Liverpool's top order to bag a 6 wicket haul.
First Grade make one change with Jacob O'Sullivan coming in to replace the unavailable Tom Lammonby. 2's bring Sam Webber in to replace Doonan with the gloves, while Cam Merchant also returns to the side. 3rd grade is bolstered with the inclusions of Neal Prowse and Jordan Daly sure to add some extra kick to the lineup. 4th make many changes, with past players Adam Parkinson and Taylor Beatty making a return, along with Lachie Charles and Jack Hobson. 5th grade enjoy the inclusions of Jack Melchiore and Ollie Melville who come down from 4's.
Women's 1st grade make no new inclusions but will hope to get their season back on track after a tight loss. 2nd Grade bag the expertise of Charlotte Camburn, while Brewers receive Cam Pryor and Ashleigh Karcher to boost the side. 3rd grade have two debutants in Stacey McManus and Michelle Cox, with Didi Prins and Sarah Gordon also returning for the tahs.
Good Luck to all teams. Go Manly!
Men's First Grade – One Day Match
Round 10 vs Campbelltown-Camden @ Manly Oval
10am start
1. Ben Bryant
2. Jacob O'Sullivan
3. Matt Brewster (+)
4. Ryan Farrell (c)
5. Joel Davies
6. Ahillen Beadle
7. Isaiah Vumbaca
8. Elliot Herd
9. Ryan Hadley
10. Greg West
11. Jake Carden
Men's Second Grade – One Day Match
Round 10 vs Campbelltown-Camden @ Raby Oval 1
10am start
1. Logan Weston
2. Sam Gainsford
3. Cameron Merchant
4. Sam Webber (+)
5. Zach Trewartha
6. Ned Hole
7. Tom Kaye
8. Josh Seward
9. Andrew Jamieson (c)
10. Michael Counsell
11. Josh Wigney
Men's Third Grade – One Day Match
Round 10 vs Campbelltown-Camden @ Grahams Reserve
10am start
1. Sam Hole (c)
2. Lachie Coyte (+)
3. Dom Wheeler
4. Ellis Raymond
5. Bryn Mendel
6. Neal Prowse
7. Roop Dhillon
8. Alex Bain
9. Evan Dunnachie
10. Lachie Trewartha
11. Jordan Daly
Men's Fourth Grade – One Day Match
Round 10 vs Campbelltown-Camden @ Raby Oval 2
10am start
1. Keelan Mendel
2. Oscar Lucius (+)
3. Jack Pickering
4. Josh Cooper
5. Lachie Charles
6. Taylor Beatty
7. Andrew Rochford (c)
8. Adam Parkinson
9. Lachie Kerr
10. Liam Dinan
11. Jack Hobson
Men's Fifth Grade – One Day Match
Round 10 vs Campbelltown-Camden @ Mike Pawley Oval
10am start
1. Reiley Dunlop (c) (+)
2. Jack Melchiore
3. Hayden Calvert
4. Jake Hutchings
5. Brodie McDowell
6. Simon Waddington
7. James Waddington
8. Ollie Melville
9. Will Matheson
10. Raja Ganeshraj
11. George Cummings
Men's Unavailable List:
– Ollie Davies
– Mickey Edwards
– Morne Morkel
– Steve O'Keefe
– Jay Lenton
– Jack Edwards
– Tim Doonan
– Ryan Bishop-Perrett
– Bailey Foster
– Glyn Archer
– Ash Virdi
– Andrew Boulton
– Seb Bush
– Toby Laughton
– Ben Falconer
– Josh Lawson
Women's First Grade – T20 Match
Round 7 vs Penrith @ Manly Oval
3:30pm start
1. Charlotte Camburn
2. Saskia Horley
3. Annabel Hutt
4. Natalie Jonkers
5. Shivani Mehta
6. Sarah Turner
7. Zara Shipp
8. Mikaela Turik (c)
9. Kate Salmon
10. Chelsea Mclerie
11. Kristie Crawford
Women's Second Grade – T20 Match
Round 7 vs Penrith @ Manly Oval
12:15pm start
1. Niamh Bullen
2. Natalie Guyot (c)
3. Ellie James
4. Kristie Crawford
5. Kate Salmon
6. Claire Waddington
7. Jasmin Wilson
8. Mia Waddington
9. Renee Hough
10. Stephanie Hughes
11. Charlotte Camburn
Brewer Shield – T20 Match
Round 7 vs Penrith @ Manly Oval
9am start
1. Brooke Frew
2. Emily Horstead
3. Eliza Henry
4. Ashleigh Karcher
5. Cam Pryor
6. Charlotte Ambler
7. Mia Nel (c)
8. Maya Nicey
9. Darcey Whiteley
10. Jessica Manning
11. Caitlin du Preez
Women's Third Grade – T20 Match
Round 7 vs St George-Sutherland @ Balgowlah Oval
12:30 pm start
1. Ashleigh Karcher
2. Didi Prins
3. Emma Lyon
4. Stacey McManus
5. Renee Hough (c)
6. Michelle Cox
7. Helen Hull
8. Cam Pryor
9. Annabelle Gilbert
10. Sophie Beukers
11. Emily Hatfield
12. Sarah Gordon