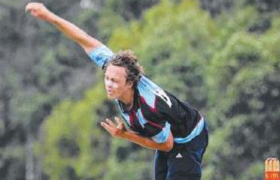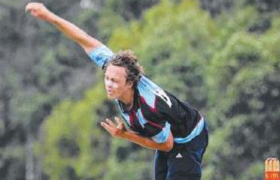 A SLICK five-wicket haul from Michael Visser wasn't enough to land the Waratahs victory in their one-day clash with Blacktown at Glendenning last Saturday in Sydney's west.
After winning the toss, the home side batted first.
Manly were up against it before a ball was bowled, with opener Jimmy Munting battling a virus all week and left-arm quick Nick McLachlan a late withdrawal.
Visser was the shining light in the field, snaring 5/54 from his ten overs.
Youngster Ryan Farrell then stood out with the bat, belting 73 in the middle order, but in the end Manly fell short of the required target by 22 runs.
Jay Lenton (55) and Jack Ritchie (44) also chipped in with valuable runs.
Lenton displayed great courage to bat after being hospitalised early in the day when struck by a bail in the eye when behind the stumps wicketkeeping.
"It was a bad day for everyone at the office,'' skipper Adam Crosthwaite conceded yesterday.
"Credit to Blacktown, they dominated the big moments and deserved to win, they have improved a fair bit as a unit.
"We have lost three oneday games this season which isn't good enough, but we just have to move on."
To put things in perspective, Manly collected 10 points last season after beating Blacktown outright.
The defending premiers also currently find themselves in 15th spot, a scenario no one expected.
Crosthwaite insists a topsix finish is still achievable come March.
"Our form in two-day cricket has been very good,'' he said.
"Starting with North Sydney at home this weekend, every game now is a must win."
Meanwhile, club officials remain confident they will be handed back the 1.1 points deducted for a slow over rate in the round seven tussle versus UNSW at Village Green.
A decision is expected next week.
{loadposition cricket}