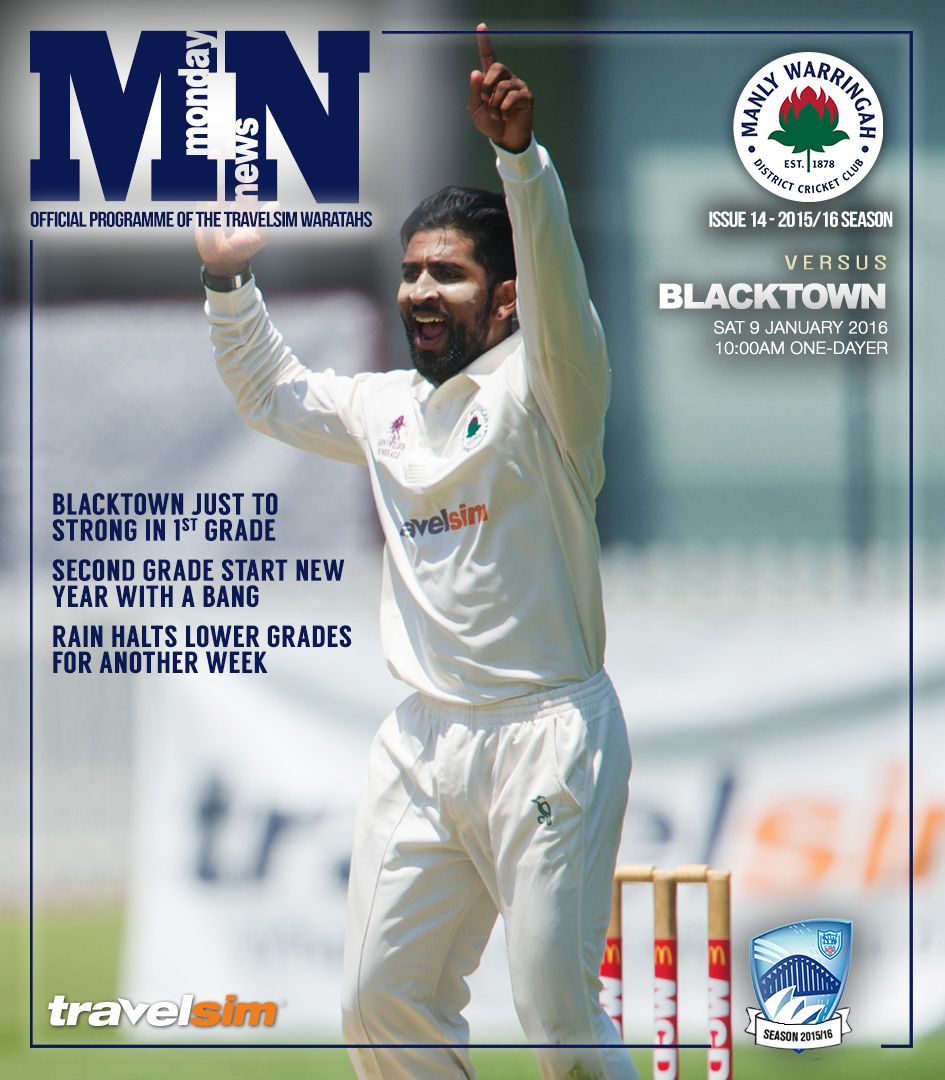 Yet another rain affected week, saw the Tah's enter the first round of the year with only the top two grades and PG's, getting on the park. 1st grade had a disappointing 20 run loss against Blacktown which has seen them eliminated from the First Grade One Day competition for the 2015/16 season. Mickey Visser picked up his first 5 wicket haul in the top grade, leading the bowling unit with an impressive 5/54 off his 10 overs. Well Done Visser! Despite solid contributions from Farrell (73), Lenton (55 with one eye) and Ritchie (44) the Tah's werent able to get over the line. This is an obvious disappointment to the playing group as they were looking likely to go one better than their impressive limited overs season last year. With plenty of cricket remaining in the 2 day competition, the defending champs sit in 15th place currently, however they are very much in the running to go back to back.
2nd grade have kicked off 2016 with an impressive performance against the 2nd placed Blacktown outfit. After getting sent into bat on a beautiful batting wicket, Rowan's men compiled 196 with a large majority of the team contributing. An impressive opening spell from both Matt Alexander and Matt White, had the visitors on the back foot from the get go and with consistent wickets, the Tahs defeated Blacktown by 36 runs. A much needed victory for the 2nd grade boys as they are continuing to push for a final 6 spot.

4 Pines Player(s) of the Week – Ryan Farrell and Michael Visser


This week's 4 Pines Players of the Week Award are First Grade's Ryan Farrell and Michael Visser. With both of them putting in exceptional performances over the weekend, we couldn't decide the player of the day. Under pressure with the Tah's One Day season on the line, these two boys delivered in a big way. The boys displayed how far their games have come over the past couple seasons, and we are all sure their weekend success is only the beginning of many more impressive performances in the top grade.
Keep up the great work boys!
1st Grade: Blacktown 267 (M. Visser 5/54, A. Beadle 3/44) def Manly 8/246 (J. Ritchie 44, J. Lenton 55, Farrell 73)
Unfortunately the Manly boys were outplayed by Blacktown on Saturday. This loss has resulted in our missing out on the limited overs finals – a disappointing result for all involved.
The day started well with a few early wickets however a large partnership for the 4th wicket took Blacktown's score up to over 200. A bit of late order hitting resulted in the Warriors posting 267. The pick of the bowlers, as he has been all season, was Michael Visser. He finished with 5-54 off 10 and troubled all the opposition batsman. This was his first 5 wicket haul in 1st grade and was a great reward for his perseverance and belief over the years.
We didn't get off the best of starts with the bat, however at 2 for 84 after about 16 overs the game was in the balance. Unfortunately we then proceeded to lose 3-15 which slowed our run rate and meant we possibly didn't quite have the batting in the sheds later on when we needed to hit out. Jay Lenton again showed his class with 55 while young Ryan Farrell played a bit of a breakthrough knock in first grade with 73 in an excellent middle order partnership which kept us in the game. Unfortunately however we ended up falling 22 runs short of the target in our 50 overs.
A disappointing result, however all we can do now is put it behind us and look to improve our position in the ladder in the two day competition.
Jack Ritchie
Watch some of the highlights from 1st Grades previous match versus Gordon below:
2nd Grade: Manly 196 (T.Kaye 36, A. Baker 30, J.Edwards 26, M. Alexander 25) def. Blacktown 160 (M. White 4/23, J. Carden 2/18, M. Alexander 2/44)
The lads turned up to Manly Oval on a glorious day, the golden Rays of sunshine piercing through the broken cloud cover, the Manly boys knew today was going to be a positive day.
Blacktown won the toss and elected to bowl first on which appeared to be a slower wicket than first expected.
The openers (Jack and Jarrod) got us off to a solid start with positive stroke play. Jarrod unfortunately missing a straight one and believed the umpire should "have his eyes checked". Tom Kaye then proceeded to continue our solid start with a "clean" 36. There was never really a partnership established which could have cost us a victory in the end (something to look into lads) Oh, and FLAT ran himself out again, it's ok flat, just another thing to work on at training.
With 196 on the board the boys were positive we could take a convincing victory. Blacktown played attacking shots early, however, this did not work in their favor as they found themselves in a bit of a rut (5-60)
The strong bowling line up then took it to the visitors, rolling them for 150 on what appeared to have flattened out quite a bit. The boys bowled very well as a unit, Matty White was the clear standout with his 4 wickets.
Awesome win boys, keep the momentum flowing.
Love
Matt Alexander
PG's: Manly 64 (B. D'Arcy 21) def by Fairfield 3/67 (B. Falconer 2/13)

The mighty manly Poidevin-Gray side arrived to manly oval for most likely there last game of the season. Needing a big win and a few results to go their way for a semi-final birth, the boys knew they had to put in a big performance. Fairfield-Liverpool are renowned for having a great bowling attack but regardless, Ryan Farrell elected to bat on on a beautiful Manly Oval deck. The Tahs got off to a great start and were 1/41 off the first ten, with Billy D'Arcy and Ryan Farrell both going well.
What followed was an even battle between bat and ball, with wickets falling and runs being scored at a rapid rate. The Tahs batted extremely well with everyone chipping in and doing their bit.
Credit must be given to Fairfield for their steady bowling display. Even though there was a consistent stream of wickets we knew we had more than enough runs on the board and the onus was now on the bowlers to finish the job.
Unfortunately, and I'm not one to play the blame game, the bowlers really blew this one. We had seven fielders on the off side and yet we continued to stray onto their pads, leaking runs consistently. Ben Falconer bowled beautifully swinging the ball more than ever but even he was going for a few too many runs. All of a sudden our 1st innings total of 64 was looking a bit slim.
To our credit the manly boys hung in well and the game almost went past 1 o'clock.
In the end Fairfield mowed down the 65 required for the loss of two wickets after 12 or so overs. We were left embarrassed walking off the field at 12.45 with the match already completed.
Looking back I would say our day took a turn for the worst when we lost 9-23 on an absolute road. Afterwards we had a couple of beers but it was barely 1pm and they tasted like failure. The bowlers in particular were down knowing their inaccuracy had cost us a win.
It was easily the worst loss this young reporter has ever been apart of and I'm just glad its over. In other news Man of the Match was Billy D'Arcy for his valiant 21, a lone highlight in an otherwise horrible day.
Billy D'Arcy