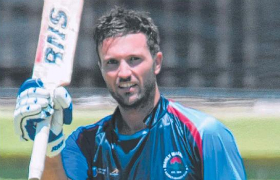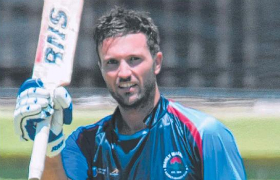 FOR the first time in his life, Tim Cruickshank will be the enemy this weekend at Manly Oval.
The former Waratahs first grade premiership-winning skipper has jumped ship and agreed to represent Warringah in Sunday's inaugural T20 clash against Manly from 2pm.
But before the catcalls begin, it is for a cause – raising awareness of men's health issues.
Cruickshank first turned out for the men in green as a 14-year-old at Weldon Oval before moving into the grade scene.
After making his firstgrade debut for Manly at the age of 16, Cruickshank retired this year as the club's all-time leading run scorer.
Aside from raising money for Movember, he also cannot wait to see what ex-teammate Cameron Merchant has up his sleeve.
"Napper (Merchant) is a classic. He will love leading out a Manly team, especially full of so many talented juniors,'' Cruickshank said.
"A few weeks ago he was in charge for a couple of overs when (regular captain) Adam Crosthwaite went off the field.
"In under an over he had blokes standing at mid-off and mid-on at the same time, something I have never seen in all my time playing the game.
"All jokes aside, this is a concept I am happy to support. It will be great fun."
Warringah club identity Anthony Caruso, who is the brains behind the game, is buzzing at the prospect of walking out on Manly Oval in a playing capacity.
"It was a natural fit. In the last three years both clubs have raised a heap of money for Movember, passed along to the Sydney Cricket Association,'' he said.
"It is also happens to be a cause close to my heart.
"No doubt the Warringah (Shires) players will feel they have a point to prove against the Manly (Grade) guys. "The banter will be all time."
THE TEAMS
MANLY
Cameron Merchant, Billy Darcy, Zac Trewartha, Jimmy Crombie, Jack Pickering, Sam Hole, Joel Wood, Alex Bain, Dan McKenna, Sam Kelly, Josh Wigney
WARRINGAH
Tim Cruickshank, Tristan Rajah, Dom Wheeler, Matt Butcher, Jack Crombie, Brad Lewis, Abhijeet Virdi, Stuey Wiblin, Ian Thompson, Anthony Caruso, Cobi Stevens
{loadposition cricket}