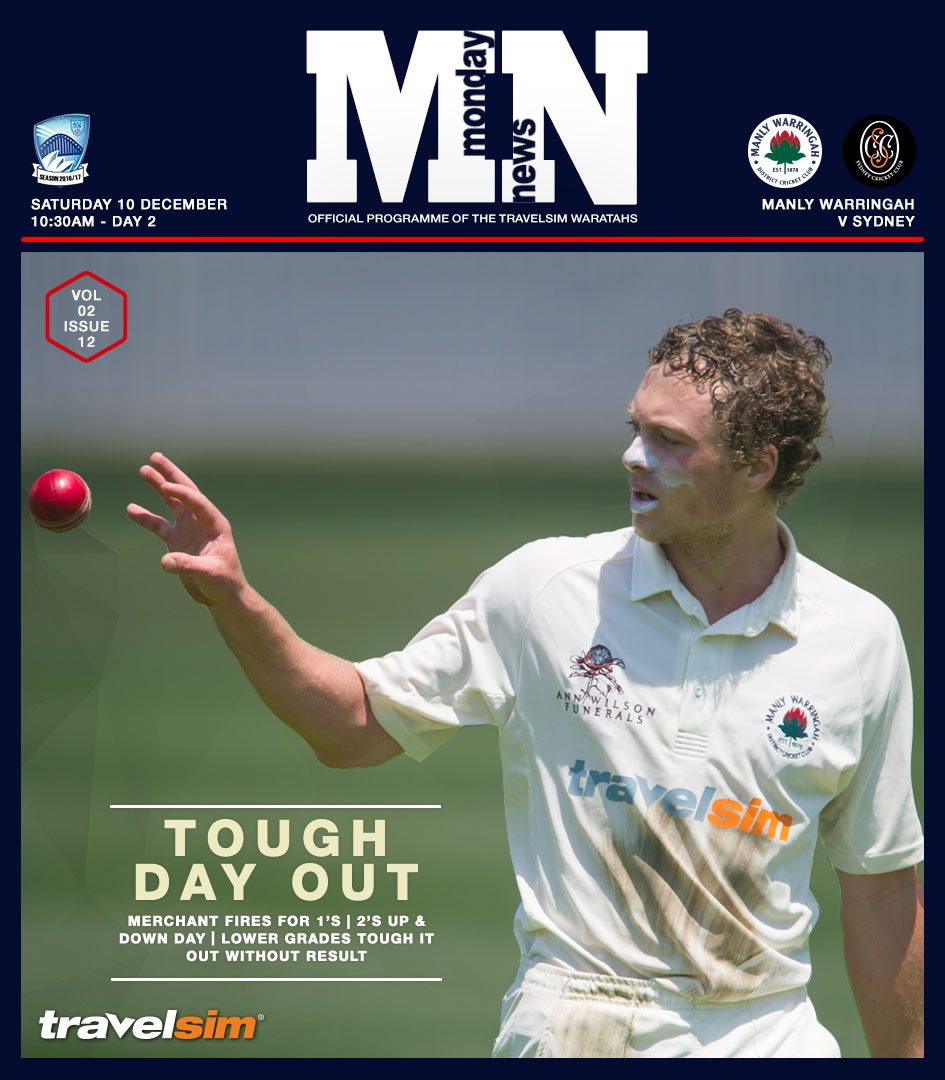 Round 7 was a very tough round for the Tahs against a strong Sydney outfit, we lost the top 4 grades and drew in 5th grade. 1st grade couldn't quite chase down 302 despite a terrific knock from Cameron Merchant (111), 2nd grade won first innings but lost outright by 6 wickets, Michael Visser the star with 5/54 in the first innings. 3rd grade were comprehensively beaten at Graham's, however there was a bit more resistance in the 2nd dig with Wolter, Edgell and Webber amongst the runs. 4th grade's total of 163 was passed with the loss of 8 wickets in a narrow loss, Dan McKenna was the pick of the bowlers with 3/45 following on from his devastating 78* from 53 balls. 5th grade made 7/281 from their 80 overs, and Sydney parked the bus and played out for a draw, finishing 8/197 from 87 overs, Ben Watts finished with 3/46 and big Michael Counsell took 2/43.
A tough week for the lads but we will bounce back next week in a one-dayer against Parramatta to go into Christmas with some more momentum.

4 Pines Player of the Week – Cameron Merchant

Cameron Merchant showed what he's got to offer with a backs to the wall hundred in 1st grade. It was a patient knock that almost got the boys over the line. With limited opportunities this year, Nappa showed that he most definitely still has it as he dispatched 13 boundaries in his 251 ball stay at the crease. He was the last man to fall as we fell 57 runs shy of Sydney's total.

It was great to see Nappa take his opportunity to contribute with both hands, hopefully many more runs to come this season for you mate!

Well done Nappa!

1st Grade – Manly-Warringah 10/245 (C Merchant 111, A Crosthwaite 35, J Crosthwaite 28) def by Sydney 10/302
1st Grade rocked up to Manly Oval full of confidence in chasing down Sydney's 302. We resumed day 2 with the two brothers at the crease.
It wasn't an ideal start when we lost James Crosthwaite first ball of the day clipping one to mid wicket, he was closely followed by AB when he was run out for just 4. Crossy and Dream went about consolidating the innings, but unfortunately just before lunch Crossy was caught by a good catch at gully for 35.
Dream and Faz batted with patience and fought through a tough hour after lunch to set the lads up for a good chase, with the score on 164 Faz misread one from leggy Denly and was bowled for 20, Logan joined Dreamer and looked to play positive cricket and take the game to the Sydney lads. Sydney then took the new ball which found the outside edge of Logan's bat being caught for 19, Taylor got a good rock first up and was bowled. Dreamer edging closer and closer to another ton but was losing partners quickly. Mattos gave a quick little cameo before being given LBW for 11, then Carden smacked one back at the bowler being caught for 5. Eventually Dream got to the 100 and was the mainstay of our batting efforts, it was an excellent display of tough batting and concentration, unfortunately he was dismissed with about 7 overs left to play for 111.
We were bowled out for 245 falling short by 57 runs. We now turn our attention again to one day cricket next week against Parramatta.
Jake Carden
2nd Grade – Manly-Warringah 10/135 & 10/91 def by Sydney 10/106 (M Visser 5/54, J Wigney 3/9) & 4/121 (S Gainsford 2/13)
The Tahs turned up to Drummoyne Oval with Sydney needing 38 runs to claim their 1st Innings victory. They turned up loud as expected but we were as a team very determined to get them all out.
Started with a sharp warm up lead by Cub himself. We were ready to take them on and in the first over claimed a wicket and they had a massive collapse of 5-8 as we claimed the 1st Innings victory. Michael Visser (5fa), Josh Wigney (3fa), Dylan Marshall, Ryan Bishop-Perret all bowleded really well.
We came out to bat and didn't bat well at all. Tommy Kaye stayed in and protected his wicket but other than that no one else really hung around and we were bowled out for 91 in the second Innings. We did out best but they chased the 120 runs they needed 4 down. We walked away with 4 points and were upset not to get the 10. Onwards and upwards and we start preparing for Parramatta this weekend.
Thanks to Will Harding and Gordon Curry for there work and Rest in Peace to Tom Kaye's Grandfather as he passed away this weekend.
Sam Gainsford
3rd Grade – Manly-Warringah 10/92 & 8/182 (W Wolter 66, L Edgell 43, S Webber 29*) def by Sydney 7/263 (S Alexander 4/36)
Resuming at 3/196 Sydney set about having a crack and an entertaining 7 overs produced 4/70, Sam Alexander (4/36) picking up another 3 and Falcs getting one as well. This left 71 overs to survive with a 170 run deficit.
Things started brightly with Wolter (66) and Edgell (43) looking very comfortable on a pitch with some life but pretty good overall. We went smoothly to 83 before Luke edged into the slips. Ollie Davis (23) also looked good before cutting at one a bit too hard and fizzing it to backward point. Webber (29no) joined Will until Will was trapped in front to their offie who was bowling very well but behaving oddly.
At 3/136 and about 35 overs to play it was going to be a bit tough. Whilst the instruction wasn't specific we decided to shut up shop (at least I hope so as the offie bowled 18 maidens in his 22 overs) and this may have been a bit unnatural to some. He spun his way through our middle order with the ball turn prodigiously at times. Full credit to Webber for being undisturbed by it all and he looked very comfortable and in control.
Wickets tumbled but the partnerships eked out were just long enough to prevent the Tigers taking 10 points. We finished 8 / 183. This could be important come year end.
We were outplayed in all aspects this game but I know that won't be repeated. Looking forward to cementing a spot well inside the 6 before the break this weekend.
Warren
4th Grade – Manly-Warringah 10/163 & 1/49 def by Sydney 10/181 (D McKenna 3/45, A Bain 2/16)
The Manly 4th grade boys rocked up to a picturesque birch grove oval with the scenic harbour bridge looming on the horizon. In a cricket sense, mixed emotions engulfed the group. A game that was going to be tough to win, yet the goal was to "win the day". The boys started strong bowling to a negative minded Sydney CC. Dan Mckenna, Glyn Archer and Alex Bain toiled hard with the ball , getting us very close and having them 8 down however unfortunately they reached our total before we could bowl them out. Eventually the boys grabbed the last few wickets and were sent into bat. Losing an early wicket Will Outred and James Boyer were left to defend the dignity and pride of the Tahs in fear of an outright upset. Both showing class, concentration and determination, they played out the day both still in not out, until the day concluded early just after tea.
Isaiah Vumbaca
5th Grade – Manly-Warringah 7/281 drew with Sydney 8/197 (B Watts 3/46, M Counsell 2/43)
Fifth grade arrived at Mike Pawley confident after a solid batting performance on Day 1, declaring and sending Sydney into bat.
Opening bowlers Counsell and Osullivan set the tone early bowling good lines and keeping it tight, however the Sydney openers were to good early. Brown made the first break through starting a bit of a collapse. This set it up for our two spinners Jonah and ben who tied down the Sydney middle order, Ben taking 3 bowling with unbelievable consistency for such a young guy.
An unbelievable catch from Toby Poole at short cover sparked some excitement in the group however the Sydney tail then shut up shop blocking out 25 overs straight, both Micky Counsell and Ben watts working hard for wickets but unable to find any, even after taking a new ball.
The 5th grade team fought well but some disciplined batting from Sydney's tail order means no points were taken by either team for the match.
Our Harbord Diggers team of the week was a little harder to assemble this week, especially the batting order with a few batting worries across the grades. But there were some standouts with Merchants ton and Wolters dig in 3rd grades 2nd innings seeing them at the top of the order. Pickering and Wheeler were in fine form for 5th grade and come in at 3 and 4, while a McKenna hitting Masterclass see's him promoted to 5.
Sam Webber and Michael Visser are at 6 and 7 for their fighting displays with the bat, with Vissers 5fa with the ball a bonus. Wigney, Beatty and Carden round out this weeks fast bowling cartel while 4 wickets from Sam Alexander continues his good form and brings him into the side at #10