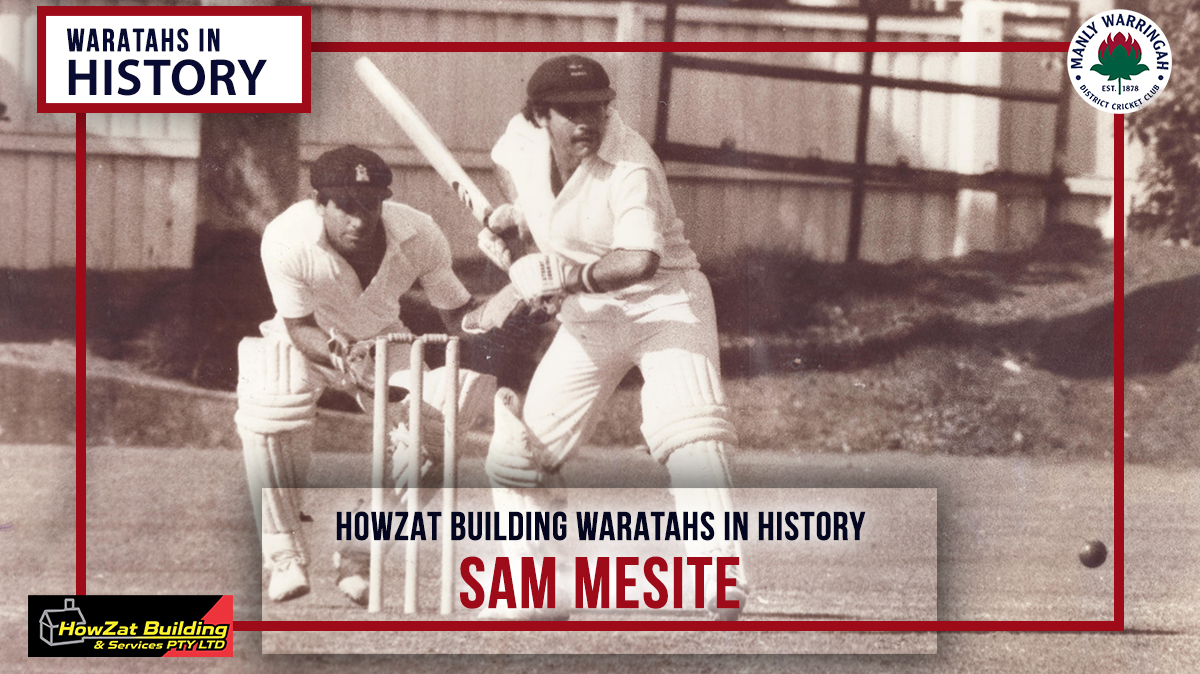 Our latest Howzat Building Waratahs in History Q&A we speak with Sam Mesite, a club member for over 50 years and still contributing as a member of our coaching staff. Sammy has performed almost every role across the club during his time and has a unique and long term perspective on both the club and Premier Cricket as a whole.
Sammy is one if the great men of our club and you won't find to many bad words said about him. On the field he was a staunch opening batsmen who never gave his wicket away easily, and off the field he lives his life in a similar way.
We sat down with Sammy for a chat through his time at Manly.
You were a local junior who came through the junior ranks on the Northern Beaches, tell us about your cricket growing up?
I played all my junior cricket with Christian Brothers College and remember playing my  first game as an 8 or 9 year old in Under 11's at Grahams Reserve and Greg Bush, so he tells me, was in the opposing Team, probably Seaforth.  Being the youngest of 4 brothers I was greatly influenced by them and they carted me around to all games as my parents were too busy working and looking after the household.  There were not many Italian cricketers in those days and the Mesite's led the way much to the amusement of many of my relatives that could not understand the game.
I was picked in all the junior representative teams and I was lucky enough to win Cawsey U/12, Moore U/14 and Watson Shield U/16 Competitions.  The Moore Shield was my highlight where my Opening partner, Mark Stedman and I had big years and we won the competition batting awards between us.  I remember playing a couple of 5th grade games after Moore Shield but going to Grade  full time several years later.
Who were some well known Waratahs that you came through the junior ranks with?
I played junior rep cricket with Greg Bush, 1989/90 First grade premiership winning Captain with MWDCC. Greg also played First grade with 6 or 7 other Clubs. Tom "Marlon" Purcell was a Wicket Keeper/ Batsman that played First Grade with Manly and North Sydney, a fierce competitor and one of the real Characters of Sydney Grade cricket.  Marlon was a Mike Pawlwy protege and he was lucky to survive his youth.
Other guys that played in the winning Moore Shield Team were Captain Ian Hendy. an Australian Baseball player, Mike Murfin a legspinner that played First grade with Balmain, Mark Stedman who at 18 was playing second grade cricket and first grade soccer with Manly, Steve Byers a fast bowler that played plenty of first grade with Manly, unfortunately Steve passed away a few years ago.  David Packer, another fast bowler who was always mean and quick that played at Manly and Mosman!!  Jeff Logan went onto grade and was also in the 1974/75 Third grade premiership team.
You debuted for the Club by playing Green Shield in 1970/71. You hit a famous 110 that year to chase down Mosman's 235 in only 2 and a half hours to beat impending rain. What do you recall from that innings?
I do remember making a Green Shield century against Mosman probably at Mosman Oval and getting hit in the melon by one of their quicks.  I still have a lump on my cheek bone. They would have had Alan Border and Bushie in their team. Always enjoyed batting at Mosman Oval and I also managed to make a first grade hundred there as well.
Your first few years at the club were very successful as you won a 4th grade premiership in 1972/73 and then a 3rd Grade premiership in 1974/75. As you went through your career how fondly did you look back on those Premierships?
Luckily being in the Fourth and Third Grade premiership winning Teams I came under the guidance of Old Warriors, Dick Woodfield, (4's) and Grahame Howlett (3's). Both these Premierships were achieved with a mixture of older experienced guys and local juniors that I had previously played with.  In 1972/73 the 4's youngsters Steve Green, Peter Davidson, Tony Ward, Mark Byers, Greg Simpson and myself all contributed.  In the final against North Sydney we were 7 for 35 before Jeff Barrett and I put on a partnership and Steve Green, with 6 wickets, bowled us to victory.  A funny memory from this game was Norm McDonald, better looking and older brother of Ian, batting really well until he was stung by a bee.  He was out shortly afterwards cursing the bloody bee. The victory  was followed by a huge night at the room at the top.  Luckily I was 18 so I could partake and what a night, I wish I could remember!!
We won another premiership in 1974/75 with Grahame Howlett's 3rd Grade side.  This team again included a number of juniors Steve and Mark Byers, Jeff Logan, Gary Flowers , Greg Hill, Greg Simpson and myself.  The experienced guys , Howlett, Tom Spencer, Brian Kinsey and Jeff Barrett all did well and Tommy's bowling in the final won us the game.  A real highlight in the semi final was a match winning catch on the boundary by Brian Kinsey.  BK who went on to referee Test Rugby, was not renowned for his fielding but he sprinted along the boundary to take a sensational alligator like catch, the claw!!  His father, Rolfe, our pipe smoking scorer was over the moon and we almost had to call the fire brigade.
We made the 2nd grade final in 1976/77 and despite losing only one game all year we were beaten by North Sydney in what was one of the most disappointing games of my career.  This result was a real wake up call for me as it was the first final I had lost and I really did not enjoy that feeling.
Who was the person that provided you with the most support coming through the grades?
When I started in Grade there was no real Club Coach but I received support from a number of people.  I can remember Mike Pawley presenting us with our Moore Shield caps in 1970/71 and he was always available to discuss any aspect of the game. Mike still carries out this role today and I was in awe of the effort Mike put in with his 1st Grade Premiership team in 1973/74.  They worked so hard and really deserved that premiership.
From a batting perspective I spent time opening the batting with former test batsman Jim Burke and Burkey, although way past his best and struggling physically, was a great mentor. His technique and concentration were tremendous.
Another guy that I spent a heap of time batting with was Ian "Raker" Howell.  Raker and I opened the batting over a number of years and we certainly enjoyed batting together.  A highlight was a 239 partnership against Sutherland in a 1976/77 semi final, still a second grade record partnership.
You made your first Grade debut in 1975/76, hitting a solid 39. What do you remember the most about your debut match?
In those days they would put the Teams up at Manly Wharf and I remember reading the teams on the notice board at the Wharf on my way to work and finding out that I would be making my first grade debut. I didn't do much work that day and as a hard working Public Servant some would say I didn't do much work most days.
As an opener I wasn't really keen on facing spinners straight off but as luck has it St George opened the bowling with Murray Bennett, the left arm spinner that went on to play Test cricket for Australia. I made 39 so I was more than happy with the start.
How was playing 1st Grade cricket different to playing lower grade cricket in those days?
In those days the big difference between playing lower grades and first grade was that the first class players played a fair amount of first grade cricket so there was often a big jump in standard between the lower grades and first grade. It was a real challenge to play against fast bowlers like Andy Roberts, Len Pascoe, Geoff Lawson, Mike Whitney, Tony Greig etc that played test cricket, without helmets. We certainly had to watch the ball and I found the longer you batted against these guys the easier it became.
From a batting perspective it was also an education to watch up close guys like Doug Walters, Alan Border and Ian Davis , they seemed to just have that little bit more extra time.  I remember a game at Penrith when our Australian Schoolboys fast bowler, David Milligan tried to Bounce out Ian Davis and the quicker and shorter David bowled the further it was hit.  Spike may have eventually got him out but it was 120 runs later.  Doug Walters was amazingly laid back and there was always a beer and a chat after games.  In a game against Cumberland at Old Kings, Walters was given out caught behind by our keeper Mal Elliott on the second bounce and there was no carry on by the great man who had played in a Test match the week before, he just walked off and lit up a smoke. It was unreal sharing a beer with these blokes after the game.
What was it about the club in the 70's that really stood out for you, and how did that change as we went into the 80's.
I joined the Club in the early 70's and I may have already mentioned how hard the first grade players worked in winning the premiership in 1973/74 and they lost in the grand final to Petersham the season after.  We also won lower grade premierships and a Club Champion (1976/77) in this period and the stand out for me was the mixture of the older experienced players really putting in and getting the best out the young guys. There were no egos and everyone had the same goals.
Moving into the 80's I changed from being a young player into a more experienced group leader. I would like to think that I spent a fair bit of time working with some of the younger batters in the Club. Guys like Neil Tuckerman, Steve Colby, Richard Fry and Peter Wilkins all contributed to the 1988/89 First Grade premiership win. I enjoyed taking young players under my wing.
First grade went through a number of different Captains in the late 70's and early 80's.  Ian Howell, Ross Chapman, Barry Rothwell, Robert Rickey, Peter Toohey and Mark O'Neill, Kevin Wright, Phil Marks and Greg Bush were different Captains in the 1980's.  So obviously there was a heap of swapping and changing at the top that was different from the stable Mike Pawley era of the early and mid 70's.
We had a great opportunity in 83/84 to win a first grade premiership but after losing our last competition game through bad batting we were rained off against Randwick at Coogee Oval in the semi Final.  Our Sponsor in those days, John G. Stephenson even hired a helicopter to try and dry out the wicket but after we got on and had them 8 for 70 it rained again.  We had an outstanding team that year with First Class players Toohey, O'Neill, a young Phil Skid Marks and wicket keeper Michael Cox.  There were also a couple of mad but very quick fast bowlers in Brod Livett and David Rosa, very good spinners in Russell McCool and Mark Kroschel.  The other batters in the side were Greg Hill, Tony Hoddle and myself. I was Vice Captain of the side and captained the side for the majority of the year when Peter Toohey was away on First Class duty.
Not winning the competition that year was the biggest disappointment of my career and unfortunately I was not able to play in another First grade semi final series.
In your opinion what is the best innings you played for Manly?
My best innings for Manly was a century in first grade against Petersham at Manly Oval in the early 80's.  The Petes were always a decent side in that period and it was always a sledgathon. They had guys like Barry Riley, one of the maddest blokes I played against. Off the field he was confident and cocky but he would not shut up out in the middle. I'm sure his continual banter made me try harder and got me over the line. Another to give it to me was Graeme Hughes. Heaps was not as mouthy but more to the point. He was a really good player who played for NSW in Cricket and Rugby League.  Our opening Bowler Jeff "Killer" McPherson went through them to give us a terrific win. It's always more special to make a score when the team wins.
Another highlight was making 70 not out in the second innings of a First Grade game against Waverly in the 1980/81 season. With one ball left in the day's play we needed 4 to win the game outright and I managed to hit a 6 off the last ball bowled by Ian Barclay, a Pommie County cricketer.
Everyone was very interested when Mike Whitney named you as one of the player he found the hardest to get out. You obviously had a few tussles with the great man?
Yes Mike Whitney did include me in a group of batsmen with Greg Chappell and Kepler Wessels that he found the hardest to get out.  As I have often said, plenty of other bowlers have proved him wrong.  For some reason the times we played against Whit I was able to get my game together and get through his spells.  Whit was an aggressive left arm fast bowler that really steamed in and generally I was able to block the Sh1t out of him.  The great thing about Whit was that he was always the first in for a beer and a chat after the games and he was complimentary about my technique and how I got off the crease and went well forward or well back.  Great memories!!
What is the best innings you saw at Manly from a fellow player?
I struggle to nominate a single innings by a Manly player. I was involved in First Grade Teams where I batted with plenty of guys that played great innings for us. These included Terry Lee, an absolute match winner who scored his runs really quickly and terrorised the Manly Lawn Bowlers, Graeme Beard, probably the best all rounder I played with, Bill Athey, former England Test player and always technically correct, Mark O'Neill, always put pressure on himself but had the ability and technique to back it up, Greg Hill, my best mate who hit three centuries in a row one year that must have gone close to State selection, and Phil "Skid" Marks, another brilliant all-rounder that changed the result of many games with his aggressive batting.
Who was the one person that drove the standards of the playing group during your playing days?
Mike Pawley really drove the standards when I started at the club.  There was no Club Coach as such and it was left to the Captains to take the lead.  Captains like Ian Howell, Graeme Howlett, Keith Fitzpatrick and Dick Woodfield guided their teams with great knowledge and discipline.
The seasons that Manly won the First Grade Premiership and played in the finals in the mid 70's it was Mike that led a real physical preparation that had the guys prepared for the season.
Who was the best player at Manly that you played with?
The best player that I played with was Graeme Beard, probably a little ahead of Skid Marks. Beardy was our leading batter for a number of years and also had the ability to bowl medium Pace and then spinners as well.  Beardy batted with plenty of discipline and was a really good player off the back foot using the crease really well. His dual bowling ability often allowed us to play an extra batter and it was his spin bowling that earned him a call up to Test cricket. He played 3 tests against Pakistan in 1980. Beardy bowled a great "doosra"  before the Muralli era. Unfortunately for Manly, Beardy was poached by other Clubs and I'm confident we would have won more premierships had he hung around.
What is the best story from your playing days, either on or off the field, that you can remember
In the old days if you missed out on the finals they would have us play a reparcharge game that no one wanted to play.  In one of these games against Uni NSW I was batting with Greg Hill and instead of calling yes or no as we ran between the wickets we decided to bark once for yes and bark twice for no. Anyway, the first ball was hit to mid off and Hilly and I started barking and the poor Uni blokes didn't know what was going on. Even funnier was that after Hilly got out Graham Wilks came in and Wilksy wasn't keen on the barking with me and he ended up getting run out.
Who was the funniest player at Manly?
I played with a wide and varied group of guys and there were many funny men in our ranks.  Overseas trips with the Manly guys in 1977 to New Zealand and meeting the boys in the UK in 1991 were epic. To pick the funniest is difficult but different stories come to mind.  Binjies dance floor and Bouncer, Robert Rickey (6 Ball), Sheep stealing incident, Molong?? Tom Purcell (Marlon) Greg Hill (Hilly) numerous Middlesbrough 1978 and his 21st when someone dived on his birthday cake before the cake was presented, Chris Hynes Steyne incidents with Mike Gatting. Breaking into a Woman's Psych ward at Mosman after a game, 6 Ball. The Dance of the Flaming A Holes RAT Ross Chapman and 6 Ball, Brod Livett maybe not funny but totally extreme. On the basis of the above I suppose 6 Ball takes the award.
You were a local junior who played all your career at Manly. Was there ever a time you thought about playing for another club?
No I did not consider playing for any other Club, besides other Clubs were too far away from the Steyne Hotel. As a Manly junior I only ever wanted to play here but at one stage, because I was doing so much off the field with the Club. It did cross my mind what it would be like to just play cricket at another Club, without the off field duties, but that feeling soon passed.
You retired in 1987/88 after a 15 year career. What lead to your retirement and do you look back on it that your retired too early?
Retiring at 31 may have seemed too young but at the end of the 1987/88 season I put my hand up to Captain the First Grade side.  As mentioned before I had captained the 1983/84 side when Peter Toohey was away on First Class duty and there were a number of different captains in the following years Including from memory Mark O'Neill, Kevin Wright and Skid.
I had experience as a First Grade captain, I was batting Ok and on a couple of occasions I had scored most runs in first grade and the year previously I scored over 550 runs in second Grade.  I was a local junior so I nominated myself for the role.  The Club in its wisdom picked Greg Bush and wow did they get it 100% correct.  First Grade won the premiership, every side made the finals and we won the Club Championship.  Bushey is a good mate and a lifelong friend and I was stoked for him and the Club. I was one of the first at RATT after they beat Bankstown in the final at Manly Oval,
Although I missed the cricket I got to spend quality time with my new Mrs, Ros, and for the first time in over 20 years I had summer weekends off.  Ros soon got sick of me and I was back soon as Club Coach in 1990/91 and also Chairman of Selectors in 1991/92 and 1992/93.
You became a Life Member of the cub in 1992/93 which must have been a great thrill for you. What did it mean to become a Life Member at the same time as Greg Hill and Gary Flowers?
Becoming a Life Member in 1993 was a real thrill and privilege and with over 20 years involvement with the Club it really meant heaps to me.  In fact it was never an effort, it was always my aim to contribute and develop the Manly "Culture".
To be awarded Life Membership was unreal but to be awarded this honour with Greg Hill and Gary Flowers was special.  Hilly and I went to St Marys Primary School together and he is still one of my best mates. Storky joined the Club out of Private School and despite his Cricket prowess as a player and President of our Club.
You have performed most roles at the club…. Captain, Club Coach, Chairman of Selectors, member of the committee. What do you think the hardest role in Club Cricket is?
Each of the roles have their own specific requirements and responsibilities.
As a Captain, particularly First Grade, it was important to ensure we were all aiming for the same goal in achieving the best individually for the good of the team.  This can be difficult at times with huge egos and different personalities but at Manly it's always been Team and not me.
Being Club Coach probably came too soon for me after I stopped playing and I found myself coaching players that I had played with several years earlier. As a Coach I was now being hard on players that I was too friendly with and although there was no drama I was telling guys the same things I had been telling them as a senior player several years earlier. The main aim as Coach was to work along with the Captains to ensure we maintained the best preparation to achieve results. Coaching was a great experience and my assistant roles in recent years have been awesome and involvement has been really rewarding.
Being Chairman of Selectors in 1991/92 and 1992/93 gave me another perspective on the playing group.  Again it was another role that required working with Captains to ensure Teams were picked on performance and players given reasons for not being picked or dropped but generally it was giving the Captains what they wanted but providing options.  The difficulty in those days was there were no mobiles or emails so Friday nights before games could be hectic particularly for the lower grades.
You have been involved in Premier Cricket for 50 years, from the 70's through to now. Has the general standard of the competition throughout the grades dropped off or risen?
Having witnessed the Sydney Grade Cricket scene for over 50 years and the entry of a number of new Clubs into the Competition I feel there has been a drop in standards. It seems now that it's more about quantity and not quality and this is the main reason the standards have dropped. I'm sure not one of the new Clubs coming into the Sydney Grade Competition has won the Club Championship in the past 20 seasons.
A real positive though has been the great improvement in facilities with wickets, change rooms and amenities generally meeting the required standards.  In the 70's and 80's a score of 200 at Manly was always enough runs to win games. We recently lost a first grade game at Manly after making more than 450!!
You are still part of the Coaching staff at the club. How do you think that club has changed over the years in relation to the coaching structure around the players?
From the start of my playing days in the early 1970's the Coaching of the Club has changed enormously.  Early on it was basically left up to the respective Grade Captains to run the Training sessions and I can remember fellow Life Member Don Sellin doing the timing for the batters and a schooner here and there would give you a little extra time in the nets.
These days the Club has almost 60 Volunteers and Coaches everywhere to assist and the Players are very fortunate to have  5 or 6 Coaches/Volunteers at training to allow them to concentrate on their game.  The Practice facilities at Grahams are excellent and the Club is to be congratulated on this set up.  The current players need to fully utilise the facilities and ensure they are training properly e.g. fast bowlers should not be bowling no balls at training and if a batter has a net session against the bowlers for 10 minutes and gets out a couple of times it means he would not have made many runs on the weekend.  Keep working hard guys but make sure it's relevant to your game.
What does your life involve now?Luckily here on the Northern Beaches there is always something to do and see.
I am retired now after 40 years with the State Government and it's great to go to bed at night and know that there is no work tomorrow. Really enjoying working with Roy Vumbaca and the other coaches and leading the Manly boys to plenty of victories.  As well as being a Life Member at MWDCC I'm also a Life Member at Brookvale Football Club so I spend all year round at Grahams Reserve