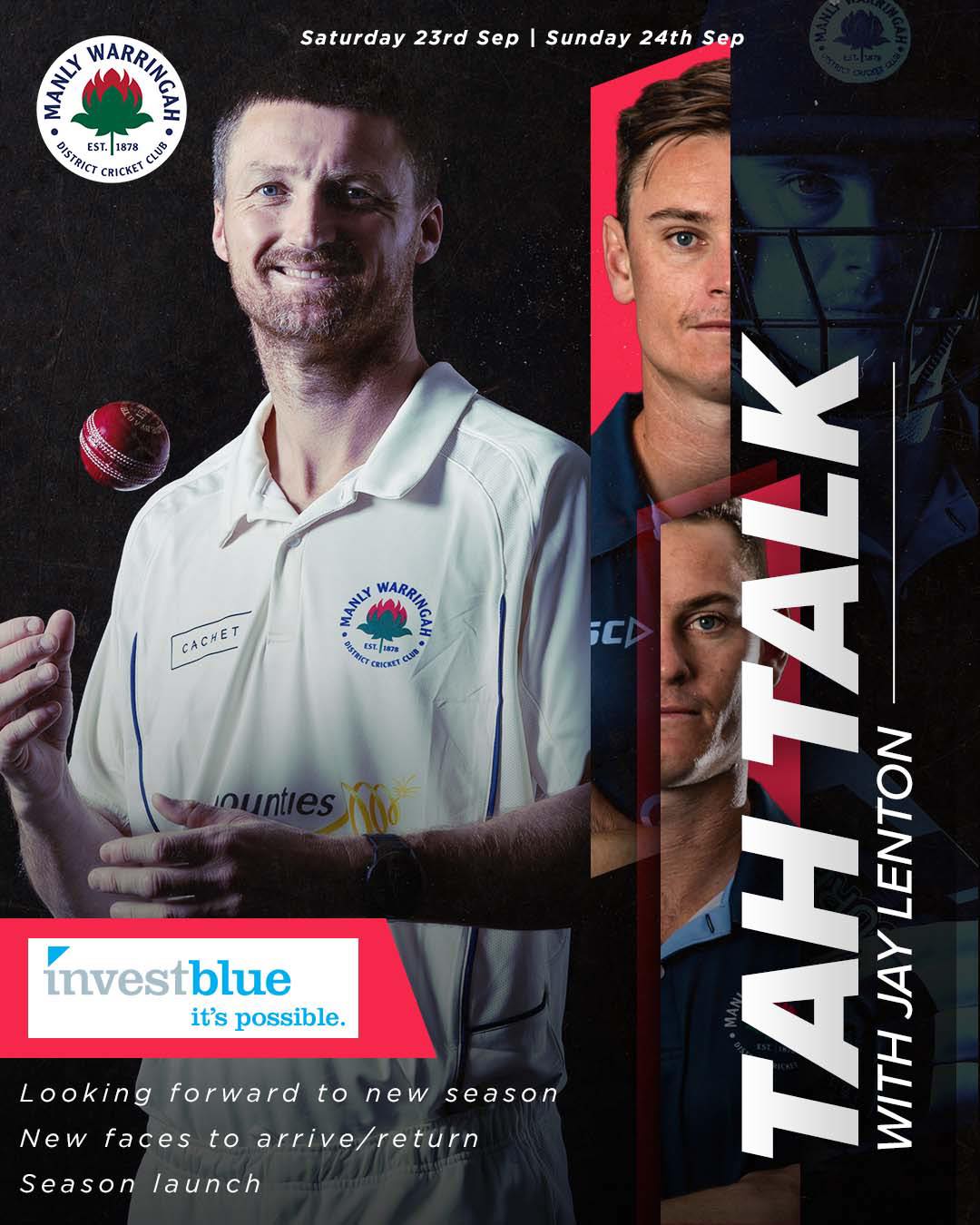 Welcome back to another season of Tah Talk, proudly brought to you by our good friends at Invest Blue!
NEW SEASON BEGINS
Who's had enough of the footy season?
Certainly me after the mighty Newcastle Knights were bundled out of the NRL finals.
The summer weather we enjoyed this week has whetted the appetite for the start of a new season of NSW Premier Cricket.
Changes have been made to the first grade schedule, with two weeks of Kingsgrove Cup T20 matches to open the season.
We're headed out to Bankstown early Saturday morning for a double header of matches, playing the home side first up from 9.30am before backing up against Mosman in the 1.30pm game.
The T20 comp has been condensed into two weekends of preliminary rounds followed by the finals in October and a decider on November 5.
There will be four groups consisting five teams each, with the top three from each pool qualifying for the knockout stages.
I think it's a great idea to package it into a few weekends rather than string the competition out over several months.
It also gives clubs the best possible chance to use their top players before the BBL kicks in just before Christmas.
We're still working out our starting XI for the opening day, but rest assured it will be a very powerful side.
We are desperate to make a mark in the T20 arena after dipping out early last season.
Our Poidevin-Gray side also starts its campaign on the weekend, playing Sutherland in a one-dayer at Glenn McGrath Oval on Sunday, while the women get underway on October 7-8. 
Go Tahs!  
NEW FACES ARRIVE/RETURN     
We lost a few familiar faces over the winter but welcome back a Manly favourite after more than a decade away.
Fast bowler Jackson Bird left us in 2010/11 after taking 54 wickets that season to chase his cricketing dream in Tasmania.
He returns to Manly with nine Tests and 111 first class games/447 wickets under his belt.
It's incredible to have a player of Jackson's calibre back to where he started his cricket journey.
We also picked up Western Suburbs paceman Lachy Ford, who tore through us with a 6fa a couple of years back.
Lachie hails from the north coast of NSW and is living in Cromer, so the move to Manly from Wests was a logical one and we are rapt to have him aboard.
We've also picked up another north coast product in batsman Lachy Barnsley from Gordon.
He spent a season out of cricket last year due to his involvement with the NSW state election (he's something of a political animal!) but is back and looking to add to the two grade centuries already on his resume.
Welcome to all three men. We're very happy to have you at the Tahs.
SEASON LAUNCH AT DIGGERS   
If you're free Monday night, we'd love to see you at our official season launch at the Harbord Diggers.
You'll hear from our leading players, coaches and officials from both the men's and women's programs as we set sail on a big summer of cricket.
We will also announce our grade teams for round one of the men's competition.  
And after all the formalities are over, feel free to hang around for a drink and/or feed at our great sponsor's headquarters.
Arrival is at 6.30pm with the club providing food and some drinks on arrival.
The formalities all get underway from 7pm.