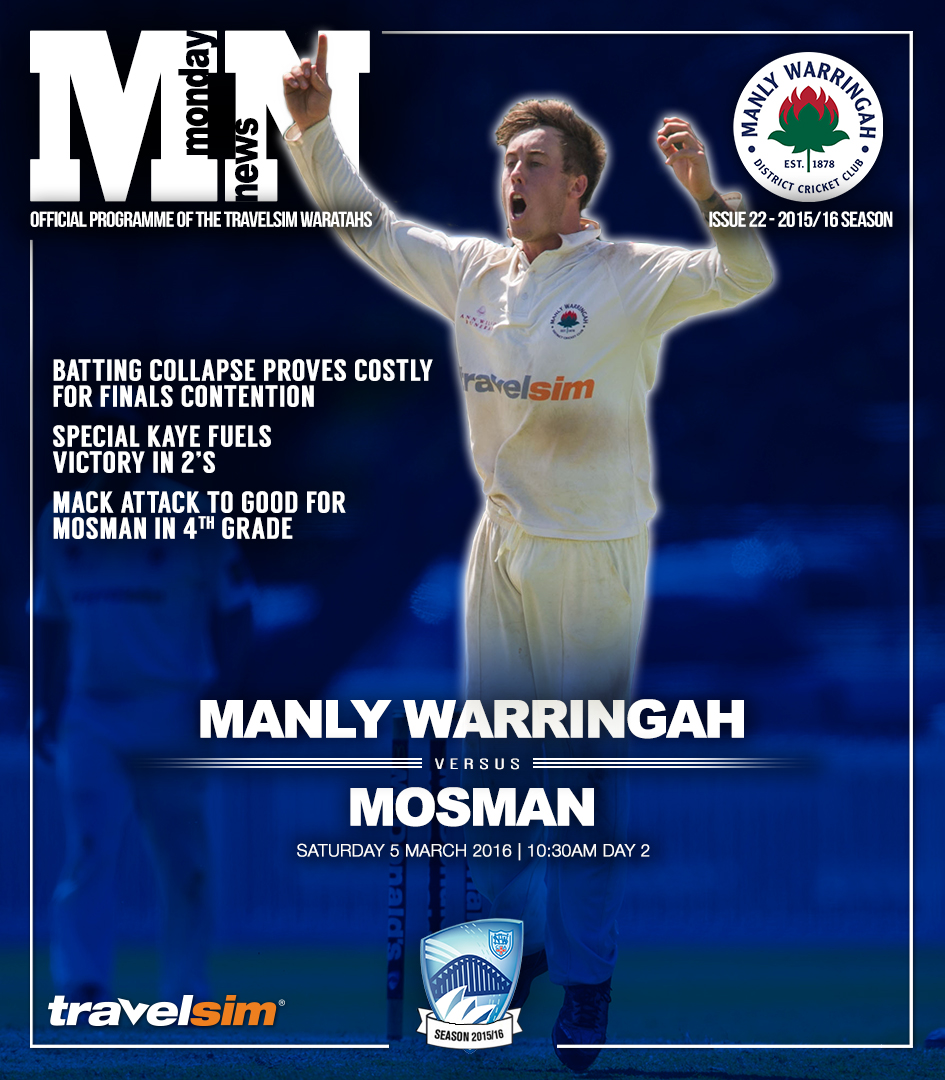 The final 2-day fixture of the season didn't produce the results we had been hoping for, with 1s, 3s and 5s all going down to their Mosman opponents. 1s will now need a bonus point effort and a bit of luck in their final match to make the finals, while 3s still sit at 5th in a tightly congested table, needing a win to keep their season alive. 2s and 4s both played excellently to come away with wins – a Tom Kaye century in 2s chasing 273 and a superb 5-25 from Dan McKenna to defend 153 proved the difference in those games.
4 Pines Player of the Week – Tom Kaye

This week's 4 Pines Player of the Week goes to Tom Kaye who on Saturday notched up his first ton in 2nd Grade to steer them to a fantastic win over Mosman. Opening the batting, Tom carried his bat throughout the innings to finish with an exceptional 140* that was without doubt the difference between the two sides. After scoring 50s for fun earlier in the season, it was especially great to see Tom finally convert these starts into the big score that he's been threatening to do all season.
Great Work TK !
1st Grade: Mosman 305 def Manly 280 (J. Lenton 94, J. Crosthwaite 45, C. Merchant 45)
Manly turned up to AB Oval on another sunny Saturday needing a further 260 with 9 wickets in hand to continue their push for a finals berth.
Maddog Crosthwaite (45) & Jarrod Rawlings (18) started nicely, adding another 30 before both batsmen & Ahillen Beadle were all removed with the score on 72. Jay Lenton & Cam Merchant then steadied the ship with a 100 run partnership, which extended until well after lunch before Merchant was dismissed for 45.
Lenton & Farrell (13) then put on 50, before both went within 15 runs of each other. Lenton was the day's best bat & again showed his class in his 94, which included 17 fours.
His dismissal left the 4 quicks with 75 to get. Alexander (28) & McLachlan (20*) gave it a crack but in the end it was too much, with the Tahs ending 25 runs short with an hour to play in the day.
The disappointing loss leaves the boys needing a bonus point win against the One-Day Grand Finalists St. George & for results to go in their favour to secure a finals berth next week.
Nick McLachlan
Click on the images below for a larger view
| | |
| --- | --- |
| | |
| "Jay Lenton compiling a hard fought captains knock of 94" | "Ryan Farrell attempting to rescue the Tah's before falling for 23" |
2nd Grade: Manly 7/275 (T. Kaye 140*, T. Beatty 28) def Mosman 273
What a difference a picket fence makes to a ground! The second grade side from Manly Warringah were greeted by atmosphere park finally living up to its name. The picket fence made all the difference with the second grade side peeling off their first win at the ground for the season.
There seemed to be a bit of juice in the deck last week and we weren't too disappointed to lose the toss and bowl. Early toils gave rise to no reward as the visitors almost negotiated the opening bowlers without losing a wicket. Jake Carden bowled beautifully with the new ball as the Mosmanites couldn't lay bat on him until a faint tickle went through to Sammy Webber. A good start to the innings for the mighty waratahs. Aidan Baker and Luke Diserens were the next bowlers to take to the crease with great success. Dizzy (Luke) bowled with excellent control and variation to produce two wickets with absolute peaches.
Meanwhile Flat (Aidan) was bowling half trackers and half volleys and still taking the poles! The man can do no wrong! To his credit though, he had the ball swinging and drew Mosman into false shots ending up with 3 wickets. The Whales formed a frustrating partnerships as we struggled to adjust to their game plan. The innings started to slip away and frustrations crept in with many exasperated sighs and expletives to be heard around the ground. Finally we cracked through the tail to skittle the whales for 273 with 8 overs to bat that night.
The batting innings could not have started any better. Rowan and Tom Kaye steered us to roughly 30 without loss over night looking confident and striking the ball beautifully. The only thing that could bring about either of their undoings was a wide half volley in a sticky wicket the following week. This brought Aidan Baker (24) to the crease who struck the ball beautifully. Unfortunately the Mosman quick got one to kick off a length to take an edge to 1st slip. A useful partnership of 50 odd with Tom came to a close. Sammy Webber (23) came to crease and kept the run chase moving. He provided another excellent partnership with Tom who was batting well at the other end. Unfortunately Sam chased a wide one and feathered one through to the keeper. We lost a couple more wickets then Tom Kaye took matters into his own hands. He had been fortunate throughout the day with a couple of near misses but he certainly capitalised. He punished loose balls and left intelligently. His innings showed true class and it was great to see him kick on after a number of 50s earlier in the season. He raised his bat for his first second grade hundred but he wasn't finished just yet.
With only 16 runs required, the partnership came to a close and Tom was left at the crease with four wickets and a new ball to face. Javed came to the crease and played a crucial innings peeling off 8 off the total. He was then bowled by a jaffa from ex-manly player Nic Bills. The Mosman boys thought they were in the hunt. Out strode the tallest batsmen to have ever played the game. 6ft 7in of batting prowess, how the second grade side has missed Mickey Edwards throughout the season. Within a couple of minutes Mickey had steered the boys home to a character building win. His shot between the keeper and first slip to finish the game was world class, picking a gap Sachin himself has never found.
What a win for the Manly boys
Great to see the boys are still fighting and man of the match honours obviously goes to Tom Kaye who plundered 140* and carried his bat.
Possibly one of the best innings grahams reserve has ever seen.
Taylor
Waratah TV
Click on the image below to view the video
"Tom Kaye with a class knock of 140* for 2nd Grade down at Grahams Reserve."

3rd Grade: Mosman 186 def Manly 97 (J. Daly 42, Z. Trewartha 19, D Marshall 17*)
Rawson's presented the same as last week – hard and grassy. Resuming at 2/21 chasing 185 we were off to a solid start with Hole (5) and Daly (41) seeing off their strike bowler. Up the other end their skipper started to bowl a good line and got one through Sam for LBW. Zac (19) and Daly needed to rebuild but the quick was brought back on a for a spell just before drinks and that had Daly edging to the keeper. Daly dominated the scoring and played some cracking square of the wicket shots. To have him running into some form is a major plus.
Joe (0) found the going tough and was bowled and Ash (2) missed the wrong un and was cleaned up. 6/57 and in some strife.
Evans (8) and Zac needed something special. Evans middled a couple but went after the leggie only to shank it to deep mid wicket. Bet that looked good from the sidelines. I promise fellas it was meant to go straight! Anyway Marshall (14no) again looked as good as anyone so there was some hope but Zac then edged into the slips. Our tail has not scored a partnership over 5 this year and this was no different with Wiggers and Falcs not hanging around for long, leaving frustrated Marshall red ink.
To compete we somehow need to get more from the tail. We can't be 8 out all out every week.
3rds have some major issues but somehow, despite quite often playing well below our capabilities, we are holding onto 5th. A win against Saints should confirm a spot. We have some excellent strengths as well and I do know, if we scrape into the semis, you don't need to play faultless cricket in finals to win.
If a few blokes started to find a bit of their form at this end of the season then I have no doubt we can win the comp but it starts this week v Saints. A repeat of our batting v Mosman would see us out of the action so a rejig of the batting order to freshen things up may be in order. You have been warned!
WE
4th Grade: Manly 153 def Mosman 116 (D. McKenna 5-25)
The 4th grade boys needed something special to defend our total of 153. After finishing the first week on top, having Mosman 4-38, We started where we left off, with Dan McKenna striking in the first over.
We didn't let Mosman back in the game after that. The manly boys showed we were ready for finals cricket with some good fielding and bowling while the wickets were shared around between the bowlers. But the stand out was D-Mac, who closed out the Mosman innings with his 5 wicket and first 5fa of the year.
It was a great win to take into the next game against St George, who are running just above us on the table and with a home final on the cards, the 4th grade boys will be going into game full of confidence.
Toby Poole

5th Grade: Mosman 156 def Manly 120 (B. Kittlety 47) & 7/73
Turning up to Balmoral Oval for day 2 of Fifth Grade's match against Mosman, the boys needed a win to have any reasonable chance of securing a finals spot. We opted against touch footy in our warm-up as a ploy to change our recent form. Mosman's total was 2-17 at the start of play, with a very defendable total of 120-if we took our chances and bowled in the right areas.
From ball one Ben Kittlety was on song, unfortunately a chance was put down in the cordon from the opening delivery. Ben and Alex Bain formed a formidable bowling partnership. With pressure applied at both ends Alex Bain made the breakthrough. At 3-20 we believed if we could get another couple of wickets we could really get into Mosman's weak tail. With a couple of chances missed and some very close LBW decisions the partnership began to grow. Our bowling was inconsistent, some great deliveries mixed in with some poor ones and we started to leak runs we couldn't afford. Back-to-back maidens lured the batsman to play a loose shot off Ned Hole and Waddo took a sharp catch at cover.
A few quick wickets brought us back into the game and the well known "senior player" was brought to the crease. After despatching Samoz well over the mid-wicket boundary he couldn't help taking old matters into his own hands. He continued as the protagonist and tried to put Sam off his game. A few overs and wickets later, Mosman passed our total with only a few wickets in hand. An over later we went off for tea.
Second over after tea, big Benny Kittlety was at it again, skittling Adlam. We were now playing for pride as there was no realistic chance of an outright victory to either team. It took a while to take the final wickets in Mosman's innings. But when we finally did, Mosman asked us to go out to bat again with a small 30 run lead and only 28 overs remaining.
We swapped around the order, but kept the opening partnership of Sheedy and Anderson. Overall our batting was embarrassing. Loose shots mixed in with Kelly and Waddo's attempted 'conversions', LBW without offering a shot. This poor batting fed Mosman's desire to stay out in the field, in a seemingly pointless situation. Continuous sledging from their ex-First Class player to 15 year olds in a 5th Grade dead-rubber situation probably wasn't called for. There were wild celebrations from the Mosman boys as another wicket fell. With less than 2 overs to go, if we declared it would be game over. And that's exactly what we did as the disappointment of the opposition was made clear, "you can't do that."
Overall, it was disappointing performance from the boys as we were inconsistent at best. There were some great individual efforts as Ben Kittlety made a strong case for the selectors to move up the grades with 47 and a 4 wicket haul. Jack Pickering also knuckled down in our second innings to come back to form with an unbeaten 30 odd, he was well supported by Alex Bain. It was a good learning curve for our young side as we learnt valuable lessons about cricket and people. Next week we need a bonus point win and a miracle of other results to go our way to have a chance to make finals.
Sam Kelly
Hardboard Diggers Team of the Round
This weeks Harbord Diggers team of the Round see's a few scintillating performances from the boys around the traps during the penultimate round vs Mosman. James Crosthwaite continued his solid form with 40 and is joined up to by the match winning century maker Tom Kaye. Jay Lenton stars at no.3 after his classy 94, while Jordan Daly was the sole shining light in a disappointing 3s batting display, coming in at 4. Cameron Merchant helped dig 1st grade out of a hole and comes in at no.5, while Max Burgess returned to form with a solid score that was worth closer to 65 with the slow outfield. Aiden Bariol was again tidy behind the stumps and takes the gloves. A 4 pronged pace attack (all with runs with the stick also) complete's the bowling lineup. Ben Kittlety showed his class and shares the new ball with 5 wicket taker Dan McKenna, while Matty White and Taylor Beatty continue the pressure as first and second change #bleedblue