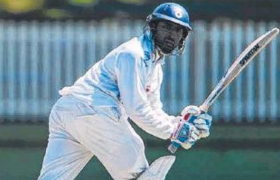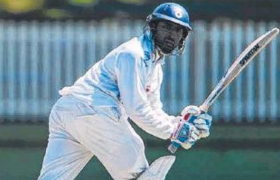 SYDNEY GRADE CRICKET Manly 9/290 Sydney Cricket Club YOU would think posting close to 300 against the equal competition leaders would please most captains – but not Waratahs skipper Adam Crosthwaite.
Yesterday when reflecting on day one last Saturday versus Sydney Cricket Club, the top order batsman believes the game is in the balance heading into day two at Drummoyne Oval.
"As it stands, for me, it is a 50/50 contest at the moment,'' he said.
"No doubt we are in a good spot defending 290, but we should have posted a few more runs.
"Our tail definitely didn't wag which was disappointing and un-Manly like.
"We need to win to stay in touch with the top six, so we will have to bowl well from the first ball."
Ahillen Beadle (88) and Crosthwaite (81) provided the entertainment with the willow, with Cameron Merchant (49 not out), James Crosthwaite (33) and Jay Lenton (28) all getting starts.
Crosthwaite was happy with how Beadle applied himself in the middle.
"It was a quality innings, but we come to expect that from AB,'' he said.
"He was unlucky not to go on and post a hundred, Ahillen was certainly in the mood for runs.
"I was also happy to chip in with 80 odd, I have missed out recently."
Meanwhile, former top order batsman Nat Hill has returned to the club, turning out for the seconds at Graham Reserve.
He looked in good touch early on until he was dismissed for 33 from 55 balls, and could be a lower order option for Crosthwaite the next few rounds.
{loadposition cricket}