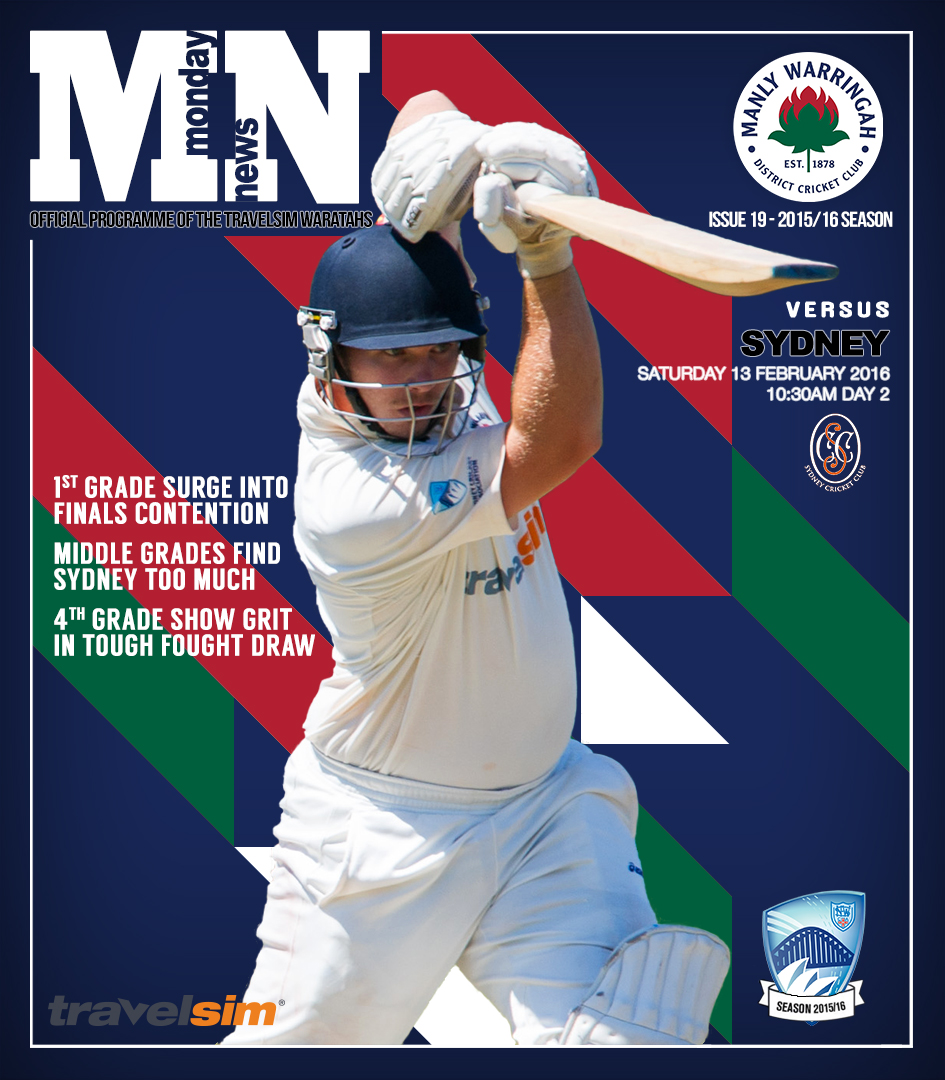 This weekend saw the Travelsim Waratahs with another mixed weekend of results against Sydney Cricket Club. 1st Grade cruised to a strong win leaving them firmly inside the top 6 with three rounds to play. 2nd Grade went down in a nail-biter while 3rds grade and 5th grade both suffered heavy losses. 4th Grade showed an incredible amount of grit and determination to save a draw from what seemed an unsalvageable position with an hour-long 9th wicket stand from Matt Morris (2* off 51) and Jacob Graham (12* off 137) the match-saving partnership.
4 Pines Player of the Week – Jake Carden

This week's 4 Pines Player of the Week goes to none other than Jake "Ping" Carden, who, after celebrating his 18th birthday just two days earlier, bowled an amazing 3-48 from 17 overs in 2nd grade to take them within a whisker of an unlikely victory over Sydney.

Jake has had an extremely strong year so far, cementing himself in 2nd Grade thanks to consistently accurate and economical bowling as well as valuable lower-order contributions with the willow. At the tender age of only 18, we look forward to seeing Jake's continued improvement into the coming seasons.

Great work mate!!



1st Grade Sydney 200 (2 wickets each to Visser, M. Alexander Beadle, Farrell and McLachlan) def by Manly-Warringah 293 (A. Beadle 88, A. Crosthwaite 81, C Merchant 51)
Having 290 on the board with 1 wicket in hand Crossy thought it would be best to bat on for 6 or so overs and take some time out of the game. We lasted 3 overs before Visser cooked Nappa who had brought up his 50 after being 49 not out last week.
Sydney needed 294 to win in 91 overs on a real flat deck and an outfield much faster than last week thanks to a last minute mow. We picked up wickets at regular intervals throughout the whole day in what was an excellent bowling effort from the boys. We restricted Sydney to 200, who were never really in the contest, with the wickets being shared between all the bowlers with 2 wickets each. The pick of the bowlers being AB who put together 24 overs straight for only 37 runs, only taken off because he told Crossy he was bored of bowling so well. Special mention to Matty A who picked up the big wicket of Dan Smith.
This gets us back up into 4th spot, a win behind 2nd. This was huge for us, putting us back into a strong position leading into the finals. With 3 games to go and 7 or so teams within a game of us, we are going to have to play some good cricket to lock a spot in the semis. 3 wins will potentially put us in a home semi position which is something we should strive for. Next week is a Saturday/Sunday at grahams against parramatta, get down on Sunday to support the lads if you have some spare time. Go Manly.
Ryan Farrell
2nd Grade Manly 194 (S. Gainsford 41*, R. Hamman 38) def by Sydney 9/197 (M. White 3-42[19], J. Carden 3-48 [17], J. Badyari 1-8 [3])
Round 12 saw the second grade side roll into the newly renovated Graham's reserve. Winning the toss and batting on a flat deck, Rowan and the flat put together a session partnership to have us in a strong position at lunch.
Classically we fell apart being bowled out for a miserable 194 – Sam Gainsford the shining light with 41*.
We set out on bowling them out and left the visitors 2-30 at stumps with Gainsy again featuring with an amazing run out. (As seen on Waratah tv)
Day 2 we toiled hard and at lunch couldn't take much luck away- 4-70 at lunch we knew a wicket or two could shake things up. Plenty of momentum say this taking 5 real quick wickets before tea… Eventually they scraped to 7 runs to win/ 1 wicket to win.
The chance was there to win but wasn't meant to be. With a big six over mid off and then a waist high full toss slapped for 4 and the win.
Big efforts from birthday boy Jake Carden bowling 17 overs and Taylor 20.1 overs and big whitey my all time favourite taking poles.
The countdown's on for footy season.
Luke Diserens
| | |
| --- | --- |
| | |
| "Skipper Rowan Hamman on his way to 38 on Day 1" | "Returning Waratah Nat Hill looked like he hadn't lost his touch last week" |
3rd Grade Sydney 5/240 (D. Marshall 2-49[17]) def Manly-Warringah 134 (J. S. Graham 41, J. Edwards 25) & 1/60 (J. Edwards 29*, J. Daly 29*)
Birchgrove was hard and the outfield somewhat quicker and the way a couple of their batsmen batted, the boundaries seemed a lot shorter than last week. Resuming at 1/12 a few quick wickets were in order and Marshall (2/49) obliged getting rid of the struggling opener from the previous week in the 2nd over, an arm ball sliding through him. Wiggers also got in on it with a smash to mid off where Joe Graham took another good catch. This made it 3/37 and in with a hope.
Two of their batsmen went about their work very well and hardly offered a chance. A couple of chances were given by Brooks, the left hander after they passed us but he and Groves both batted excellently in the pristine conditions. They were not bothered early in their innings despite constant changes ups and as their partnership grew our bowling became a bit shoddy and they passed us 3 down. Batting on they hit out well, scoring rapidly towards the end. All bowlers copped a bit. Ash went the distance a few times but there were encouraging signs form this part time leggie, beating the batsmen in flight a couple of times.
Marshall got the century maker Brooks with a well flighted delivery that beat him just before tea and Evans chipped in with a wicket, Groves throwing away a century with a hit against the wind to the large boundary where Daly took it comfortably.
Tigers declared at tea 5 down and 106 ahead. Bariol snicked early and with Darcy unavailable we were potentially in strife. Daly and Edwards, both 29no, ensured no collapse and batted well to drinks where we shook hands with a team that thoroughly outplayed us. We talked about the reasons why afterwards and I hope we put the discussion into action next time.
We are in 6th place but with NDs and SU a point behind and with much better quotients and bonus point games approaching we need to win the last 3 to ensure a spot. No games will be easy so it's with great interest I look towards the Parramatta game next week.
WE
4th Grade Manly 9/131 (L. Edgell 40, D. McKenna 22, J. Graham 12* [137]) drew Sydney 252 (L. Edgell 2-13 [11], J. Graham 2-31 [16])
4th grade turned up to Mike Pawley oval and were greeted with a flat dry pitch. Sydney were 8-203 overnight and with no surprises decided to bat on.
We knew that they were going to come hard so skipper max Burgess decided to take the pace off the ball and opened up with Jimmy Crombie. Jimmy was unlucky in his first over with a few false shots that fell just short of fielders. We decided to take the new ball and RBP and Jacob Graham were given the task of taking the last two wickets. Jimmy Crombie ran one of their batsman out with a great throw from Mid off. Sydney's captain kept dispatching the bowlers to the boundary bringing up a quick 50. RBP then took a good catch off his own bowling to have Sydney all out for 252. Well done to Bomber, Jacob and Will who all picked up two wickets throughout the innings.
Bomber (40) and Gums (4) opened up. The pair were patient and looked comfortable before Gums was BBQ'd and run out. Maxy (0) joined Bomber at the crease for a very short four balls before he missed a full toss and was given out lbw. The middle order showed no fight, although the there were a few unlucky dismissals, Jimmy (4), Toby (10), Will (6) all fell quickly leaving manly 6-82.
During tea Maxy pulled the boys into the shed and told the incoming batsman to shut up shop and not let Sydney walk away with a much needed 6 points. We were happy to walk away with a draw if it meant Sydney also got zero points.
Josh Petersen (15) joined Jacob (12) at the crease straight after tea. JP decided to come out swinging from ball one and managed to hit a couple of boundaries before being caught behind trying to hit the bowler to Curl Curl beach. Dmac (22) showed some fight for a short period of time before smoking one straight at the bowler who took a very good low catch. Jacob continued to leave all balls outside off and block the balls on the stumps. RBP (11) was introduced to the crease with a few short balls from Sydney's opening bowler. RBP unluckily stumped when he didn't realise that the keeper was up to the stumps and batted out of his crease. Not sure how you don't realise the keeper is up. Slippery (2) was left with the daunting task of batting out 16 overs with Jacob. The pair dug deep and showed great courage to last the 16 overs and play out the draw. It really showed the rest of the team what is required if we want to play finals cricket.
A special mention and Credit goes Jacob Graham who batted 137 balls for only 12 runs. Jacob copped it from the opposition but battled it out and showed great mental application.
Hopefully the boys can bounce back next week in a one dayer against Parramatta and pick up a much needed 6 points to secure a finals spot.
Dmac
| | |
| --- | --- |
| | |
| "Jacob Graham playing a tough brand of cricket to secure a draw" | "Luke Edgell crunching one to the boundary" |
5th Grade Manly 81 & 6/134 (W. Wolter 53, A. Bain 21*) def by Sydney 167 (Kittlety 2 wickets, S. Alexander 3 wickets)
The boys arrived at Ryde Oval hoping to get the 7 wickets needed quickly and go for the second innings win.
Ben Kittlety and Alex Bain opened the bowling, both bowled extremely well but neither had luck on their side. Ned Hole claimed the first wicket of the day. More and more wickets started tumbling through tight bowling from Sam Alexander and Jonah Anderson, both claiming 2 wickets each.
Isaiah Vumbaca bowled very well, beating the edge nearly every ball. Finally, there was not a play and miss, the last wicket caught at slip by Jack Pickering off a great ball by Isaiah.
Sydney all out for 167, with only 50 overs left in the day Waddo decided to use this as batting practice.
Will Wolter opened the batting and played an extraordinary innings, waiting for the bad ball and hitting it to the boundary. He had great patience and made a deserving 53.
Alex Bain also batted very well, getting 21* and hitting probably the biggest six I have ever witnessed. We ended up at 6/134. Overall our batting in the first inning has let us down again with no one in the top 6 stepping up.
The boys hope to bounce back next round against Parramatta.
Ned Hole