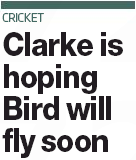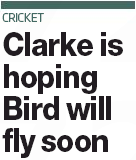 TEST skipper Michael Clarke wants Australia's injury uncertainty resolved as soon as possible so the team can be in peak condition ahead of the tour to South Africa.
The captain spoke to the media at Sydney Airport yesterday before flying out for the three-Test series with the majority of his squad.
Wakehurst Redbacks junior Jackson Bird (back) and Western Australian batsman Shaun Marsh (calf) have been kept behind to prove their fitness.
Clarke was not sure if a deadline had been set for the struggling duo, but he was confident preparations would not be unduly affected, after Bird's Tasmanian teammate James Faulkner (knee) was ruled out earlier this week.
Fellow all-rounder Moises Henriques is his replacement.
Clarke would like to have Bird and Marsh for Australia's only warm-up match starting on February 5 in Potchefstroom.
"Yeah, ideally I would like them available for the tour match,'' he said.
"I think you've got to give them every opportunity.
"They're two very important players and I'm positive they'll both come up OK.
"Fingers crossed they'll both be on a plane sooner rather than later."
While South Africa is the number one Test nation in the world, Clarke said Australia would take confidence with them after their emphatic 5-0 Ashes annihilation of England.
Australia has a good record in the rainbow nation, with conditions similar to what the players are used to back home.
{loadposition cricket}