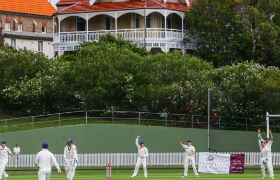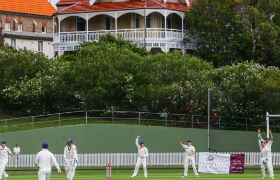 It's a story handed down the generations, from cricketing fathers to sons and daughters on the north shore: a story of how, in the summer of 1892, the irascible, imperious Dr W.G. Grace led a team of 12 fellow Englishmen to play the 22 men of Manly at the local oval.
A typed scorecard, held in the Cricket NSW library, reveals the English team, assembled by Lord Sheffield, were bowled out for 136 in their first innings. Two of the three Ridge brothers playing, Frank Macquarie and Stanley Livingstone, took seven of the wickets.
The Manly XXII replied with just 96, with no fewer than eight players dismissed for ducks. In their second innings England were all out for 282 and, as time ran out, duly declared winners on first innings.
Far from scoring his expected "pile of runs", the run-greedy Grace was dismissed cheaply in both innings, for just 35 and 21.
Indeed, according to a former club secretary, Trenchard Smith, he could have been dismissed for ducks in each innings, "had a certain slip fielder not been so overpowered by his responsibility that he missed two catches a schoolboy of 10 would be ashamed to drop".
Nevertheless, the "good doctor" seems to have enjoyed his trip to the north shore. One reader wrote to the Herald after the game, offering photographs of Grace, coming out of the refreshment tent, with teammate Johnny Briggs "wiping [beer] froth" from his magnificent beard.
A year later Manly, a township of only a few thousand, was among founder members of the Sydney Grade Cricket competition, which today comprises 20 clubs, playing more than five senior grades, involving thousands of weekend players ranging from teens to pensioners.
As current competition manager Roy Formica explains: "For more than 120 years grade cricket has been a nursery, a testing ground, producing and developing a long line of top NSW state and Australia stars."
They include current captain Steve Smith, who made his Sutherland debut at 17, and predecessors such as Michael Clarke (Western Suburbs), Steve Waugh (Bankstown), Mark Taylor (Northern District), Allan Border (Mosman) and the game's greatest player, Donald Bradman (St George).
Inevitably, over the years, some clubs, such as Paddington, Burwood, East Sydney, Glebe and, Newtown, have "died", or been revitalised by merger with near neighbours, such as Randwick-Petersham, known fondly as the "Randy Petes".
The gaps they left have been filled by clubs from the expanded, Greater Sydney, such as the Hawkesbury Hawks, Campbelltown-Camden Ghosts and Blacktown Warriors.
As the late English cricket writer Peter Roebuck noted with admiration, weekend in, weekend out, Sydney club, school and even beach cricket matches, right down to the juniors, are played with flair, ambition and an unashamed determination to win. That much has not changed.
Increasingly, though, grade cricket grounds are under siege; there are even grotesque, $35 million plans to create an overground or underground car park at picturesque Manly Oval.
For matches no longer attract the big, paying crowds of the past. Many of those who do attend live games, one suspects, are now attracted by friendly faces, family ties or by the rare chance of seeing top players, recuperating or recovering from a loss of form.
And where have the rest gone missing? Well, they may be shopping, on the beach, or watching cricket on television or taking a break from watching a packaged game now screened live from all over the world, round-the-clock and in too many shapes, sizes and formats.
That's a shame. For grade cricket offers, as sports marketing gurus might say, a totally different experience: free, within walking distance, and seemingly, dreamingly, timeless.
Spectators, male and female, can just drop by, with the kids, the old 'uns, or even the week's shopping. All are welcome to take time out. Sit for a while. Appreciate the setting. Enjoy the play, admire the skills on show, share the emotion of success and failure. Though none is on a grand scale.
For local cricket, throughout its grades, is a happy bundle of things. A celebration of summer of stored memories, of players some of whom lost their lives on the fields of war. A reminder, perhaps, of summers past.
A sense of sacred space: a green refuge amid sprawling suburbia, a place of beauty; of centuries-old trees; broad, improbably green grass; white picket fences and, in many places, distant views of the sea.
It is, too, an opportunity not just to spot up-and-coming players, national heroes in the making, or "never really wazzers", but to rekindle memories of games, places and players past. As English poet Francis Thompson dreamily wrote:
The field is full of shades as I near a shadowy coast,
And a ghostly batsman plays to the bowling of a ghost,
And I look though my tears on a soundless-clapping host,
As the runners flicker to and fro,
As the run stealers flicker to and fro,
To and fro …
After more than 120 seasons of competition, the Waratahs – as Manly Warringah District Cricket Club is officially known – are still playing. Indeed, they're defending club champions. And Manly Oval is still there, on the corner, there, as the Sydney Road traffic rushes downhill towards the sea.
Despite the addition of a spectator shelter, whose curves suggest the club may have been visited recently by Martians, who left behind their flying saucer, the ground remains a storehouse of memories, a statement of character, a thing of beauty. But the most beautiful?
Inevitably, invitingly, there are 20 claimants for that title. For period, picturesque beauty and as grassy knoll, try North Sydney. For waterside backdrops try Waverley, Coogee or Drummoyne, though some old-timers complain the lighting towers are too tall, too industrial.
For ancient trees, hoop and bunya pines, some planted in the 1890s, try Chatswood Oval, home of Gordon, where six-hits still land on the railway line. In the 1930s, local hero Charlie Macartney went one better, skying a ball over the line onto an adjacent bowling green, scattering elderly players.
Multisport Hurstville Oval, where Don Bradman played his cricket from 1926 to 1933, is just one of several other ovals to be described as "iconic". The Mark Taylor Oval, the leafy Waitara home of Northern District, has its backers. And so on.
But it's hard – metaphorically and physically – to go past Mosman's home ground, the Allan Border Oval, named for the Australia captain who grew up in a house on The Crescent, only a quick-single's walk away from the ground.
"My earliest memories are of flannelled fools running round the ground on summer weekends," he once recalled. "I was naturally drawn to pursue an early interest in cricket, and from the age of six started wandering across to join the coaching clinics."
Thankfully, little has changed. The Mosman setting is picture-postcard pretty: old trees, grassy banks, white picket fence, ideally set against blue skies. The feats of players past and present are recalled on walls of photographs, cuttings and scorecards.
An honour board lists the men who served in the 1914-1918. Elsewhere, amid ongoing research, special tribute is paid to Mosman players who died during the two world wars.
The gate on to the field honours the 50 years of Mosman cricket played by Ken Gulliver – a short man nicknamed "Ralph the Rattlesnake" by the late Australian player Bill O'Reilly on account of his having long arms and being "built close to the ground".
Of course, far from being trapped in a time capsule, Mosman, like most ovals, has undergone major changes, explains local historian John Hiscox.
"It started off in 1908 with a little dressing shed which was really the groundkeeper's room for his machinery, rollers or whatever. Players had to go in and change, one at a time, because it was so small."
In recent times, most of the grounds have been taken over by local councils, shared with other sports. And the key role of groundsman has been handed over to outside contractors, said Hiscox, whose father was a gatekeeper at Mosman in an era when spectators paid $1 to get in.
Inevitably, Mosman is not everybody's choice. Visiting Hawkesbury players recently noted that its grass could be poor, a common cry when grounds are shared with other sports. The ground was surrounded by "concrete jungle". And, perhaps, bigger hills were needed all round.
Though the Hawks conceded the oval met the basic requirement of providing a place where "an Aussie can sit with his [or her] dog and an Esky, and enjoy a beer" while watching the cricket.
On one thing all players and spectators agree: long may Sydney grade cricket ovals last. Or some of us local cricket "tragics" may be forced to look elsewhere – to the beautiful manicured private school ovals, perhaps – for their weekend fix of sport, beauty and history.
{loadposition cricket}