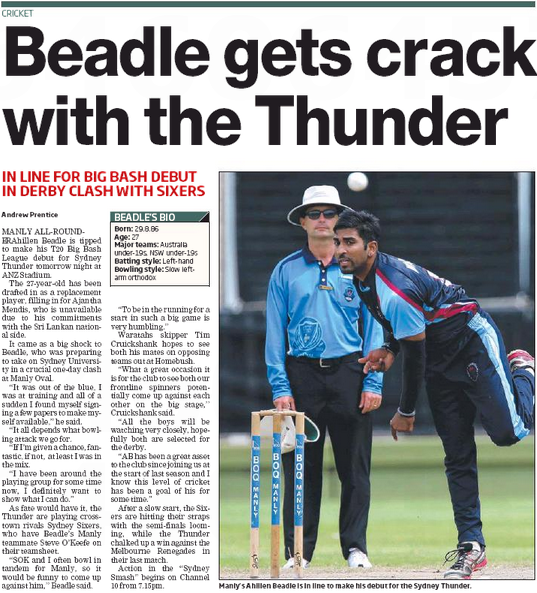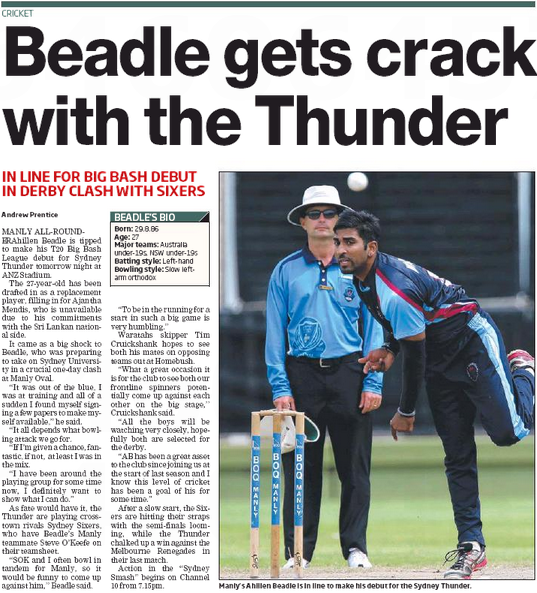 MANLY ALL-ROUND-ERA hillen Beadle is tipped to make his T20 Big Bash League debut for Sydney Thunder tomorrow night at ANZ Stadium.
The 27-year-old has been drafted in as a replacement player, filling in for Ajantha Mendis, who is unavailable due to his commitments with the Sri Lankan national side.
It came as a big shock to Beadle, who was preparing to take on Sydney University in a crucial one-day clash at Manly Oval.
"It was out of the blue, I was at training and all of a sudden I found myself signing a few papers to make myself available," he said.
"It all depends what bowling attack we go for.
"If I'm given a chance, fantastic, if not, at least I was in the mix.
"I have been around the playing group for some time now, I definitely want to show what I can do."
As fate would have it, the Thunder are playing crosstown rivals Sydney Sixers, who have Beadle's Manly teammate Steve O'Keefe on their teamsheet.
"SOK and I often bowl in tandem for Manly, so it would be funny to come up against him,'' Beadle said.
"To be in the running for a start in such a big game is very humbling."
Waratahs skipper Tim Cruickshank hopes to see both his mates on opposing teams out at Homebush.
"What a great occasion it is for the club to see both our frontline spinners potentially come up against each other on the big stage,'' Cruickshank said.
"All the boys will be watching very closely, hopefully both are selected for the derby.
"AB has been a great asset to the club since joining us at the start of last season and I know this level of cricket has been a goal of his for some time."
After a slow start, the Sixers are hitting their straps with the semi-finals looming, while the Thunder chalked up a win against the Melbourne Renegades in their last match.
Action in the "Sydney Smash" begins on Channel 10 from 7.15pm.
{loadposition cricket}