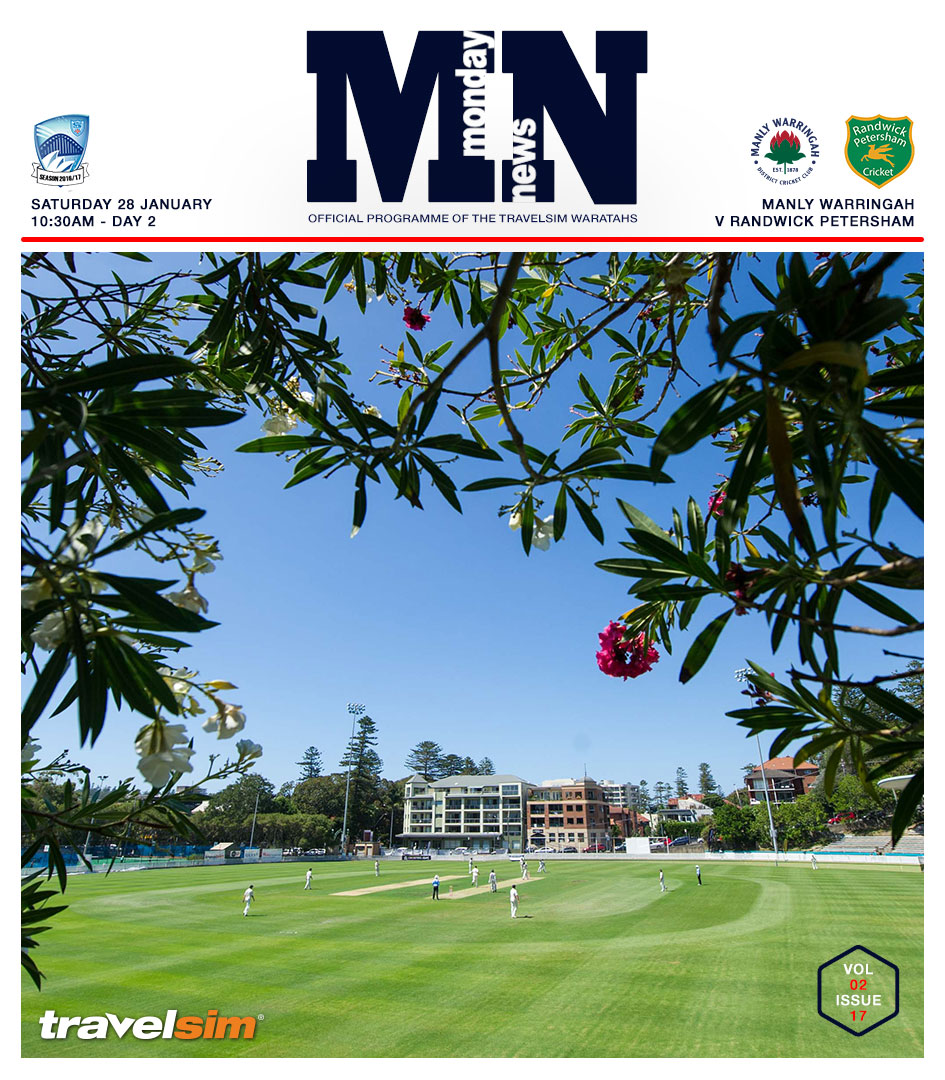 The Travelsim Waratah's experienced a tough day on Saturday, suffering heavy losses in 3 of 5 matches vs Randwick. 1st Grade resumed Day 2 in a spot of bother at 7/105. After losing Graham early, Ahillen Beadle compiled a well made half century along with handy lower order contributions from Beatty and White. Unfortunately we were bundled out for 173, 89 runs shy of Randwick's first innings total. 2nd Grade experienced a very boring day out. After a dominant day 1 which saw Cubby's men grab 1st Innings points just before stumps, followed a very dull batting display from the visitors. The boys toiled hard on a flat Manly Oval wicket, managing to take only 7 wickets before the tea break at which the game was ended. A very comfortable win again for the 2nd Grade boys who are on a roll at the moment.
3rd Grade suffered a horrific collapse on Saturday, losing the remaining 9 wickets for 70 runs. Another disappointing batting display which now see's 3rd Grade outside the top 6. Fingers crossed the boys come back bigger and stronger next week. 4th Grade, similarly to 2nd Grade experienced a rather boring day out with Randwick batting on for another 70 odd runs before sending us back in. Contributions from Vumbaca (40) and Trewartha (25*) the only highlights of the day. Another disappointing loss for 4th Grade who now have their work cut out for them to try and make finals.
5th Grade, on a lighter note, had a very convincing victory with records broken by visually one of the most strange partnerships you'll come across. Standing 6 ft 6, Injured First Grade quick Mickey Edwards notched up his first Grade ton along side 5 ft 9 Will Outred who also made his debut ton for the club. The boys piled on 198 for the 4th Wicket breaking the clubs all time record. An outstanding achievement for both men and a very important victory for a side looking to hop back into the top 6.
Overall a below-par round for the Tah's as victories in 1st, 3rd and 4th Grade would have seen us have 4/5 sides in the top 6 heading into the 4th last round of the season. Still plenty of time left to go this season however we do have our work cut out for us if we are to have all grades playing finals cricket.

For all tables and latest results head to:

http://www.premier.nsw.cricket.com.au/
4 Pines Players of the Week – Mickey Edwards 103* and Will Outred 100*
This week's 4 Pines Player of the week goes to Mickey Edwards and Will Outred. Resuming play on 33* and 11*, the boys still required 70 runs for victory in 5th Grade's match at Kensington Oval. The boys ended up posting a record 4th Wicket Partnership for the club of 198. They also both notched up their first Grade hundreds and it is a result of the hard work they put into their batting week in week out.
In Will's case, this century has been a long time coming. A player who has been very consistent all season finally got himself that first ton. For Mickey this is possibly something that he may have never seen happening. We all are aware of Mickeys extraordinary capabilities with the ball in hand, but little know about his batting prowess as well. Has always had talent with the bat and it is fantastic to see that he may have finally started to believe it for himself.
Well done lads!
1st Grade – Randwick-Petersham 262 (J. Graham 4/73, R. Farrell 3/35) & 2/80 (J. Carden 2/16) def. Manly 173 (A. Beadle 51)
1st grade turned up to day 2 against Randy Petes with a positive attitude and with the belief that the match was still winnable.
AB and Joe were the batsmen to start of the day and they were batting well picking up the ones and twos nicely, but in about the 7th or 8th over Joey was dismissed lbw for 4. Taylor Joined AB in the middle and these 2 fought it out to the first drinks break with AB bringing up his 50 in that period.
But Disaster struck straight after drinks with AB cutting one straight to gully for 51. It was now left up to Taylor and Whitey to save the day. These 2 batted very well and fought there way pass the follow on score of 162, eventually Whitey was caught in the slips for a well made 19. And credit goes to Taylor as well who batted very well and finished on 20 not out.
Crossy decided to go out and have a crack at the randy Petes batsmen to try and make a game of it. But the Halfway through the second session the decision was made to call the game with Randy Petes on 2/78.
At the end of the day Randwick was just to good and deserved the win.
Jakey
2nd Grade – Manly 0/144 (Weston 88* D'arcy 51*) def Randwick-Petersham 139 (T. Beatty 5/43, T. Kaye 3/21) & 7/194 (D. Marshall 4/66)
After a faultless performance on Day 1, Cubbys men rocked up to Manly Oval on Saturday in search for an outright victory. Randwick started the day at 1/34. A slow, yet steady first session saw Randwick enter the lunch break at 2/80 with Marshall picking up both wickets in the first session. The middle session wasn't too dissimilar to the first with Randwick batsmen just shutting up shop. Wickets fell consistently throughout the middle session with Marshall (4/66) the pick of the bowlers. With the score at 7/194 off 81, the game was called as the Randwick skipper had no interest of the game going any further. A very boring day of cricket however there was plenty of positives to take out of it.
A very dominant performance from the boys saw us hold on to our 4th place position on the ladder. Another tough Round ahead against a surprisingly struggling St George side. Another win should see us better our position at the top of the table as we head closer to finals cricket.
TK


Click on the images below for a larger view
"Andrew Jamieson steaming through the crease"
"2nd Grade Skipper Jack Ritchie laying out the plans"

| | |
| --- | --- |
| | |
| "Manly Oval back to its pristine best" | "The return of Sammy Hole back in the creams and on the park" |
3rd Grade – Randwick 205 (S. Alexander 6/68) def Manly 131 (S. Webber 38)
Resuming at 1/61 chasing 205 on a flat deck we were confident of doing well. Tight bowling and enthusiastic fielding from RP saw us get a slow but effective start before Webber (38) having just cracked a hard back foot drive for four clipped one of his toes straight to square leg. Not long after Edgell (6) cracked a half tracker straight (unfortunately) to mid wicket who somehow, blindly, took a one handed snare to make it 3/85. Daly (24) looking solid, pulling a nice 6 amongst other correct looking strokes then had a loose waft at one and snicked. 4/86.
Arshdeep (13) and Crombie (14) needed to get a partnership going and things moved steadily to 116 before a bowling change wreaked havoc of 4th grader proportions. Their returning opener in the space of 8 balls took 5/2 removing everyone for ducks along with Ash & Jimmy. Amazing what accurate medium pace with a whiff of reverse swing can do when you have momentum on your side.At 9/119 Brad (7) and Sam (3no) put on a dozen before we were all out for a paltry 131. A short report as it was a short day's play. RP stand in capt was not interested in keeping his season alive. Rodney will have kittens if it gets back to him. The offer was put to him to let them get some easy runs and set us a 35 over target of say 180. There were 47 overs left at the completion of our innings.
It would have been nice to get back some dignity but not to be. I've seen it before – a team gets off to a flyer (we were 5 wins after 6 rounds) then mid season nosedive (1 from 5) only to work it out for the back end of the season. We have the player strength and the team is willing so hopefully we fall into this category. Again, other games went our way so we sit just 3 points put and playing that side this weekend. If we lose this one then I may struggle to find the path to the finals so all to play for.
WE
4th Grade – Manly 57 (N. Cohen 23, A. Gummer 21) & 6/135 (I. Vumbaca 40, Z. Trewartha 25*) def by Randwick-Petersham 6/197

RP's declared at 6/197 and sent us back in to have a bat. Gummer and Sloth opened up, with the latter copping his second questionable decision in his past 3 innings as he was dismissed for none. Gums went shortly after and we were 2 for zip, which brought Jimmy Boyer and Issy to the crease. Both batted well as they looked to build a partnership and mount a fightback against RP's. A screamer in the gully saw Jimbo heading back to the sheds, as Issy was joined by Zaccy. These two formed the batted extremely well given the pressure on them. Isaiah was caught at cover for 40 just as he started to get going, but Zaccy steadied the ship and batted for 2 hours and 110 balls for a very patient 25*. Nickos whacked a few and tried to break a blokes elbow before snicking off and Jacob Graham blocked out the remaining few overs to save us from an outright loss.
Good signs for the batsmen leading into a tough game against St George next week.
Glyn Archer
5th Grade – Randwick-Petersham 140 (B. Watts 5-36) def by Manly 3/73 (M. Edwards 103*, W.Outred 28*)
The Manly men arrived at Kensington oval on day two to face Randwick. Manly were three down requiring 70 runs in order to take 1st innings points. With Will Outred and Mickey Edwards at the crease the boys were confident we would be able to get over the line and set the opposition a second innings total. Mickey and Will survived some good bowling early on and started to reap the rewards as bad balls started to come.
The two batsman put on a clinic for the next 3 hours, waiting for the bad balls and keeping the good ones out. Both batsmen minutes before lunch brought up sensational hundreds and celebrated with a tremendous loving hug. Edwards 103 and Outreds 101 were one of the batting highlights of the season so far. A new 5th grade record 4th wicket stand of 198.
We sent the opposition back in but unfortunately we could not get the outright win with Randwick only 4 down but the close of play.
Jonah Anderson