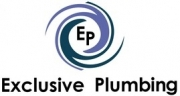 It is great to confirm the Waratahs new association with Exclusive Plumbing through their sponsorship of Toby Poole for the 2016/17 season.
This is Toby's 5th year with the Waratahs and he is an integral part of our club. he works harder than anybody at training…. just ask Bobby Rollins how much work he has done with Toby over the last 12 months.
Toby works for Bradstreet Building, and through them he formed a relationship with Mike Wilson from Exclusive Plumbing, and was able to get him on-board as his player sponsor.
Exclusive plumbing are your friendly local plumber that also specialises in commercial plumbing.
They strive to bring professionalism to your home. They do the job right the first time, on time, and for the right price. It's their guarantee.
They also specialise in Central heating installation.
Exclusive Plumbing understands your need for quality plumbing at affordable prices. No job is too small or too big and Mike has extensive experience in all parts of plumbing.