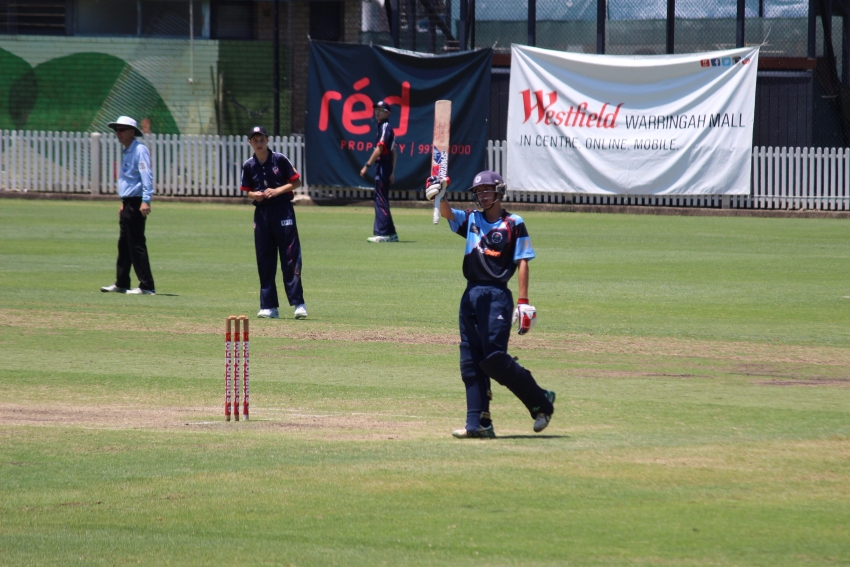 Manly 6 for 283 (A. Bariol 58, I. Vumbaca 54, E. Hole 47, J. O'Sullivan 46*, O. Davies 40) Defeated Eastern Suburbs 52 (H. Brown 3/10, B. Watts 2/6, I. Vumbaca 2/9)
Rocking up to our first Greenies game for the season at Manly Oval, all the boys were keen with 5 debutants. After a good preparation and trial match there were good vibes going around.
After a delayed start due to a mushy crease, skipper Jack Edwards (Melman) won the toss and elected to bat on a good looking deck. Jack and Aiden Bariol opened up scoring at a steady rate with Jack getting bowled by a good delivery that came back a fair bit for 17. Bariol (58) and Davies started to pick up the run rate with Ollie smashing 3 sixes on his way to 40 off 27, looking good from his first ball. The pair putting on 91. Bariol departed bringing in Ned (47) to join Isaiah (54) to put on a solid partnership to set up some big hitting for Jacob (46 of 36) AKA BOB (Brother of Brown) who played a suburb innings getting us up to 6/283.
After an amazing spread for lunch the boys set out to be ruthless, and that we did. Hayden Brown AKA. BOS (Brother of Sully) started us off strongly bowling with heaps of energy, as well as good lines and lengths, cleaning up the pegs 3 times. Gabe Harris (Lloyd Christmas) also bowled well at the other end taking a vital pole of the opener who looked good. These two set the tone for the innings.
After early losses, Easts weren't allowed to pick the run rate up with extremely tight bowling from Edwards and Nick Osborne, both taking a pole each. The spinners then came on and cleaned up the tail with consistent, smart bowling. Ben Watts (Alvin) was superb, bowling with consistency well above his years and took his first Green shield wicket caught behind and then got his second getting one to turn past a charging batsmen for him to be stumped.
Izzy Vumbaca took the final wicket to bowl them out for 52 off 31 overs. Kyle Martin (Ronald) was a panther in the field all innings for us setting the standard diving into the fence and cutting off runs.
Overall a great win for the boys to get this campaign off to a good start. We will look back it up with a good performance against North Sydney. Big thanks to all the support, especially Toddy for his work around the ground.
Aiden Bariol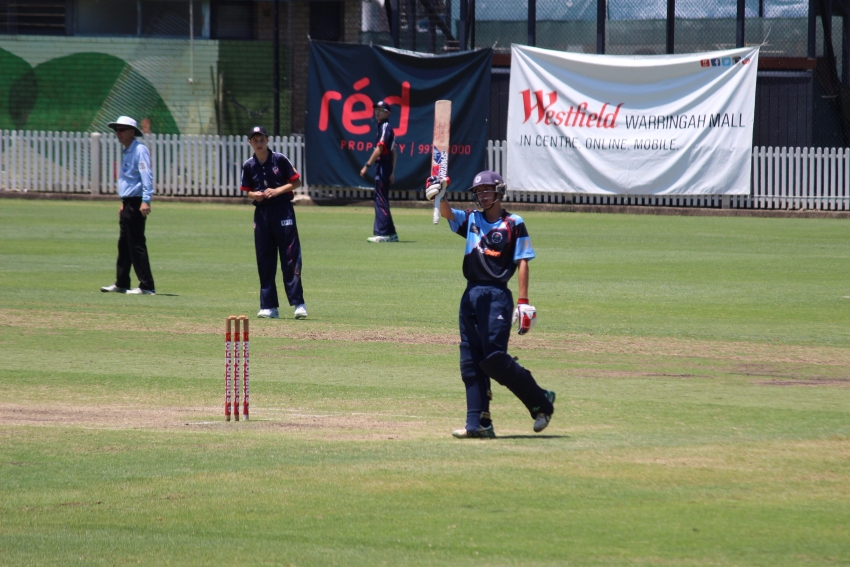 Isaiah Vumbaca raises his bat for his half century
Skipper Jack Edwards being interviewed by Andrew Prentice from The Manly Daily

Ollie Davies in full flight

Young Ben Watts sending one down

Isaiah Vumbaca on his way to 2 wickets

As skipper, Jack Edwards was always going to get a bowl

Aiden Bariol on his way to 58

Bariol and Edwrads running between the wickesr

Ned Hole on the attack