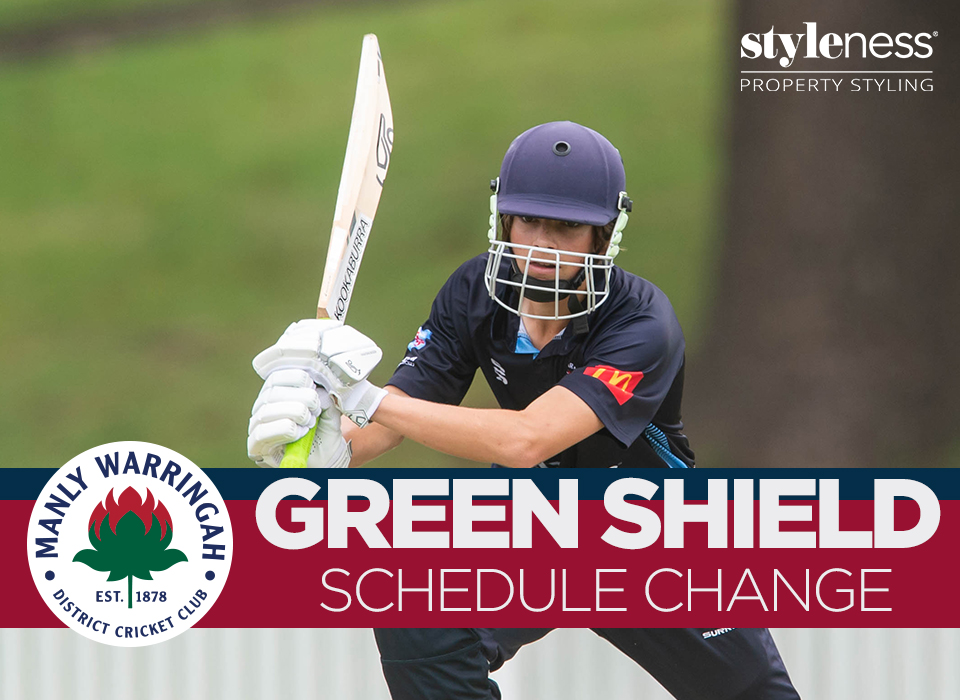 The Sydney Cricket Association has made some change to the Green Shield Schedule as a result of the current Corona Virus hot spots identified throughout the Northern Beaches and greater Sydney.
Rounds 2 and 3 were cancelled in the lead up to Christmas as a result of the Northern Beaches hotspots, and changes have been made to the draw to make sure something close to a full season is played.
Rounds 4, 5 and 6 will now be played on consecutive days on the 12th, 13th and 14th January, with player workload restrictions in place for all fast and medium paced bowlers.
The number of players allowed per game has also increased from 12 to 13, with only 11 still able to bat, but all 13 able to bowl. There are unlimited fielding substitutions between the 13 players.
The Grand Final has also been moved back to Sunday 31st January to make sure enough rest for teams during the finals.
With the Northern Beaches currently in various forms of lockdown based on the Northern and Southern areas of the area, the Styleness Manly Wrringah Waratahs have been lucky in that no Green Shield squad members live in the heavily locked down Northern Zone.
Of course, with the next game still almost 1 week away, things may change, and we all know that the currenly pandemic can update by the hour. But let's hope for all involved across Sydney that we get some good cricket in over the coming month and start 2020/21 off with a bang.
Revised Draw
Round 2 – Thursday 7th January – Manly vs Easts @ Manly Oval
Round 3 – Sunday 10th January – Manly vs Parramatta @ Merrylands
Round 4 – Tuesday 12th January – Manly vs Northern Districts @ Manly Oval
Round 5 – Wednesday 13th January – Manly vs St George @ Olds Park
Round 6 – Thursday 14th January – Manly vs Sydney University @ University
Round 7 – Tuesday 21st January – Manly vs Randwick-Petersham @ Coogee
Quarter Finals – Sunday 24th January
Semi Finals – Tuesday 26th January
Grand Final – Sunday 31st January