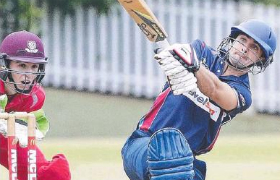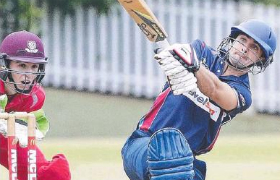 MANLY coach Shawn Bradstreet says wicketkeeper Jay Lenton must be pushing for higher honours after inspiring his team to a win over defending champions St George in their T20 Cup quarter-final at Manly Oval on Sunday.

Lenton blasted 64 off just 30 balls to build the base for Manly's 38-run victory.

"Jay got us off to an absolute flyer of a start – it was an amazing innings," Bradstreet said.

The innings gave the rest of the team a great confidence boost.

And it came after Lenton recently scored three centuries in eight days.

"I'd think he'd really be pushing for higher honours right now," Bradstreet said.

He said after Lenton played in the Futures League for NSW last week, which is the second XI, he was definitely on their radar.

"So when (NSW keeper) Peter Nevill heads off with the Aussie team, I'd like to think Jay is a massive chance," Bradstreet said.

The team heads to the Sydney Cricket Ground on Sunday for a semi-final against Randwick Petersham.

The winner will play the winner of the semi-final between Sydney University and Northern District.

On Saturday, Jack Ritchie impressed with 98 runs in Manly's two-day game against CampbelltownCamden at Raby.

"He set the platform for us," Bradstreet said. "It was a patient innings – he batted for five hours."

Manly finished at 6-325.
{loadposition cricket}