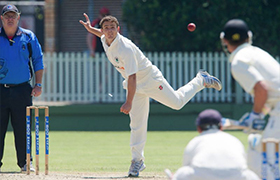 THE Manly Waratahs are set to put Bankstown into a spin in tomorrow's semi-final at Manly Oval, with star bowler Steve O'Keefe to play.
He returns to the side after being a member of the victorious NSW team that beat Western Australia in the Sheffield Shield final this week.
"I think we have the best two spinners in the competition with Steve O'Keefe and AB (Ahillen Beadle)," Manly captain Tim Cruickshank said.
Manly have been buoyed by last weekend's qualifying final win over Penrith at Howell Oval.
Cruickshank described the game against Penrith as probably the best two days he has played in at the club.
"The way we fought back it was a phenomenal win," he said.
But he also appreciates the job is not finished.
"It means nothing if we don't turn up this weekend," Cruickshank said.
"This is semi-final cricket – there is no time to cruise or relax.
"It's sudden death and if we don't play well this weekend we are out, it's as simple as that."
{loadposition cricket}