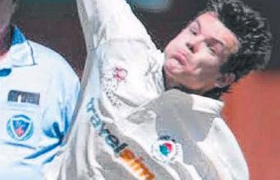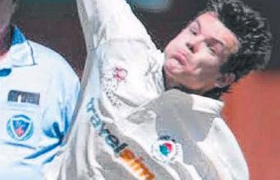 WHEN a cricketer is on fire with the bat or ball, sometimes it's best just to go with it and throw him in at the deep end.
That's exactly what the Poidevin-Gray (under-21) selectors did with young Josh Wigney last weekend – and weren't they handsomely rewarded for their calculated gamble.
"Wiggers'' has been in great form with the new ball in our lower grades and took a wicket off the last ball of the game to get thirds home in a very tight one last Saturday.
The next day he responded to the PGs' call-up in equally impressive fashion, capturing 5-30 in a superb debut performance.
Wigney demolished the Penrith top order, paving the way for a healthy ninewicket win.
A local junior from the Warringah Shire ranks, Wigney put in all day, hits the deck hard and regularly makes the batsman play.
He is too good to stay in the lower grades for too long.
EVEN-HANDED EFFORT
OUR AW Green Shield (under-16) side got its campaign under way with a thumping win over Eastern Suburbs at Manly Oval on Thursday. After hitting 6-283, we bowled Easts out for a paltry 52.
The most pleasing thing about the victory was that everyone played a hand. Five of the top six hit 40 or more, with a top score of 58 from Isaiah Vumbaca, and each of our bowlers took at least a wicket each – a real team effort.
Round two is tomorrow against North Sydney at Tunks Park.
CONTINUED GROWTH
IT was exciting to be part of the Sydney Thunder's coaching staff for the big opening Big Bash League clash against the Sydney Sixers on Thursday night.
The Thunder had a great win, defeating the Sixers for the first time in history. The team played aggressive but controlled cricket and I was very proud of how we went about our game.
But more than anything, how good it was to see the Big Bash back. Big crowds, great atmosphere and a huge TV audience.
Exactly what we want to see to help continue the growth of this wonderful game.
There is a Manly flavour through both Sydney BBL teams, with Stephen O'Keefe and Jackson Bird (both Sixers) and Ahillen Beadle (Thunder) all lining up.
REFRESHED
TALKING of title droughts, our under-13 DCA rep side claimed the club's first-ever Gee Shield crown last Sunday with a resounding seven-wicket win over Sutherland last Sunday.
The boys restricted the Sharks to 132 from their 50 overs and easily hunted down the target on the back of Tom Phelps' undefeated 80. Full marks to coach and Aidan Baker and his assistants Matt Phelps, Mark Taylor and Andrew Melville.
{loadposition cricket}