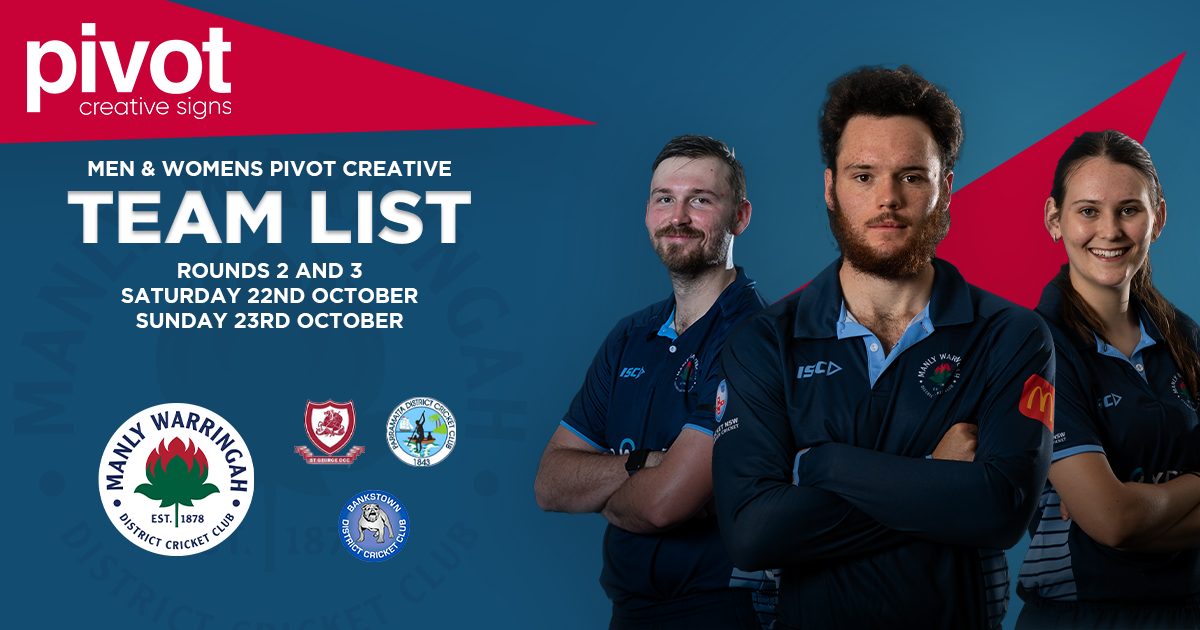 The Raydel Manly Warringah Waratahs have named sides for this weekends NSW premier cricket action. First grade T20 and PG's host St George in a T20 double header at Manly Oval on Sunday, while Women's 1's and 2's head out west to play Parramatta in a T20 double header. Brewers make the trip up the M1 to face Greater Hunter Coast, while 3rd grade are away against Bankstown. Men's grades 1-5 continue their two-day match against Blacktown.
W1's only make the one change this week, with keeper Sarah Turner included in the XI. Country cricketer Mia Phelps joins 2nd grade, to continue the legacy of a very well known name at the Tahs. Brewers make three changes to their XI, with Sophia Chick, Sophie Lowry and Annabelle Croll welcomed to the side. 3rd grade make only one change with Sophie Beukers returning to the side.
For the men's sides, Matt Brewster comes into the 1st grade T20 squad after his brilliant ton last weekend. The PG's squad remains relatively similar with the only change being Josh Cooper coming into the XI.
Kingsgrove Sports T20 Cup – T20 match
Round 2 vs St George @ Manly Oval
2:30pm start
1. Jack Edwards
2. Ollie Davies
3. Jay Lenton (c) (+)
4. Joel Davies
5. Joel Foster
6. Matt Brewster
7. Elliot Herd
8. Ryan Hadley
9. Mickey Edwards
10. Jake Carden
11. Steve O'Keefe
12. Ben Bryant
Poidevin-Gray Shield – T20 Match
Round 2 vs St George @ Manly Oval
10am start
1. Bryn Mendel
2. Josh Seward
3. Joel Davies (c)
4. Lachie Coyte
5. Andrew Boulton
6. Evan Dunnachie
7. Jake Hutchings
8. George Cummings
9. Lachie Trewartha
10. Oscar Lucius
11. Josh Cooper
12. Roop Dhillon
Women's First Grade – T20 Match
Round 3 vs Parramatta @ Merrylands Park
3:30pm start
1. Charlotte Camburn
2. Lauren Kua
3. Sophie Morris
4. Annabel Hutt
5. Laura Judson
6. Katie Letcher
7. Sarah Turner
8. Mikaela Turik (c)
9. Shivani Mehta
10. Zara Shipp
11. Emma Thatcher
Women's Second Grade – T20 Match
Round 2 vs Parramatta @ Merrylands Park
12:15pm start
1. Kristie Crawford
2. Renee Hough
3. Brooke Frew
4. Sarah Gordon
5. Eliza Henry
6. Emily Horstead
7. Stephanie Hughes (+)
8. Molly Kidd
9. Sophie Morris
10. Mia Nel (c)
11. Emma Thatcher
12. Laura Judson
13. Mia Phelps
Brewer Shield – T20 Match
Round 3 vs Greater Hunter Coast
11am start
1. Sophia Chick
2. Charlotte Croll
3. Caitlin du Preez (c)
4. Arabella Handley
5. Lara Hughes
6. Annabelle Croll
7. Sophie Lowry
8. Hannah Moss
9. Shae Hiskett-Jones
10. Darcey Whiteley
11. Isabella Zovi
Women's Third Grade – T20 Match
Round 3 vs Bankstown @ O'Neill Park
12:30 pm start
1. Chloe-Amanda Bailey
2. Sophia Chick
3. Annabelle Gilbert
4. Emily Hatfield
5. Renee Hough (c)
6. Stephanie Hughes (+)
7. Helen Hull
8. Jaime Loh
9. Emma Lyon
10. Sallie Molyneux
11. Sophie Beukers
12. Cam Pryor
Unavailable:
– Sam Bates
– Niamh Bullen
– Saskia Horley
– Chelsea Mclerie
– Natalie Guyot
– Olivia Champion
– Ellen Hall
– Jazzy James
– Ashleigh Karcher
– Stacey McManus
– Sophia Slater
– Jasmin Wilson
– Mason White
– Dyandra Prins