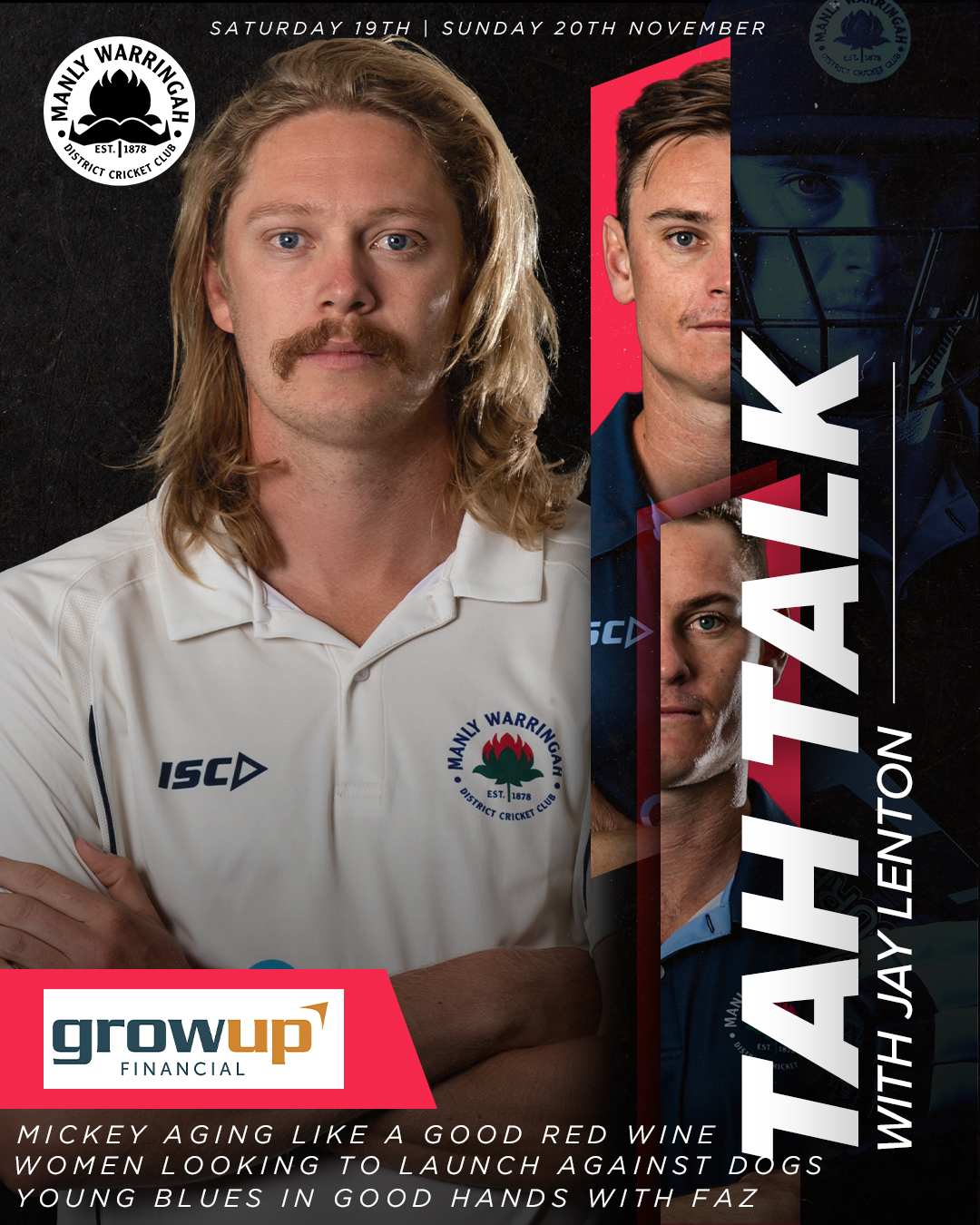 It's that time again where our esteemed Men's 1st Grade captain Jay Lenton talks about everything going on at Manly. Welcome to this weeks edition of Tah Talk with Jay Lenton. Proudly brought to you by our great friends at GrowUp Financial – www.growup.com.au
MICKEY AGEING LIKE A GOOD RED WINE
A fit Mickey Edwards bowling fast is a scary sign for any batter.
And the best part? I think the big fella is still to reach his peak.
Known for his height and bounce, Mickey has collated that this year with speed and accuracy.
He's well and truly learnt his craft of fast bowling and is now utilising his attributes, along with his smarts, to become a handful for batters across Sydney.
He's taken 13 wickets (across red and white ball cricket) and is firmly on NSW's Marsh Cup radar, having been named in the squad for this week's one-dayer against Tasmania.
Although he has had his injury issues over the years, every time Mickey is fit and firing he seems to be in or around NSW squads.
That's how highly they think of him.
With Mickey staying on the park for a consistent period, we will really get to witness how good he is.
He is 28 next month but only just starting to hit the prime of his cricketing career, which will span for many more seasons.
He's very much like one of those good red wines he likes – getting better with each passing year.
It is a formidable fast bowling cartel we have at Manly, with Mickey, Ryan Hadley and Jack Edwards all coming in from a great height, bowling fast relentless spells.
They are all great blokes and clubmen into the bargain.
WOMEN LOOKING TO LAUNCH AGAINST DOGS
There is nothing more frustrating than rain stopping play, especially given the weather we encountered earlier in the season.
It's even more frustrating when sunshine follows the rain and there's still no play.
Just ask our first grade women's side.
The covers didn't get placed on the Chatswood Oval square quickly enough last Sunday to prevent a short storm from washing out play in our T20 clash with Gordon.
I can report there were a few choice words when umpires called it a day, but we move on.
Coach Dom Wheeler reports the girls are already looking forward to this Sunday for the first of the season's one-dayers against Bankstown at Bankstown Oval.
The Tahs badly need a win to get momentum going as we attempt to rein in the top four teams.
YOUNG BLUES IN GOOD HANDS WITH FAZ
It's always great to see our players doing good things away from the field.
First grade batter Ryan Farrell has always had a good set of hands and he's been putting them to use as a physio for the NSW pathways teams.
Faz will work with the men's under-17 and under-19 teams at upcoming carnivals in Adelaide and Hobart, continuing his rise through the ranks.
He told me: "The carnivals are something I'm looking forward to. I love my profession and really get a kick out of treating sportsman, especially cricketers.
"I think the players respect and appreciate the fact that I play cricket myself, so it definitely helps in building those relationships."
Great stuff, Faz.