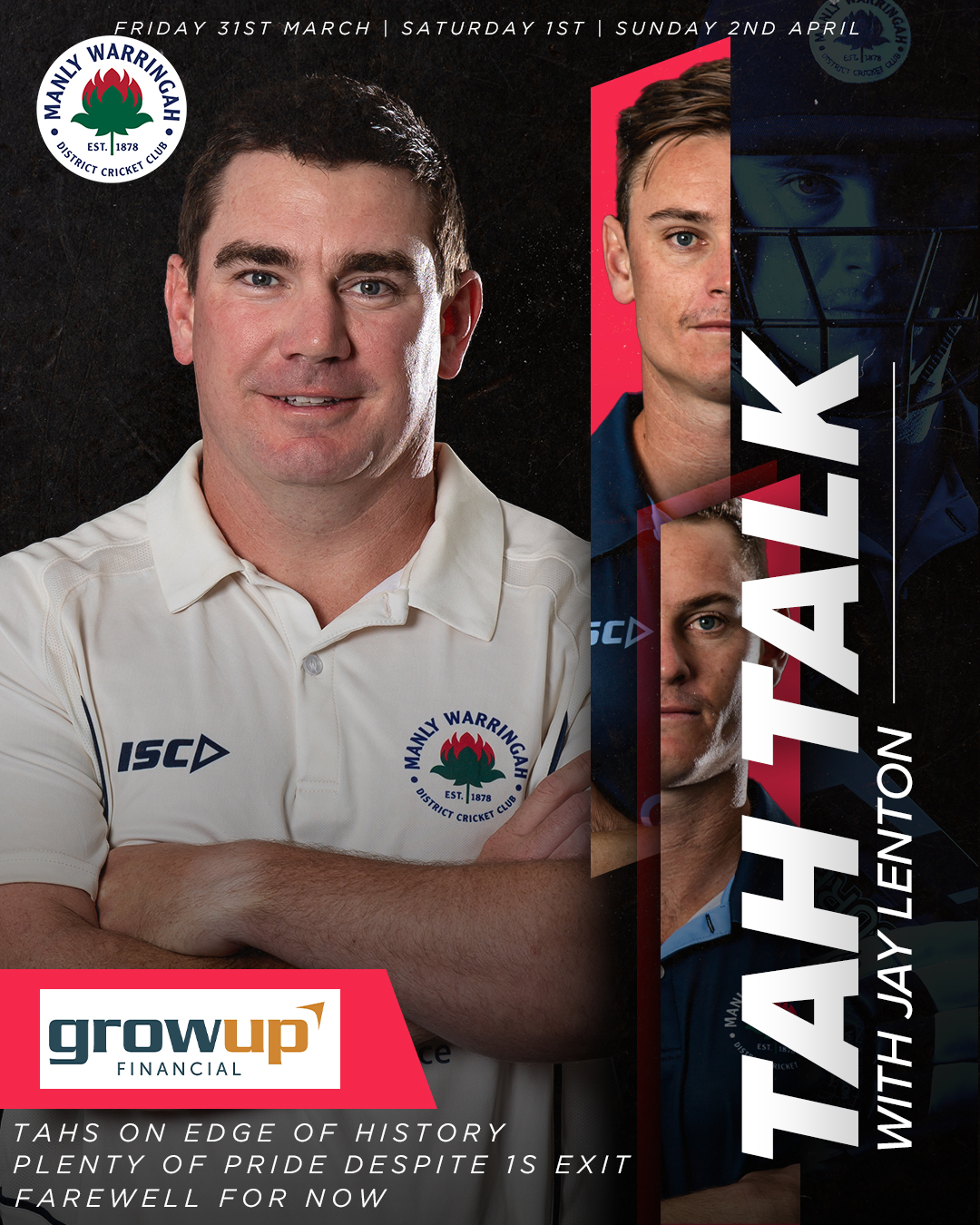 Welcome to the finale of Tah Talk with Jay Lenton, proudly brought to you by our good friends at GrowUp Financial – www.growup.com.au
TAHS ON THE EDGE OF HISTORY
History awaits the Manly-Warringah District Cricket Club this weekend as we line-up in four grand finals across Sydney.
Making one GF is a great achievement – to make four deciders is something truly remarkable.
We set out to do something special  this season – not only for ourselves but also to honour our great mate, the late Michael "Juice" Shepheard – and we have done that.  
Second grade gets us underway from Friday in a three-dayer against Northern District at Manly Oval.
The next day our thirds (v Parramatta at Old Kings), fourths (v Parramatta at Bankstown) and fifths (v NDs at Rosedale) begin their respective premiership quests.
No club has won four grades in one summer since Central Cumberland (now Parramatta) managed it in 1973/74. 
Two clubs – North Sydney (1907/8) and Randwick (1930/31) – have won three grades in one season.  
At Manly, we have never won more than two premierships in the one season.
And we have never gone back-to-back in any grade – a challenge facing Andrew Rochford and his boys in fours.
Regardless of how this weekend pans out, it's been a season to remember.
We won the club's ninth club championship, made the finals in all five grades, reached four GFs and saw our women's third grade team make the grand final for the first time.
This sort of success doesn't happen by accident.
It's the result of a lot of hard work by a lot of people, starting right back to the off-season.
President Andrew Fraser, VP David Gainsford and the board run a tight, professional and united ship off the field, head coaches Roy Vumbaca and Duncan Kerr and their dedicated staff leave nothing to chance in our preparation and we are blessed to have dozens and dozens of brilliant volunteers and fans supporting us all the way.
Of course, once you're out in the middle it all comes down to the players.
And don't we have some talent at this club!
I can say without a shadow of a doubt we have blokes in the lower grades who could easily play higher elsewhere, but they bleed blue and want to be part of this wonderful set-up no matter what level they are selected.
The first grade team is behind all grades this weekend.
Go out and do us proud, boys.
PLENTY TO BE PROUD OF DESPITE 1s' EXIT
It's been almost a week since first grade bowed out of the competition – and I don't mind admitting it still hurts.
We didn't quite bring our A game to the semi-final against Sydney Uni and were comprehensively beaten.
But one loss – as much as its stings – does not detract from what was another terrific season.
We missed out on the minor premiership by a handful of points after going down on the second last ball of the regular season.
We then pulled off a tremendous qualifying final win over NDs after being in trouble at various stages before running into a red-hot Uni in the semis.
There were well deserved first grade debuts for Ned Hole and Brynn Mendel, 50 wickets and a NSW baggy blue cap for lion-hearted paceman Ryan Hadley and a club record (60) dismissals for a certain wicket-keeper!
We also saw Ollie Davies given his first opportunity with the Blues at Sheffield Shield level and younger brother Joel make an immediate impact on the BBL stage.
We would have liked one more week in the middle but there was still plenty to celebrate.
FAREWELL FOR NOW
This is the 26th and final edition of Tah Talk for the season.
I hope you've enjoyed reading about this great club and the characters within it.
Thanks for those behind the scenes who have helped put the column together each week.    
And whether you're a player, official, coach, supporter, club member, family or friend – thank-you so much for coming on the journey with us.
We truly appreciate all you do for us and the Tahs.
See you at the preso night on April 15th where we will look back on a tremendous summer of cricket.
Bye for now.