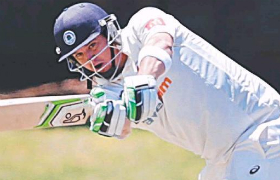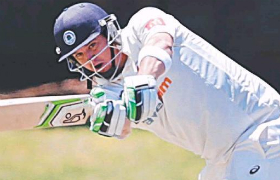 RIVAL teams across Sydney you have been warned – the Waratahs are gunning for back-to-back two-day titles.
After losing their first three games of the campaign in what skipper Adam Crosthwaite described as a "hiccup", they are definitely now in full bloom leading into Christmas.
Despite losing the toss on Saturday morning at Village Green, Manly were sent in to bat at Kensington.
It proved to a puzzling decision by the home side, after centuries from the captain (127) and gritty opener Jack Ritchie (125) see Manly in what appears to be an unbeatable position heading into day two next weekend.
"The wicket was green, but I must say I nearly fell over when we were asked to bat first," Crosthwaite said yesterday.
"Jack (Ritchie) batted sensationally.
"He is a senior cricketer these days and he really applied himself. He knows his game so well.
"Personally, I was happy with how I batted.
"My focus was good early on and I made sure I put away the bad balls."
James Crosthwaite (50) was among the runs again, with Jay Lenton (43) and Ryan Farrell (39 not out) also cashing in.
"It shows where we are at; everyone is contributing," Crosthwaite added.
"We hit almost 200 in the final session, which was fantastic.
"I challenged the boys to be ruthless and they responded.
"To hit 400 plus in one day is an amazing effort. I am confident we won't be run down."
With quicks Nathan Buck and Nick McLachlan chomping at the bit to steam in after putting their feet up for the entire first day, Crosthwaite will stress the importance of not getting ahead of themselves.
"UNSW are a quality batting line up. They will go hard at us from ball one," he said.
"Obviously, with 422 on the board, they will need some special personal knocks and a slice of luck.
"I will be drumming home the importance of putting the ball in the right areas early on and being patient in the field."
{loadposition cricket}