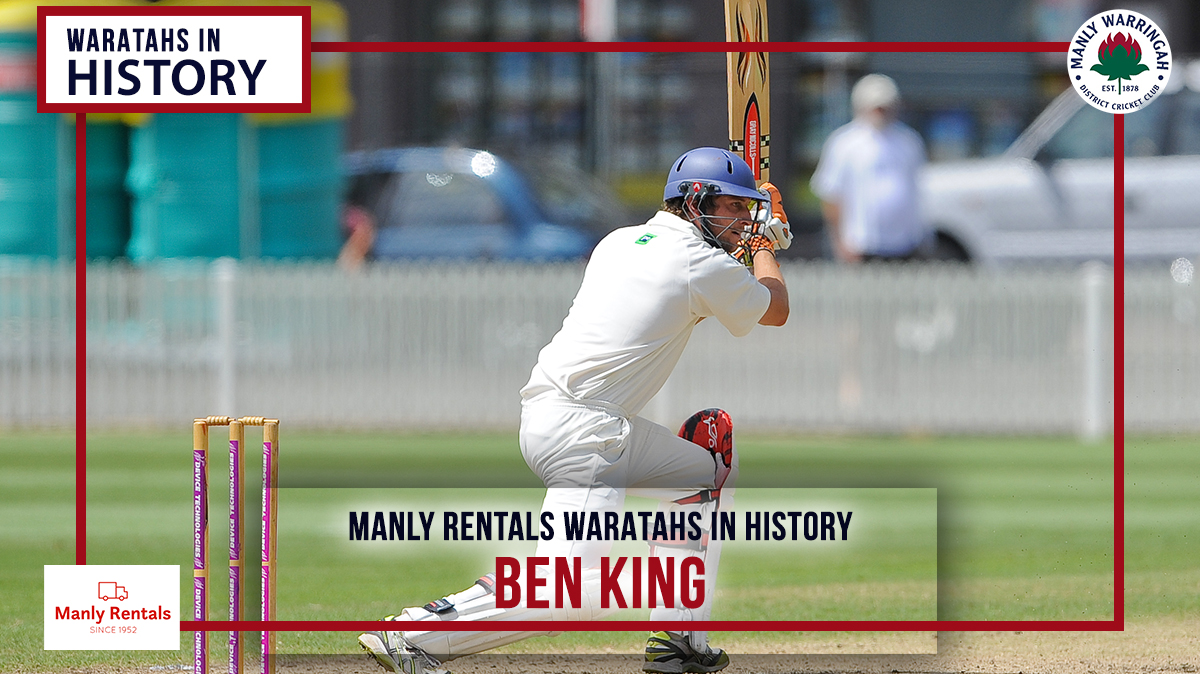 This weeks Manly rentals Waratah in History is the talents Ben King. Ben contributed a huge amount to the club both on and off the field, and was in-fact one of the early pioneers of our website and on-line footprint. No doubt that is the reason he is now the Head of Google in Singapore.
King has been away from Australia for over 10 years now but it's always great to hear his thoughts on cricket and on the Waratahs.
Another sensation read. We hope you enjoy.
How did your love of cricket come about as a child?
I have older twin brothers, and with them being only three years above me I didn't want to accept I couldn't compete… despite losing every single time. I started playing in their u10's team when I was six as I didn't want to be left out and, funnily enough, was the only one to take it further into our teens. Still, my real love of cricket and MWDCC grew during the countless Saturdays running the Manly Oval scoreboard. It was effectively something like $20 and a can of coke for six hours work, and I clearly didn't have a life. First grade had Bevan, Glassock, a young Winga, Dicky Fry, Matthew Phelps, Jamie Heath… Geoff Rogers and Bobby Brenner were there week to week and were really kind to me. I got to watch really good quality cricket and get to know all these people. My love for the club was embedded there for good.
Who were your cricket heroes growing up?
Steve Waugh was the major one. As I got a little older, I loved his approach to team and leadership, and also the fact that he consistently improved himself. I think cricket is a game full of life (and corporate) lessons, and Steve Waugh was someone I really looked up to. We had a lot to pick from in those days though…
Who were the star players you grew up with coming through the junior ranks?
For Manly – Tim Cruickshank was always the stand out. He was a year above. Outside of that, we had less absolute 'guns' so to speak, and more just really solid players who played a lot of cricket together, and a lot of First Grade. Ryan Bonnor and Craig Little were the year above. Nappa, Shane Cleary and Justin Cox were the year below. Billy Lindsay was in my age group… We all spent a lot of time on the cricket field together from junior reps, Green Shield, and all the way through the grades. Jackson Bird played at the same junior club as me (Wakehurst), and while 3-4 years younger… his name was known from a very early age. Ended up being warranted!
Describe to us your Junior pathway as you worked your way into Green Shield in 1998/99 and Grade in 1999/2000.
I played at Wakehurst with guys like Michael Cosentino and Robby Brindle. Great guys who came through the ranks at Manly as well. Those were really enjoyable years. I played junior reps from pretty early on, and then Green Shield for a couple of years. It's all a bit patchy, but I'm pretty sure I played Shires the same year as my last in Greenies, which was a big year for me. I scored a double hundred and a couple of other hundreds across the grades, broke Tim's newly set record for runs scored (I think!), and from there it was an obvious move to grade cricket given a lot of my friends were already there. Things weren't as easy for the first few years in grade though… I took a few years to get comfortable, and then started doing ok from when I was in my late teens. With this ridiculously thorough data pack you've sent me it's obvious it took me 6 seasons to score a hundred. I did a little better after that though!
That Green Shield season in 98/99 was one of our best ever, and almost the entire side went on to play 1st Grade (8 players). You were unfortunately bowled out for 36 in the final, but it must have been a magical season?
Yeah it was great. It was a long time ago, but I do remember that being a moment of realization that we had a good group which could compete ok across Sydney. Nappa did a great job skippering. Todd Sekulich had a mammoth year. Shane Cleary and Billy Lindsay sort of announced themselves a bit. We beat Campbelltown in the semi which we thought was going to be a tough game, then got torn to pieces in the final by Brad Roworth. I have definitely had a chuckle with some of the guys since about losing my off pole out of the ground… without even offering. Excellent. Great memories.
What are your memories of your first game of grade for Manly (you played 1 game in 1997/98)?
Selective memory is a key life skill, and I did not even realize I had played a game that year. Going back and looking at it, I think I had my poles cleaned out for a globe. Thanks for reminding me. I must have been about 14.
Who helped you the most throughout those initial years starting out in Grade cricket at Manly?
Three come to mind – Mick Pawley was a huge part of my life for many years, and remains a great friend to many of us. Craig Glassock was a really important person to me back then. And Winga was always very supportive.
You started at the Club in 1999/00, finishing up in 2010/11 after moving overseas. What was the difference at the club (both good and bad) between your start and finish?
It's a good question – I think I'd say it got a lot younger. To get a gig in First Grade in the early years was tough. It got easier as it went along as retirements came earlier, and that was seen across the grades. On the other hand, the club also sophisticated quite a lot – things like day nighters, membership programs and digital coverage have taken the club forward in amazing ways. I think what you are all doing these days is unbelievable, so clearly that progression carries through to this day
What do you think your strength was as a cricketer?
I feel like I always batted for the team as opposed to protecting my wicket.. And I tried to move the game along. I had many more weaknesses though…
Do you recall the circumstances and result of your 1st Grade debut?
I do remember both the debut one dayer and two dayer. Unfortunately selective memory won't block either out. Sutherland for the one day stuff. Single digits. Great. Easts two dayer…. Well. We went for 400+ day 1. Haddin got a hundred in about 13 balls. Ryan Bonnor went for 150+ bowling his leggies. Then I got a first baller the next week. Absolute stitch up… Inspirational stuff.
Who was the funniest team mate you ever played with?
Jamie Sullivan. Hands down. He was mental, and remains that way. Some of the things I saw him do… honestly
Who was the best captain that you played with?
Tough one… Winga probably… Aside from when he told me 25 minutes before play that I wasn't batting 7 and was actually opening vs Doug Bollinger on a green top. That wasn't a great leadership strategy… At least that's what I blame for my first baller.  There are a lot of ducks in this interview…
Can you recall a funny, but clean, story the encapsulates playing for the club throughout the 2000s?
Well yeah… some stuff would need to be redacted if I was speaking honestly. I'd go with Frase throwing a bat over the top of my head after getting out in Bankstown… almost killed me, and took care of a few tiles… that, or John Warn providing excellent banter to opposition batsman while standing at Silly Gully, which was just a ludicrous thing to do on a cricket field. Those two guys were big / intense characters, and great club men (obviously)… and were pretty dominant figures through that time, even though they were finishing up by the latter part of the decade. Frase never paid for the bar after 5 wins either… must have been before he sold a movie…
What is the best innings you saw at Manly from a fellow player?
There were so many. Honestly. When I was a kid watching Michael Bevan just pick apart First Grade attacks was pretty cool. Phelpsy was dominant so many times. Mark Aktinson was clinical… he played something like three shots and just waited for the opposition to bowl to him. But of the players I played with… I'm bias, but maybe Tim's 200 in First Grade vs Sydney. We put on 220 or something like that, it was the only real time we got going in first grade together, and Ian Wheeler was the opposition keeper. We all remain very close to this day… so that was a memorable day, and Tim was in complete control… aside from the one he smashed the cover off to Wheels on about 110 and didn't walk. Not quite as honest as Gilly. Funny stuff.
Who was the one person that drove the standards of the playing group during your playing days?
Winga. Craig Glassock as coach. Atko. Tim. Adam Crosthwaite was a class addition towards the end. And I think SOK coming into the fold changed the way Manly was viewed in many ways. He really took us forward, despite not being available much
Who was the best player at Manly that you played with?
Any of the guys mentioned in the last question would do. That said, SOK's State numbers are out of this world… worth taking a look if you haven't. Based on those + international credentials, it's got to be him. Jackson Bird has similar though. So one of those two I guess. Both great friends to this day as well.
What do you consider the best innings from yourself?
The one I am most proud of would probably be an unbeaten hundred vs Mosman. Warwick Adlam broke my thumb when I was in the 20's. It was very very painful, but I stayed the course and almost got us over a 320+ target with a long 10th wicket partnership with Danny Reynolds. I also think I had a run a ball 70* in First grade to win a one dayer with a few balls to spare at Hawkesbury. That's also a good memory
You were part of 3 Club Championships in your career (99/00, 02/03 and 05/06). What was so special about winning a Club Champs for Manly?
Club champs were always set up as the ultimate prize to indicate strength across the board, and we took huge pride in always being there and there abouts. During that period there was a bunch of us who were around the same age, we all got on very well, and we played for each other. That was intermixed with some really good mentors and older guys. It was a fun time to play… and we celebrated them hard. It was a pity we didn't win more comps though. Lots of SF's and GF's…not too many premierships!
You had a famous season in 2005/06 where you hit 3 centuries and 756 runs in 2nd Grade, the 2nd largest aggregate in our history behind Dan Gee with 843 in 1904/05. But you couldn't crack it for a 1st Grade spot. It must have been an equally exhilarating and frustrating season for you?
Famous in my own living room maybe 🙂 Actually, probably not given Yvette's level of interest in cricket. I have fond memories, but yes.. Some frustrating ones as well. On the fond side, as much as the batting I remember setting up the MWDCC website and investing a bucket load of time writing Monday News for the first time. I loved it… it was a labor of love. I also felt I hit my stride as a batter, but I had done nothing in first grade to that point. Lots of low scores, coupled with a very strong first grade team… so I get why I was left out. I was 12th man for the One Day final win so was connected in some way (and celebrated like I was the opening batter:), but missing out still sucked. I scored a few hundreds and some other 80's and 90's but just couldn't get a run. Tim injured his finger before the semi final vs Sutherland and I was overlooked. That was hard to deal with as a early 20's guy.. But all good lessons on how to deal with disappointment while also trying to contribute as best I could to the team and the club. Those lessons endure beyond any first grade game.
You retired in 2010/11 after moving overseas, stuck on 4,823 runs across 11 seasons. Has not getting to the 5,000 run mark ever eaten at you?
Yes – a lot actually. Manly has always meant a lot to me, and I always wanted to cross that mark. I will do it one day. Maybe in my 40's if or when we come back! A few of us have talked about doing one more lower grade year down the line. There will be time I hope… I'm only 38 afterall 🙂
What does your life involve now?
Married to Yvette, the same girl I was with when at Manly. We've been together 20 years or so now and have twin girls who will be three soon. They are amazing. We live in Singapore where I run Google's Singapore operation after doing stints in the same function/ role for Google in Thailand, Indonesia and a few other countries. I played cricket in Singapore for the first 4-5 years of my 10 years in South East Asia, but gave it away after moving to Thailand. So.. lots of work, kids, family and hopefully some trips to Sydney again in the not too distant future
Do you still keep across club results and what is happening down at Manly Oval?
Absolutely. I watch the results week to week, usually through social media these days. I have always maintained the blue bloods membership… and I still speak to Timmy 1-2 times a week in general, and cricket comes up when the season is going on. I still have some good friends playing, so I take an interest in them… but also the lower grades as well. I watched the entire last session of second grade's epic win last year – the new streaming is super cool. I was sitting in a meeting and almost had four heart attacks throughout. Congrats to the team though – seconds was always the team I affiliated with the most given I skippered a number of years… They did what we could never do. Very cool.
Ben King Career Statistics
| Season | Inns | Runs | NOs | 50s | 100s | HS | Out? | Avg | Catches |
| --- | --- | --- | --- | --- | --- | --- | --- | --- | --- |
| 201011 | 16 | 472 | 1 | 3 | 1 | 118 | N | 31.47 | 6 |
| 200910 | 16 | 470 | 1 | 2 | 2 | 110 | Y | 31.33 | 3 |
| 200809 | 18 | 387 | 1 | 4 | 0 | 64 | Y | 22.76 | 8 |
| 200708 | 17 | 354 | 3 | 1 | 1 | 122 | N | 25.29 | 4 |
| 200607 | 7 | 159 | 1 | 2 | 0 | 62 | Y | 26.5 | 5 |
| 200506 | 16 | 756 | 1 | 1 | 3 | 124 | Y | 50.4 | 7 |
| 200405 | 14 | 401 | 3 | 2 | 1 | 104 | N | 36.45 | 7 |
| 200304 | 15 | 427 | 1 | 2 | 0 | 80 | Y | 30.5 | 5 |
| 200203 | 18 | 335 | 3 | 1 | 0 | 59 | Y | 22.33 | 5 |
| 200102 | 15 | 351 | 0 | 2 | 0 | 78 | Y | 23.4 | 5 |
| 200001 | 15 | 360 | 1 | 4 | 0 | 65 | Y | 25.71 | 2 |
| 199900 | 17 | 351 | 3 | 3 | 0 | 81 | Y | 25.07 | 8 |
| 199798 | 1 | 0 | 1 | 0 | 0 | 0 | Y | 0 | 0 |
| Total | 185 | 4823 | 20 | 27 | 8 | 124 | Y | 29.230303030303 | 65 |