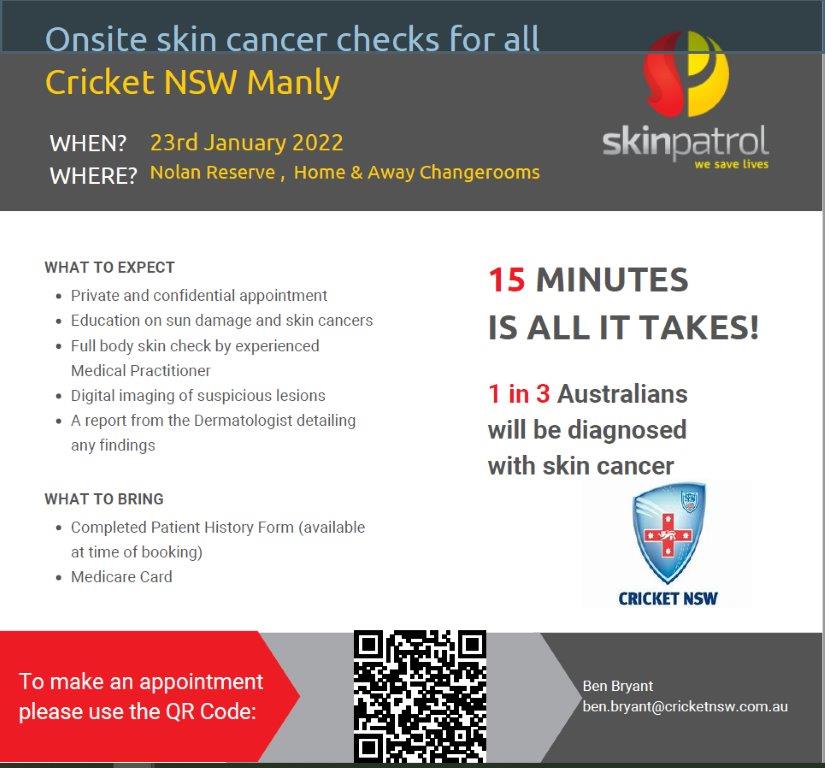 Members of the Manly Warringah cricket community and their families will be able to get a free check to fight skin cancer on Sunday, January 23 at Nolan Reserve thanks to the vaccination efforts of Cricket NSW staff and players.
Taking place between 9.30am – 5:00pm, members of the Manly Warringah Cricket Community, including players, coaches, umpires, and volunteers will be able to get a free skin check provided by Skin Patrol, who have previously worked with Cricket Australia and the Australian Cricketers' Association.
This free service was made possible by the efforts of Cricket NSW staff and players, where a $100 donation was made from Cricket NSW to the Cricket NSW Foundation, the charitable arm of the sport's governing body in NSW, for each person who received their first two doses of the COVID-19 vaccine.
In total, $21,900 was raised via this Cricket NSW staff initiative and has covered the costs associated with four pop-up skin check clinics this summer, including Manly. 
Cricket NSW CEO Lee Germon is urging all members of the cricket community on Sydney's Northern Beaches to take advantage of this free skin check.

"At Cricket NSW we pride ourselves on being a good citizen and playing a leading role in creating better communities," Germon said.
"Cricket is Australia's number one summer sport and due to the high exposure to UV radiation, we feel it's important that Cricket NSW lends its voice and resources to educating our community on sun safety. 
"Thanks to the Cricket NSW Foundation and Manly Warringah Cricket Association, this free skin clinic provides the perfect opportunity for the local cricket community and their families to prioritise their health and be checked by the experts from Skin Patrol.
Manly Cricket would also like to thank 1st Grade Player Ben Bryant, who helped organise the free skin check this Sunday.
For those interested further details can be found in the above image. You can also book your skin check by scanning the above QR code.
Cricket NSW Skin Check Clinic
Sunday January 23
Nolan Reserve, 8 Riverview Parade, North Manly NSW 2100 
Appointments available between 9.30am – 5:00pm