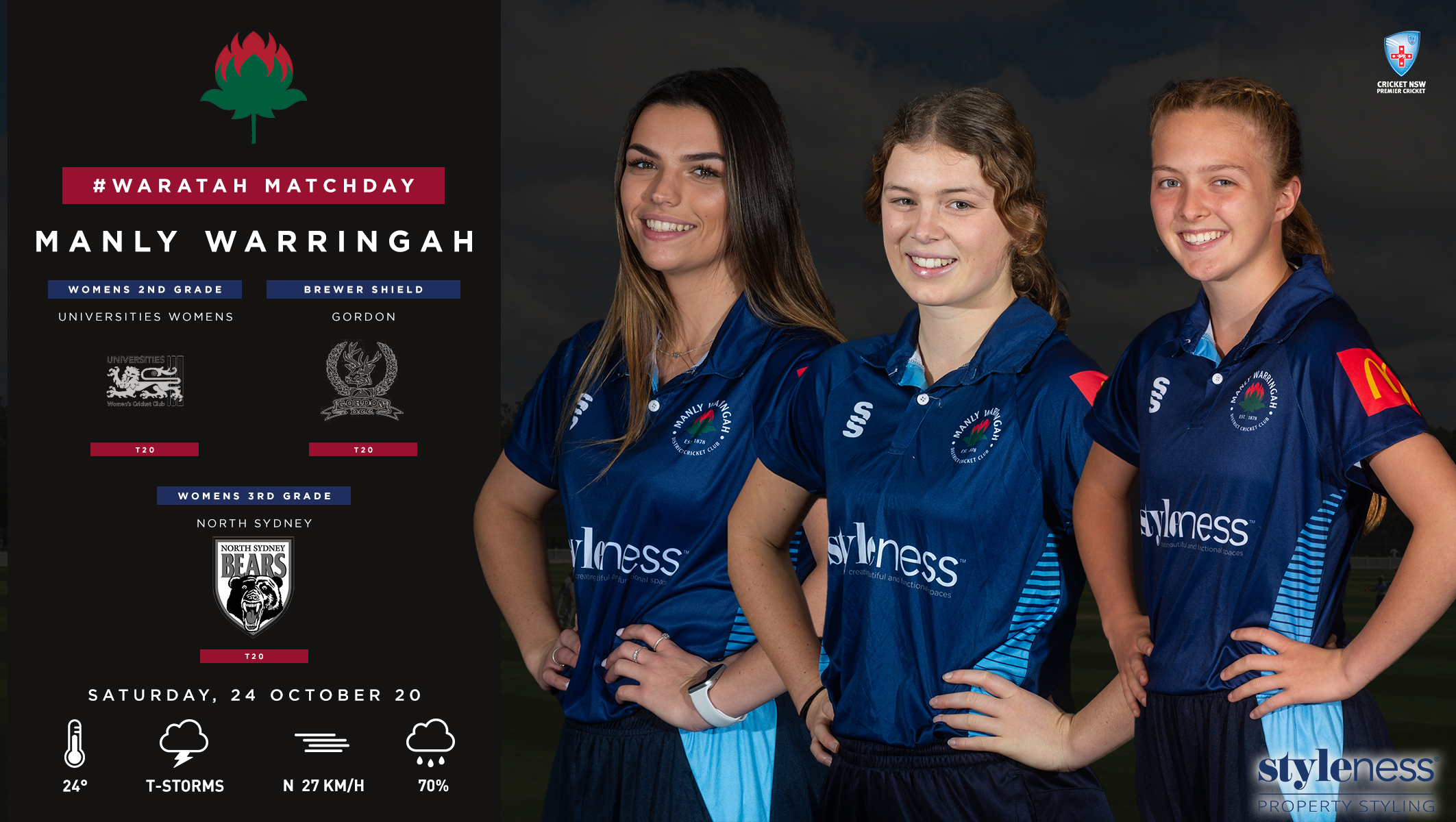 The Styleness Manly Warringah Waratahs have named sides for Women's 2nd grade, 3rd grade and Brewer's Round 2 matches. Brewer's will be the curtain raiser for the Women's 2's game on Sunday down at Manly Oval, which is sure to be a cracker. Men's 1's and 2's continue their match against Penrith, where both sides are in good stead after a very dominant performances last week.
Last week saw 1st grade take a first innings win on Day 1, after bowling Penrith out for 73, thanks to another 5 wicket haul from SOK, in reply to an under par score of 165. 2nd grade put on a haul of 319, beforing declaring and having Penrith 1/1 at the end of the day. Best of luck to both sides to hopefully take home the points this week.
Women's 2nd grade will officially start their season this Sunday, after a bye last week. The side will look to chase another successful season, with a new skipper in Mikaela Turik, who has named a strong side, with Jessica Manning, Charlotte Camburn, Kate Salmon, and Hannah Woolf all making their respective debut's in the W2's side.
Brewer Shield will look to bounce back after a narrow loss last week. The side welcomes Hannah Woolf back to the team, as they push to clinch their first victory of the season.
Women's 3rd Grade play UTS North Sydney for the 2nd week in a row, and will hunt for another win to go 2 from 2 to start the season. They welcome 2 new players in Emma Lyon and Mason White.
Good luck to all teams. Go Manly.
Women's 2nd Grade – T20 Match
Round 2 vs Universities @ Manly Oval
2 pm start
1. Charlotte Camburn
2. Renee Hough
3. Olivia Hough
4. Sienna James
5. Natalie Jonkers
6. Jessica Manning
7. Chelsea Mclerie
8. Kate Salmon
9. Zara Shipp
10. Mikaela Turik (c)
11. Claire Waddington
12. Hannah Woolf

Women's U18 Brewer Shield – T20 match
Round 2 vs Gordon @ Manly Oval
10am start
1. Natalie Guyot (c)
2. Ruby Gruber (+)
3. Eliza Henry
4. Emily Horstead
5. Steph Hughes
6. Ellie James
7. Laura Judson
8. Chelsea Mclerie
9. Abbey Melville
10. Chloe Osborne
11. Kate Salmon
12. Hannah Woolf
Women's 3rd Grade T20
Round 2 vs UTS North Sydney @ Tunks park no.2
12:30pm
1. Charlotte Ambler
2. Sarah Gordon
3. Olivia Hough (c)
4. Emma Lyon
5. Stephanie Hughes (+)
6. Jessica Kaye
7. Sallie Molyneux
8. Mia Nel
9. Cam Pryor
10. Mason White
11. Jasmin Wilson