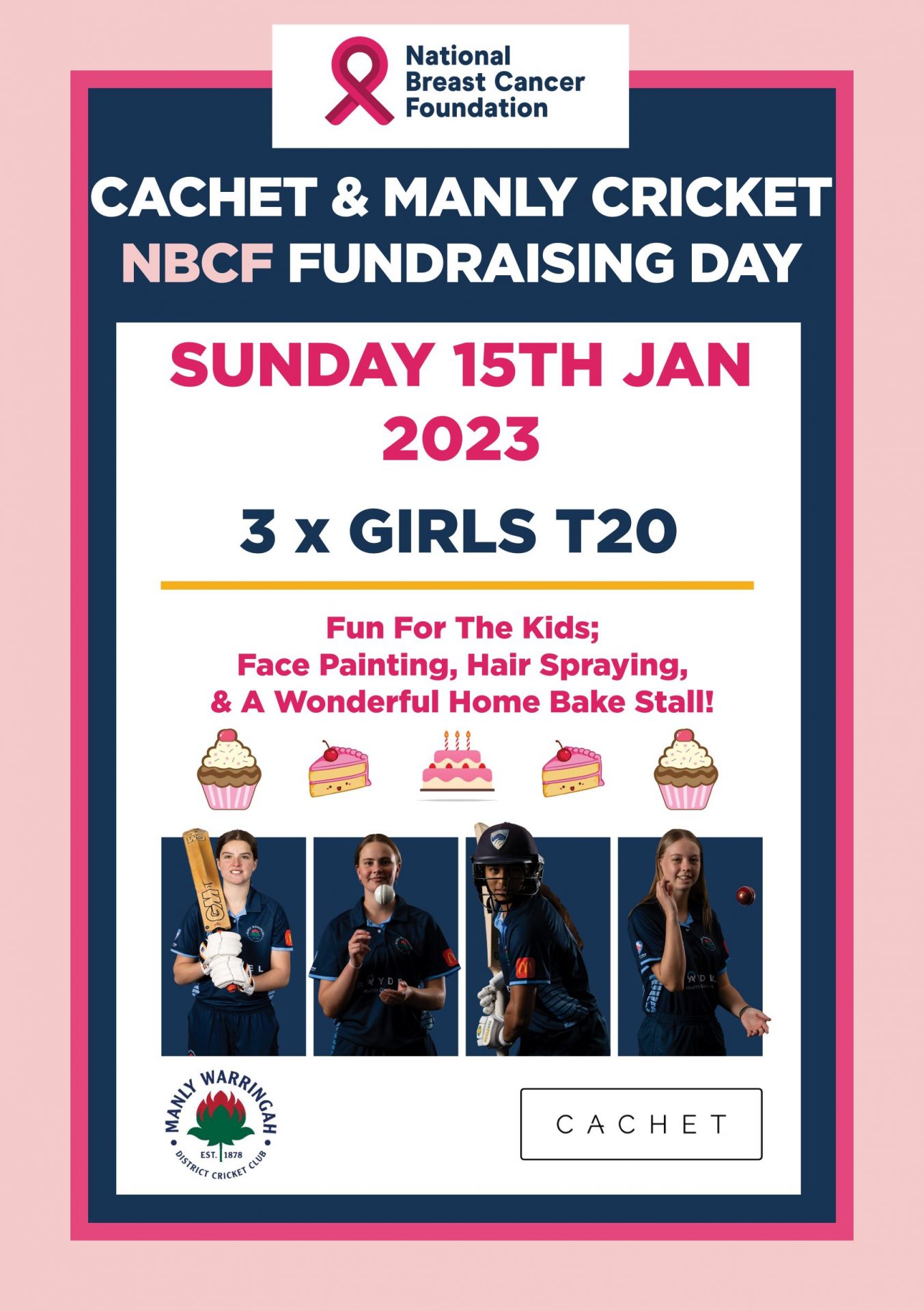 Sunday is the day. 15th of January is the date. Mark it in your diary as it is one of the big days in our club's calendar this season.
Not only is Sunday 15th January a huge Women's T20 triple header at Manly Oval, it is also doubling as our annual National Breast Cancer Foundation (NBCF) fundraiser, proudly supported by Cachet Group.
Last year we were able to raise $3000 for the National Breast Cancer Foundation, and we are looking to at least match that amount.
Let's focus on the cricket to start with. Brewer Shield are on at 9am against Gordon, W2s take the field at 12:15pm taking on Bankstown, and W1s take centre stage at 3:30pm, also matching up against Bankstown. All teams will be looking to start the new year with a bang in our first game back after the festive season break.
There will be a huge amount also happening on the day. Face Painting, a cake stall, hairspray and a BBQ will be running all day. All proceeds will be going to the NBCF.
We have also confirmed that local resident and mega-star Alyssa Healey will be making a special guest appearance at 3.00pm, where she will be taking part in the fun.
The day has even attracted some outstanding corporate support. We are pleased to confirm that Cachet Group have come on-board as the major sponsor of the day, with again all proceeds going to NBCF. we would like to thank Greg Parsonson, Rowan Hamman and all the team at Cachet Group for their support. Visit them at https://cachetgroup.com/
You can donate to our cause by visiting our NBCF fundraising page at https://fundraise.nbcf.org.au/fundraisers/philledwards/cachet—manly-cricket-nbcf-fundraising-day. We encourage anyone who has any interest or passion in tackling breast cancer to donate in any way they can, no matter how big or small – every donation makes a difference.