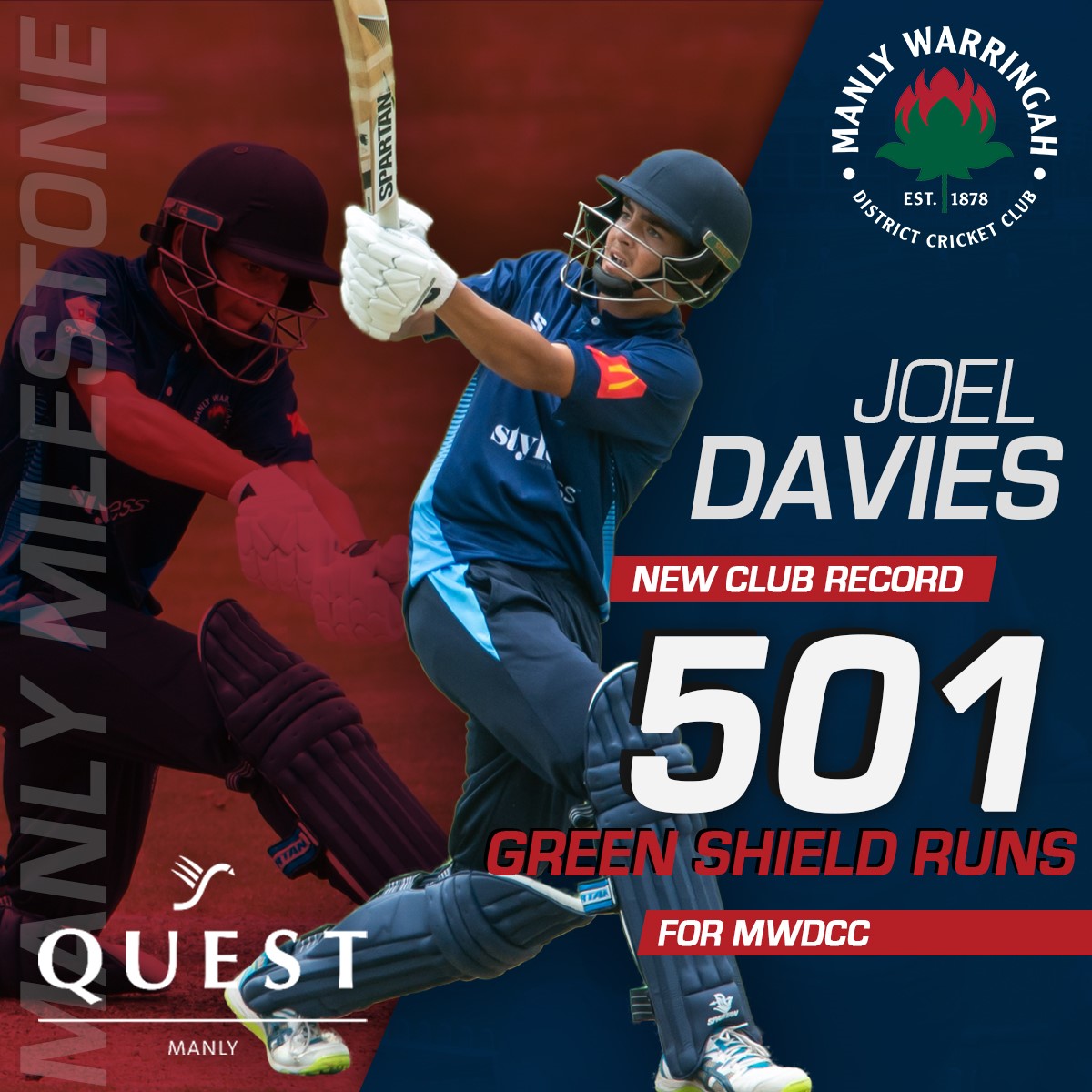 Green Shield skipper Joel Davies has capped a great Green Shield season by breaking the Manly Warringah Waratahs all time record for the most amount of runs scored in a Green Shield season.
Joel hit 501 runs at 62.63, breaking Jarrod Walters previous record of 445 from 2006/07.
It's a remarkable achievement from someone who still has another year left in Green Shield.
Davies hit 6 half centuries across the 7 regular season matches, with his only failure being a 48 against Bankstown in Round 5. He has a top score of 79, a score which he has actually got twice.
He has lead from the front in every regular season game, but each innings has been slightly different. We saw his power to help us achieve a bonus point against Sutherland, but he has also had to dig deep when his team were in trouble early, as seen by his 72 against Penrith after coming in at 2/12, and his 79 against Wests when coming in at 2/17.
It's a record that could be around for a long time, unless Joel breaks it himself next year.
The Green Shield run scoring record has an interesting history. Neil Coltman scored 395 runs in 1964-65 off 9 innings, including hitting a then record 147 in 1 innings. He broke the season run scoring records that had stood for 20 years since 1944/45 when Barry Watson hit 341 runs with a top score of 119.
Coltman's record stood until 1982/83 when future Life Member Richard Fry hit 399 runs off 7 innings, with a top score of 117*.
Over the next 24 years there were a few challenges to Fry's record, most notably from Craig Glassock in 1989/90 (327 runs), Brian Clemow in 1990/91 (379) and Todd Sekulich in 1998/99 (396 runs).
But it wasn't until Jarrod Walter, skippering the side in 2006/07, led the side to the final with 445 runs across 10 innings. Jarrod also scored a ton, hitting 122 against Hawkesbury.
Davies is the only person to hold the clubs Green Shield run scoring record without having scored a century in that season. It just shows his consistency across the entire year.
Congratulations to Joel on the outstanding achievement.