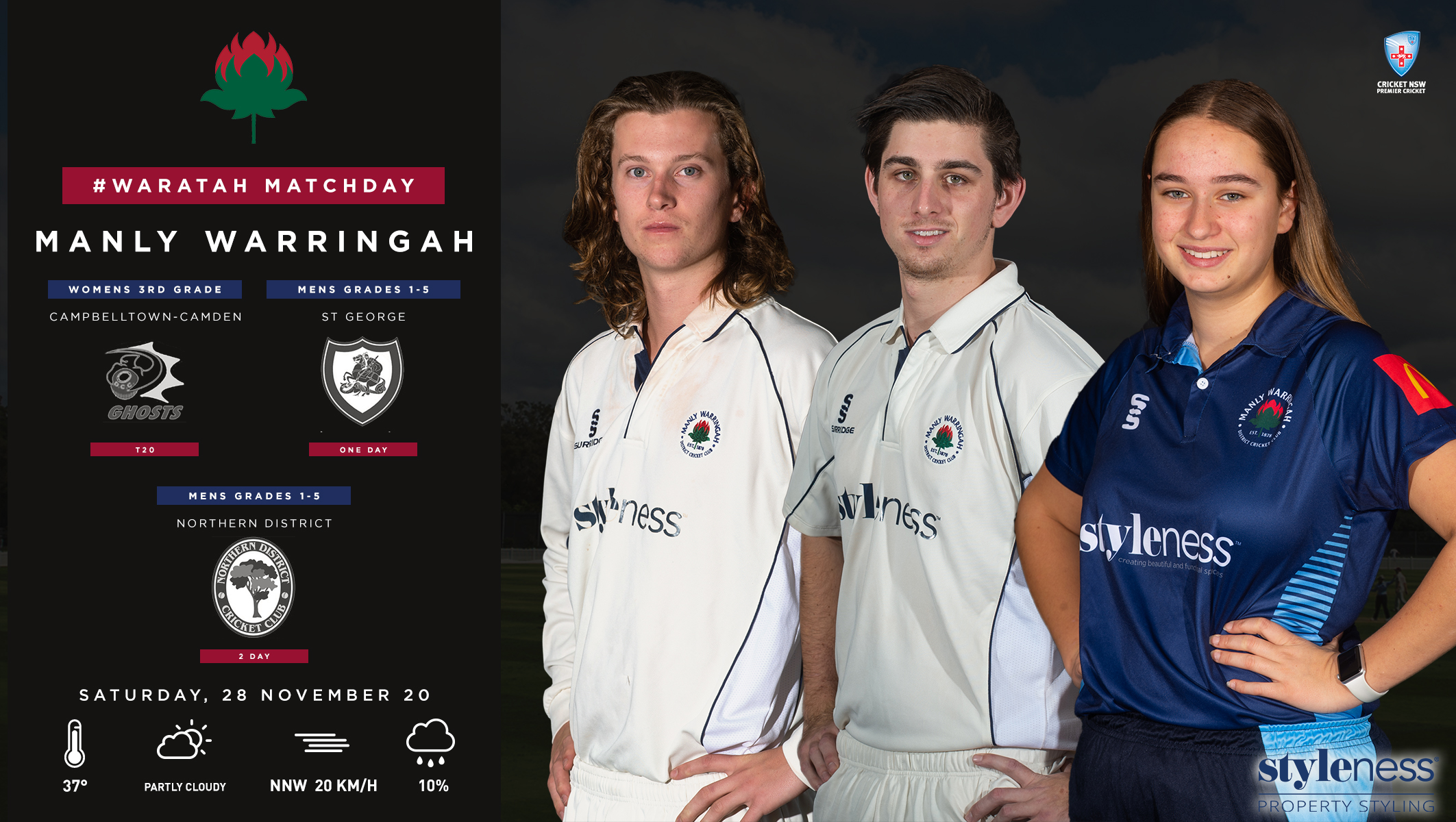 The Styleness Manly Warringah Waratahs have named sides for Men's 1's and 2's Round 7, Men's 3-5's round 5, and Women's round 7. First grade T20 also host a double header at home on Sunday, as they make a last ditch effort to play finals in the T20 competition.
Last week saw all Men's grades get wins, which retains the club's position at 1st on the club championship. The Women's grades only enjoyed 1 win out of the 3 grades, with 2nd grade continuing their winning streak which now extends to 3 games.

1st grade name an unchanged lineup for this week, as they hunt to continue their undefeated run. 2's bring in Jordan Daly to accommodate for the loss of captain Sam Gainsford. 3's are without Josh Seward this week due to injury, bringing Jake Osborne into the side, as well as Lachie Charles.
4th grade are boosted by Evan Dunnachie who makes his debut for the grade, as well as Billy Lindsey who makes his return for the first time this season. 5's welcome young gun Jake Hutchings into the side, who debut's for the club, after some top performances in shires. Darcy Fleming and veteran Ross Trewartha are also brought back into the side, as 5's look to get back to back wins.
1st grade T20 have a huge day on Sunday, playing a double header at Manly Oval on Sunday, which should be an absolute belter of a day. They take on St George and UTS North Sydney in the 2 matches.
Brewer Shield will look to get back into a winning groove, with the inclusion of Mia Nel and Steph Hughes back into the side.

Women's 2's will be strengthened by the return of star player Mia Waddington from injury, who has missed the entire season so far. Olivia Hough is also included into the side, as they chase 4 wins in a row.
Women's 3rd Grade have included multiple changes, including a debutant. Jade Cunningham will suit up for her first game with the tahs, while Sofia Davidson and Mia Waddington also return to the side, as they will surely look to bounce back from last week's loss.
Good luck to all teams. Go Manly.
Men's 1st Grade – Two Day Match
Round 7 vs Northern District @ Mark Taylor Oval
10:30am start
1. Ben Bryant
2. Joel Foster
3. Ollie Davies
4. Jay Lenton (+) (c)
5. Cameron Merchant
6. Ahillen Beadle
7. Jack Edwards
8. Elliot Herd
9. Steve O'Keefe
10. Jake Carden
11. Ryan Hadley
Men's 2nd Grade – Two day match
Round 7 vs Northern District @ Manly Oval
10:30am start
1. Matt Brewster (+)
2. Logan Weston
3. Joel Davies
4. Jordan Daly
5. Jacob O'Sullivan
6. Isaiah Vumbaca
7. Tom Kaye
8. Ned Hole
9. Andrew Jamieson (c)
10. Andrew Hicks
11. Ryan Bishop-Perrett
Men's 3rd Grade – One day match
Round 5 vs St George @ Grahams Reserve
10am start
1. Sam Webber (+)
2. Max Webber
3. Lachie Charles
4. Zac Trewartha
5. Sam Hole (c)
6. Neal Prowse
7. Josh Wigney
8. Alex Bain
9. Michael Counsell
10. Lachlan Trewartha
11. Jake Osborne
Men's 4th Grade – One day match
Round 5 vs St George @ Harold Fraser Reserve
10am start
1. Nick Cohen
2. Adam Gummer (c)
3. Oscar Lucius (+)
4. Billy Lindsay
5. Dom Wheeler
6. Evan Dunnachie
7. Andrew Boulton
8. Roop Dhillon
9. Lachlan Kerr
10. Jack Hobson
11. Glyn Archer

Men's 5th Grade – One day match
Round 5 vs St George @ Mike Pawley Oval
10am start
1. Jack Melchiore
2. Jake Hutchings
3. Ross Trewartha
4. Alec Duly
5. Reiley Dunlop (+)
6. Billy O'Brien
7. Darcy Fleming
8. Andrew Rochford (c)
9. Ollie Melville
10. Josh Cooper
11. Liam Dinan
Kingsgrove sports T20 Cup – T20 match
Round 9 and 10 vs St George and UTS North Sydney @ Manly Oval
10am and 2:30pm start
1. Jay Lenton (c) (+)
2. Jack Edwards
3. Ollie Davies
4. Joel Foster
5. Ahillen Beadle
6. Ben Bryant
7. Elliot Herd
8. Steve O'Keefe
9. Jake Carden
10. Ryan Hadley
11. Cam Merchant
12. Isaiah Vumbaca
13. Jacob O'Sullivan
Unavailability list for Men's teams:

– Ryan Farrell
– Mickey Edwards
– Sam Gainsford
– James Waddington
– Josh Seward
– Charlie Johnston
Women's 2nd grade – One-Day match
Round 7 vs Penrith @ Grahams Reserve
10am start
1. Niamh Bullen
2. Mikaela Turik (c)
3. Claire Waddington
4. Hannah Woolf (+)
5. Charley Camburn
6. Renee Hough
7. Mia Waddington
8. Olivia Hough
9. Natalie Jonkers
10. Chelsea Mclerie
11. Kristie Crawford
12. Zara Shipp

Women's U18 Brewer Shield – One-Day match
Round 7 vs Parramatta @ Old Kings Oval
10am start
1. Natalie Guyot (c)
2. Ruby Gruber (+)
3. Eliza Henry
4. Emily Horstead
5. Gemma Lacey
6. Jessica Manning
7. Steph Hughes
8. Mia Nel
9. Abbey Melville
10. Chloe Osborne
11. Kate Salmon
12. Ellie James
Women's 3rd Grade T20
Round 7 vs Campbelltown-Camden @ Balgowlah Oval
12:30pm start
1. Charlotte Ambler
2. Abby Taylor
3. Sarah Gordon
4. Jade Cunningham
5. Stephanie Hughes (+)
6. Sofia Davidson
7. Sallie Molyneux
8. Mia Nel
9. Mia Waddington
10. Olivia Hough (c)
11. Jasmin Wilson
12. Renee Hough